Many investors turn to real estate for an advantageous investment for several reasons. Firstly, there is the typical and proven appreciation in value that property offers. It also offers a predictable income stream with steady and regular returns. The property also offers the opportunity for leverage by obtaining a mortgage.
For property investors, Dubai continues to offer a very attractive real estate market.
According to data from the Dubai Land Department (DLD), many areas are offering an irresistible draw with over 40,000 property sales made in the city in 2019, to the value of AED 81 billion. Investors are drawn by the pace of development in the city, it's forward-looking, state-of-the-art planning, and its impressive portfolio of properties available for sale.
Proven hotspots
Some areas of the city are of particular interest, with thousands of transactions taking place in a few. Here are five of the city's most popular areas for real estate investment.
1. Dubai Marina
Dubai Marina continues to be one of the most popular residential areas in the city for both buyers and tenants. It owes its success to myriad stunning waterside development, including several world-renowned feats of architecture.
Alongside its beauty, the area is well-loved for its relaxed and cosmopolitan feel, with hundreds of thrumming restaurants, cafes, and entertainment venues. The Marina's proximity to leading business hubs such as Dubai Media City and Internet City is also advantageous.
Apartments for sale in Dubai Marina remain quite popular. Residents have everything they need and want at their doorstep, as well as breathtaking views.
Investors love the Marina as much as those who choose to live in it. Statistics released by the DLD for 2019 show Dubai Marina to be the leading area in the city for property sales. In fact, 3,366 units were sold last year with a total value of AED 8.67 billion.
2. Downtown Dubai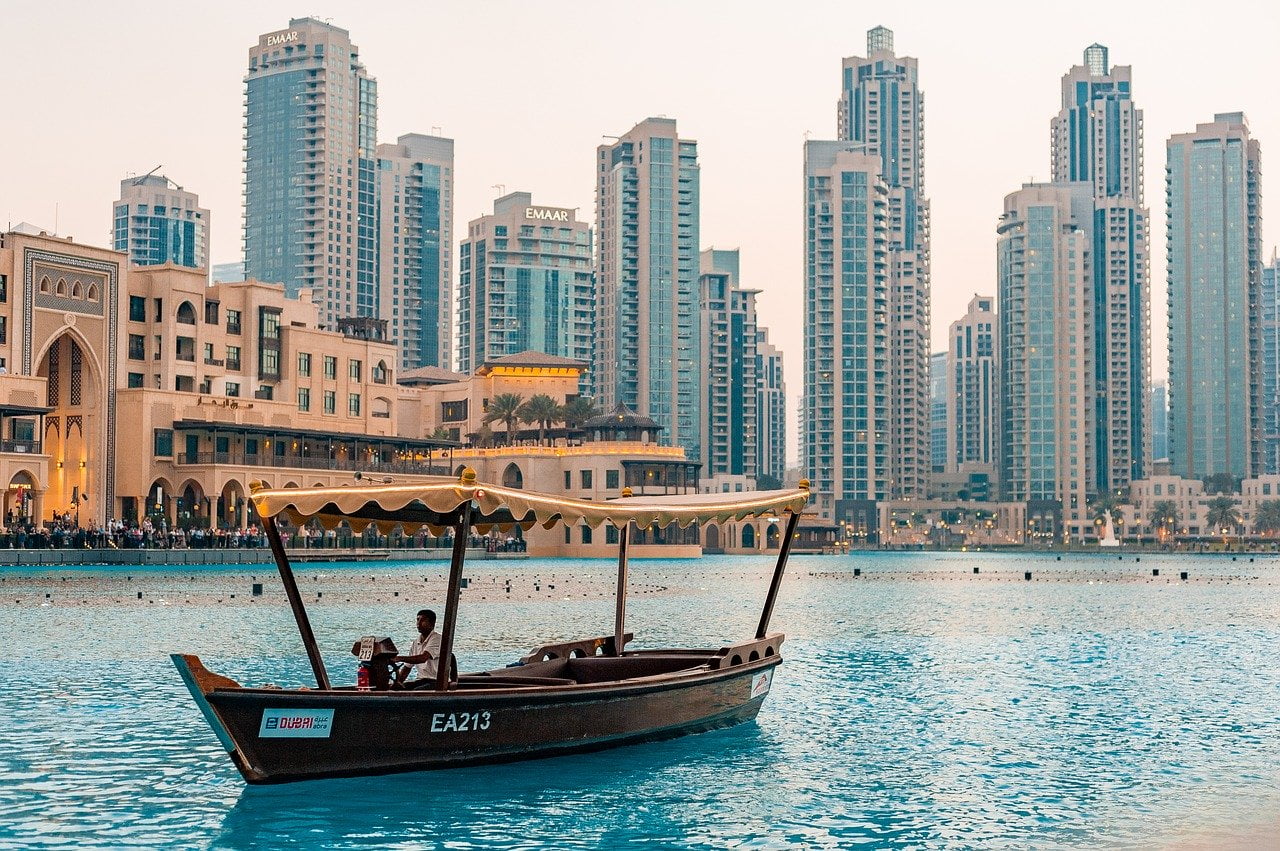 Downtown Dubai, with the Burj Khalifa and Dubai Fountain at its heart, is one of the city's most iconic districts. Millions of tourists flock here each year. However, it's also hugely popular with property investors. In 2019, 2,368 units were sold for a total price of AED 7.894 billion.
The total sales price makes it the second-largest area for investment in the city, behind Dubai Marina. However, the high average price per unit is significant: Downtown Dubai is a prestigious area to invest in and a luxurious area to live in, as well.
As a residential area, Downtown's The Dubai Mall is a big draw for potential tenants. As well as shopping, the mall offers a great casual dining scene for relaxing outside of work hours, as does Emaar Boulevard. It's popular with culture lovers, too, since Dubai Opera is in the same area.
3. Business Bay
Business Bay was also featured in the Dubai Land Department's 2019 top ten rankings for sales volume, with 2,999 units sold for a total AED 4.79 billion. It is certainly one of Dubai's popular developments along Shaikh Zayed Road — the emirate's main thoroughfare. As such, it is an ideal area for investors looking to purchase off-plan properties.
Business Bay is still under construction. Ultimately, it will have around 240 buildings, a mix of commercial, business, and residential. Numerous skyscrapers will tower over an area where Dubai Creek has been extended and dredged.
However, despite still being in the making, the area is already booming. Views across the Dubai Water Canal are attractive, and the cafe and restaurant scene is already well-established in the area.
4. Palm Jumeirah
In 2019, total property sales were valued at AED 3.741 billion for just 914 units sold. The area remains one of the most prestigious areas for property ownership in the emirate.
This is an area that has proven and sustained popularity for investments, and it's easy to see why.
A unique draw is a chance it offers to live in one of the planet's most unusual and incredible man-made achievements. The Palm stretches out into the sea, meaning all residences are close by water. There are stunning views to enjoy, back over Dubai Marina and the city, or out to sea over The Atlantis.
Palm Jumeirah is also home to world-class hotels, shopping, and boutiques, restaurants, and cafes. Residents can use a variety of entertainment venues, beaches, and water-based activities during their leisure time. And for those working in other areas of the city, commuting is easy via nearby Sheikh Zayed Road.
5. Al Barsha South
Al Barsha was also a popular place to purchase property in 2019. Over 1,800 units were sold to residents and investors.
Al Barsha has a different feel to many of the other areas in the top ten. It's a mainly residential district around 8 kilometers away from Palm Jumeirah. There are many villas and townhouses in the locality, meaning it is particularly popular with families looking for more space and quieter living. Nearby is the famous Mall of the Emirates (MOE) and the beautiful Dubai Miracle Flower Garden, which further cement its popularity with families.
An eye on the future
For investors looking for areas that are likely to grow hugely in popularity and provide excellent returns on investment, there are several areas in the early stages of development. These will appeal to investors looking for off-plan properties in Dubai. These include Emaar Beachfront and Dubai Creek Harbour.
a) Emaar Beachfront
Emaar Beachfront is an exclusive residential area amidst Dubai's hugely exciting maritime development: Dubai Harbour. The area promises cosmopolitan living and a serene seaside lifestyle. Residents will enjoy stunning ocean views and pristine white sand just steps away from their homes.
This is bound to be popular with Dubai's busy working population who will be able to commute from the area very easily.
b) Dubai Creek Harbour
Another stunning waterside development, Dubai Creek Harbour is a 6-square-kilometer development nestled in the heart of the city. It will offer residents affordable luxury waterside living. But with Ras Al Khor nature reserve next door, as well, the area offers residents and their families something a little bit more special.
The area will be home to an observation tower, Dubai Creek Tower, and Dubai Square, an area set to offer double the retail space of The Dubai Mall and the Middle East's biggest Chinatown. As such, it is set to be a hugely popular area to live in.
Dubai has earned itself a reputation as being a haven for property investors. True to form, Dubai continues to offer some enticing and exciting prospects. And with several new futuristic developments in the pipeline, this is set to continue for a very long time.
Read also: