A bathroom's tiles play an important role in more than just waterproofing the room. There are various tile options in terms of materials, shape, size, finishes, colors, and patterns, so choosing the right tile for the bathroom can be difficult. Here are some tips that will assist you in narrowing down your selection and selecting the right tiles for your bathroom.
If you plan to create a feature with bathroom tiles design, first figure out the number of tiles you will need for the bathroom. If the carpet will be used in the bathroom, determine the number of carpet tiles you will need. In case you are planning to install wall and floor tiles, you should determine the approximate price range according to your budget.
Though accent tiles tend to be more expensive than wall and floor tiles, the quantity of accent tiles required is quite small compared to the total amount of floor and wall tiles.
It is possible to find ceramic tiles, porcelain tiles, glass, ceramic tiles, stained glass, mosaic tiles, cement tiles, and more as bathroom tiles. As the bathroom floor tends to become slippery when wet, always choose matte finish or textured tiles, as they provide a good grip.
The use of glass tiles is not recommended as they are slippery. The most suitable tile size for the flooring and wall covering of your bathroom will minimize cutting requirements and waste. Use smaller tiles for the flooring as they have fewer grout lines and are therefore more slip-resistant.
Related Reads: Time Required For Tilling a Bathroom
Tips to keep in mind while selecting the design for your bathroom tiles:
Select the style you want in your bathroom:
To find the right bathroom tiles, you have to choose a style. There are countless styles, colors, and looks available such that you can customize your bathroom tiles according to your design preferences. To create a hotel-style look, use black, white, and other pastel shades for the tiles. Grey and brown are also good colors to choose from if you want a minimalist style.
Decorative bathrooms make use of decorative tiles to achieve a bold or cheery look. They look professional and very attractive.
Finally, geometric bathrooms make use of printed tiles that come in geometric patterns. Such bathrooms look unique and are highly attractive due to their geometric patterns. You should consider the overall style of your home as well as how your bathroom style will fit. This will determine what kind of tiles you need to purchase.
Decide on the right size:
If you are not sure what size you want for your bathroom tiles, it will be difficult to choose. The most popular size for floor tiles is 300x300mm, while small-format tiles range in size from 90×90 to 150×150. One of the main advantages of this size is that it can be located in a sloped manner towards the ground waste. Bathroom floor tiles are commonly supplied in 300x600mm sizes.
This is referred to as a large format tile and it can be paired with a rectangular stainless-steel floor grate. A large floor grate eliminates unnecessary cuts and slopes in the tiles. You can either make a feature wall with contrasting tiles or make a seamless look by using similar tiles for your wall tiles. Large-format tiles are always preferable to smaller format tiles.
Don't overdo the designs:
As soon as you've chosen the style and size of your bathroom, the next step is to choose tiles. However, mixing and matching tiles to achieve a unique look in your bathroom requires some care. Choosing three different tiles that complement each other may make your bathroom look cluttered. If you're going to mix and match, we recommend not choosing more than three.
It is always best to start with your floor tiles, then look at how they will contrast with your floor tiles, and finally think about your wall tiles, and how they will add dimension or interest to your wall. Be sure to keep your feature wall elegant because it will be a highlight of your bathroom.
Keep your shower area in focus too:
It may be worth considering different tiles for your shower space if you have a separate shower in your bathroom. You will also want to be sure to purchase anti-skid tiles because showers can be slippery. If you want a seamless look, use the same tile on your shower walls and floors.
Choose tiles in the rest of the bathroom that complement your shower. If you're renovating your bathroom or you're first building, you need to consider the tiles you choose. Unlike the tiles elsewhere in the house, bathroom tiles might be damaged by moisture and temperature fluctuations. There are many bathroom tiles available on the market today.
You have an endless range of choices when it comes to colors, designs, patterns, and finishes for your bathroom tiles. While this is great, the selection process can sometimes be time-consuming.
Be creative: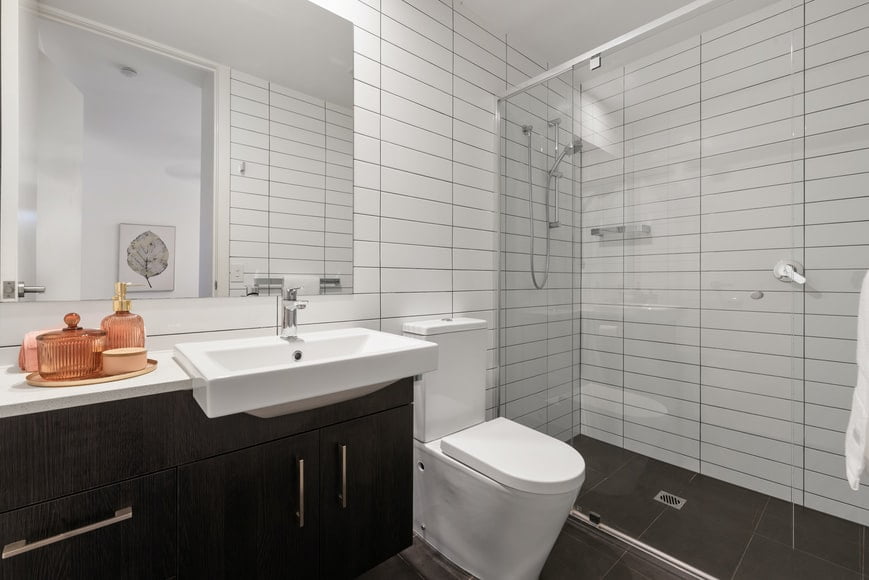 While floor tiles tend to be tougher than wall tiles, they don't have to be boring. Try choosing wooden-effect tiles for an aged and distressed look. To create a chessboard theme with plain black and white tiles in a monochrome bathroom, choose black and white bathroom tiles. To create a coordinated look, make sure your wall tiles match those on your floor.
If you feel like being extra creative, you can also use mosaic tiles to create interesting patterns in a floor space that might otherwise be fairly boring. In a family bathroom, you may want to utilize bright, bold primary colors to make it more child-friendly. If you don't have children or are an older family, you may want to use an elegant, grey-glazed tile and contrast wood effect.
Your bathroom can now look as beautiful and functional as it is functional, thanks to an array of options at an array of price points. Upgrades are a great way to gain a unified scheme for a room, whether you're upgrading for value or enjoyment, or family availability or deluxe indulgence, bathroom decor ideas can help too. Note that your tile palette controls the overall scheme of a room.
Read Also: