Summer is here, and that means swimwear season! Women's swimwear is available in a seemingly endless variety of colors, styles, and patterns. So how do you know which one is right for you?
We've all been there – we find a swimsuit that we love, put it on, and are immediately disappointed in how it fits. The top is too baggy, or the waist sits on that one spot we don't like. The problem isn't our bodies, but the type of swimsuit we are wearing. The good news is that we can alleviate these frustrations by choosing a swimsuit that works well for our body types.
How to Choose the Best Swimwear for Your Body Type
Not sure how to choose a swimsuit for your body type? We're here to help! Take a look at these tips to help you find the perfect swimsuit to accentuate your features and make your summer just a little bit hotter.
Hourglass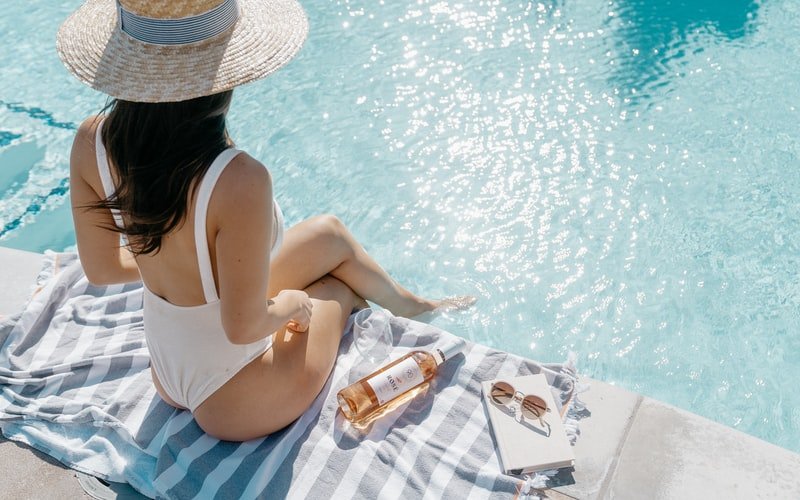 The hourglass body type is easily identifiable (i.e. dangerous curves ahead!). If you have an hourglass shape, you have a more defined waist and your hips and shoulders are about the same width. The best swimsuits for this body type?
Bikinis: Choose a bikini that is proportioned well to accentuate your shape.
Underwire: If you have a fuller bust, choose a swimsuit with an underwire to keep your breasts supported. This will smooth out your overall shape and make your curves look dangerously hot.
Full coverage bottoms: Full coverage bottoms help balance the proportions between your hips and midriff. This lets you show your midriff without feeling too exposed or "bottom-heavy".
Oval
The oval body type also called the "apple" is a rounder shape with the hips and shoulders well-balanced. If you have this body shape, you may have a fuller bust, shapely legs, and a less defined waistline. The best swimsuits to accentuate your assets are:
Tankini sets: A tankini or two-piece swimsuit is a great way to accentuate your waist and add definition. Full coverage styles that cinch in the waist are a great way to balance your proportions, define your waist, and show off your curves.
Detailed waistline: Adding visual interest around the waistline is another way to add definition. Shirring, knots or color blocks are great for this body shape.
Sweetheart neckline: A classic sweetheart neckline balances your proportions and draws the eye to your upper body. This style allows you to show a little skin without feeling too exposed.
Rectangle
Women with a rectangle body shape have a similar hip and shoulder width, without the defined waist. This body type is often called "athletic". You may have a smaller bust, but that doesn't mean you can't rock a smokin' swimsuit. The best swimsuits for this body type are:
Fitted: Swimsuits fitted at the waist help define your shape and play up your curves. Suits that accentuate the waistline make you look longer and curvier.
Push up bras: Boost your bust with a swimsuit that features a push-up bra or built-in cups. This accentuates your shape and visually breaks up your proportions.
High-waisted bottoms: If you have a longer torso, high-waisted swimsuit bottoms can help break up your proportions and accentuate your slender or athletic build.
Triangle
The triangle body shape is also commonly called the "pear" shape. This is one of the most common body types for women – with the hips wider than the shoulders. The key to a great swimsuit for this body type is proportions.
Push-up bras: A bra that flatters your bust line will play up your shoulders and add proportion to your top half. This helps balance your shape and accentuate your curves. The extra lift from a push-up bra or built-in cups can make a huge difference in how your swimsuit looks and feels.
High-waisted bottoms: Give your backside some love with high-waisted bottoms that elongate your body and make your curves stand out. High-waisted bottoms also help provide coverage if you want a bit more modesty.
Attention-grabbing tops: Draw the eye to your top half with an attention-grabbing top. Ruffles, off-the-shoulder or bold straps draw attention to your shoulders and balance the proportions between your shoulders and hips.
Of course, these body types are only general guidelines. Everybody deserves to look and feel great in a swimsuit. Try these tips to help you find the swimsuit that you can rock day after day this summer.
Read Also: