According to the Survey of National Pet Owners, there are 39% of US resident has at least a dog. Another survey reports that there are almost 73 million owned dogs In the USA. Apart from cats, dogs are thought to be the most popular pets among US residents.
With so many dog breeds to select from, US pet owners always advice to buy one that is right for their living space, personality & lifestyle. Some dogs have the absolute necessity that requires special awareness from their owners.
However, there is one thing that all dogs need from their owners, and that is a perfect dog bed. Your dog's sleeping routine is significant for him or her to have an active & happy life. There are lots of beds out on the market for your dog.
So how to choose a perfect dog bed among a huge range of options? Well, it can be challenging, but this article reveals some tips that make selecting the right one much easier.
Tips to choose a perfect dog bed:
When it comes to dog beds, there are plenty of choices. Let's discuss some key points that help you to select the ideal bed for your dog.
1. Health & Age:
The health and age are significant things when it comes to choosing a perfect dog bed.
For instance, if you own an older dog, you need a bed that is easy for them to get into & out of. An elevated bed, like a pet sofa, may be perfect for larger pets.
Also, a smaller bed with low sides would be suitable for an aging toy breed. If your dog loves to chew the bed due to their sharp teeth, you should go for a chew proof dog bed.
You need to choose a machine washable bed if your dog has bladder control problems.
Note: Dog beds should have some health features. These are including machine washable, dirt & odor resistant and joint support.
2. Size Matters:
Size is also a significant factor when it comes to choosing a dog bed. Every dog owners want to have a dog bed that is safe, secure, & comfortable. You should select a bed that suits your dog & space in your house comfortably.
3. Material:
The material is also an essential factor. You will find lots of dog beds which has many different materials in its construction. And just because many that it can classify with.
For instance, there are some beds made out of polyester & filled with fiberfill much like a pillow on your bed. Some dog bed also made out of micro-suede or vinyl & stuffed with memory foam.
Materials can be critically significant to a dog bed. Dogs have skin sensitivities & allergies to some fillings & materials. So you should buy a bed that uses allergen-free materials. Also, it is best to have a bed for your dog that uses washable materials.
A memory foam dog bed is perfect for the older dog as it is best for tendons, joints and muscles. You should consider a dog bed that uses chew proof materials in its manufacturing. The chew-proof dog beds ensure the longevity of a dog bed.
4. Location, Location, Location: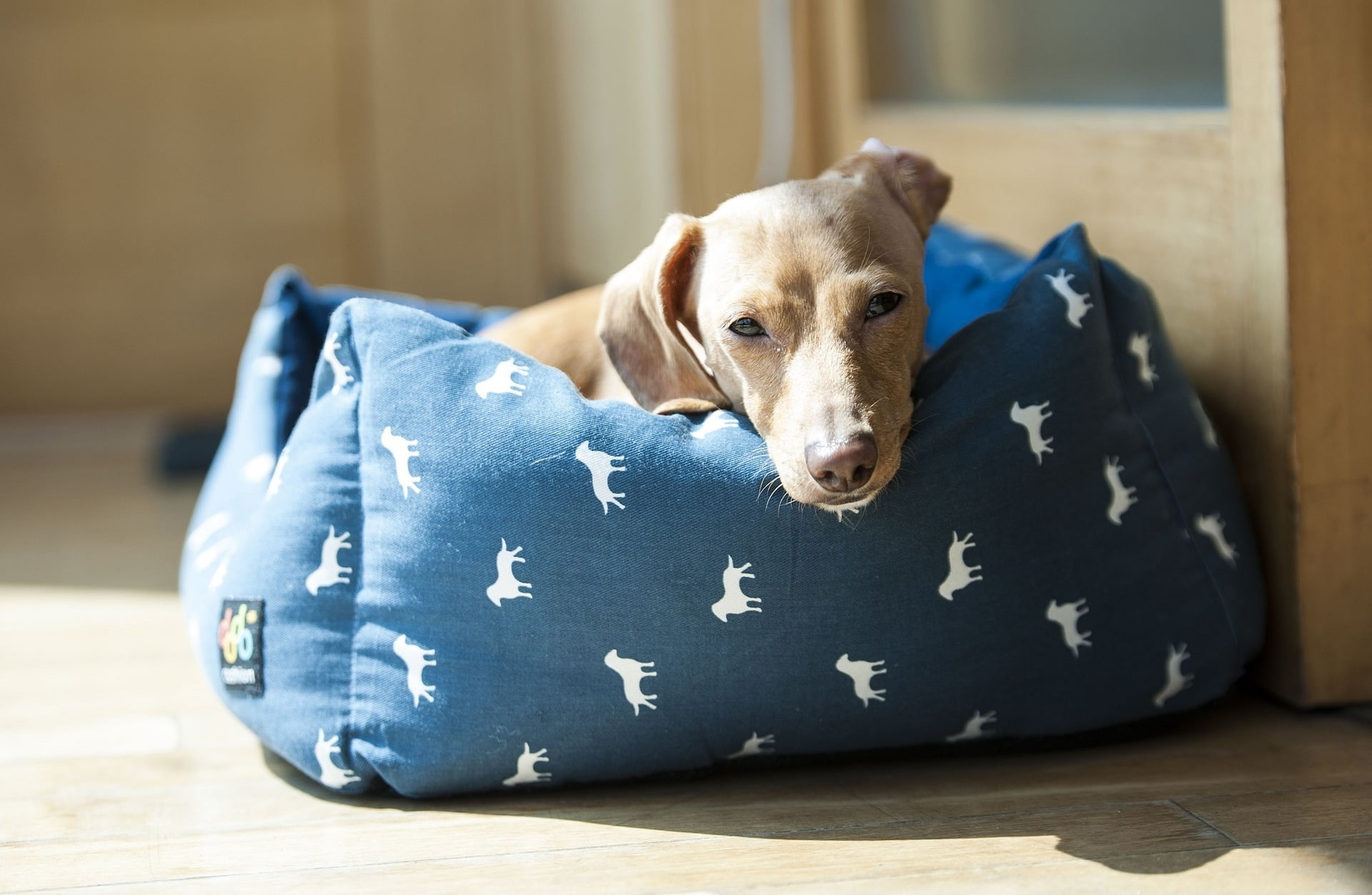 Beds come in nearly every color, style, and shape. This is significant as it implies you can choose the right dog bed for your home.
For instance, what if there is an empty corner in your living room that is suitable for your dog's bed? Then why not find them a bed that is made to suit into a corner? Also what about the dog bed that looks at the end of your bed?
You can get an excellent elevated dog bed that suits your needs perfectly. Circles, couches, raised beds, ovals, rectangles, squares, and old dog pillow are all choices relying on where you are setting your dog's bed.
5. Purpose and Personality:
Already you know the unique personality of your loving dog. So you should choose a dog bed that matches their personality.
For instance, what if your dog likes burrowing or snuggling or if you have a dog that is exceedingly shy? You should select a dog bed with a cover on it for them. Also if your dog loves hanging & playing outside, then you need to buy a bed that is durable & suits your dog's personality.
Conclusion:
A dog bed should be something that lasts for long since. They need to be easy to keep clean, and comfortable for your dog. They should match your dog's needs & personality as well.
Make a list of what you & your dog want in a perfect dog bed & start comparing. Finally, consider the tips mentioned above for choosing your next dog beds. For more information about dog beds, please visit our site.
Read Also: