The appearance of engineered wood flooring may be quite convincing when compared to genuine wood, and it is also friendly to the environment.
However, the aesthetic value of this floor is just one of several things that make it desirable. The use of engineered hardwood is recommended for even more reasons, which are detailed below.
1. DIY-Friendly
To enhance the simplicity of its installation, engineered wood flooring is increasingly being built as interlocking flooring.
2. Every Piece Is Unique
You will never encounter a pattern that repeats itself or a texture that does not convince you due to the fact that this veneer is made from genuine wood.
3. Stylish
The use of the flooring that mimics the appearance of wood is now the most popular trend, but it is also a timeless design choice that holds up well over time.
You can read more here about the stylish and simple applications of engineered hardwood. You do not have to be satisfied with the appearance when you use engineered wood. You will get a genuine article.
4. Moisture Resistance
Water resistance in engineered wood flooring may range from moderate to complete, depending on the flooring's core.
5. Put It Up Anywhere You Like.
Because of its high resistance to moisture, it may be installed everywhere, even in wet environments like kitchens, laundries, and even basements. There is not a single floor in your house that you can't explore.
What Exactly Is The Janka Scale Of Hardness?
The Janka hardness scale is one method that may be used to evaluate the longevity of different types of wood. It determines the amount of force necessary to embed a steel ball into a test piece of wood and quantifies that force.
The results of this evaluation will then indicate whether the wood in question is appropriate for use as flooring. When testing its resistance to pressure and impact, the harder it is to embed a steel ball, the better.
The Janka grading system is used to guarantee the great durability of engineered wood flooring due to the fact that it is overlaid with genuine wood. A rating of one thousand or more pounds of force is considered to be the minimum acceptable rating for any and all wood flooring solutions.
What Constitutes An Effective Wear Layer In Engineered Wood Flooring?
There are certain engineered wood floors in which it wears layer is an integral element of the genuine wood veneer. Its durability and quality are therefore determined by the veneer's thickness and the wood's polish.
It is suggested that the thickness of a wear layer for engineered wood be between 3 and 5 millimeters. The engineered hardwood flooring's wear layer and genuine wood veneer must be at least 3 mm thick for refinishing.
Can Engineered Hardwood Floors Withstand The Test Of Time?
Due to their superior structure, engineered wood floors have become a popular choice among homeowners. With its moisture-resistant core and thick hardwood veneer, it can withstand years of foot traffic while still looking excellent.
What Is The Main Difference Between Solid Hardwood And Engineered Hardwood?
The structure, the method of installation, and the types of locations in which each may be placed are the primary factors that differentiate hardwood from engineered hardwood.
Each plank has a thin layer of hardwood veneer applied to its surface, while traditional hardwood floors are made from sawed-off logs. After that, composite materials are used, such as high-density fiberboard, to construct engineered wood products (HDF).
Because the majority of the plank is constructed out of materials with a higher rate of development rather than a single board of old-growth wood, engineered wood has a structure that is more beneficial to the environment.
Installing engineered hardwood is significantly easier than traditional hardwood thanks to a special tongue and groove system. In addition to this, unlike solid hardwood floors, it may be laid in a wider variety of rooms across the home.
What Is The Main Difference Between Laminate And Engineered Wood?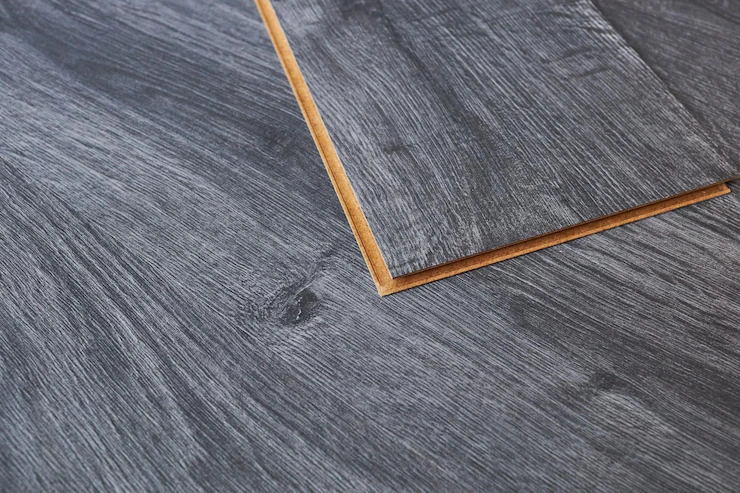 There is a significant difference between engineered wood flooring and laminate floors, despite the fact that they might have a similar appearance. The primary distinction between the two flooring alternatives is in their construction, despite the fact that both are long-lasting solutions.
The outside layer of engineered wood is made of solid wood, while the inside core is made of strong engineered wood. To create the appearance of the surface, laminate has a photographic layer that is covered with a wear layer. Additionally, it has a core board and a backing layer that provides stability.
Are Waterproof Finishes Available For Engineered Wood Floors?
When compared to solid hardwood, engineered wood is superior in its resistance to water because of its multi-layered construction and solid core. However, the only planks that are considered to be completely waterproof are those that have a stone-plastic composite (SPC) core.
Read Also: