The cocktail hour revamps your solemn ceremony into a grand soirée. It's a guests' favorite, an opportunity for them to interact and nib on some quick edibles. This period is fun, relax, laid-back, and sets the tone for the reception. The smooth transition between your ceremony and reception is largely dependent on your cocktail setup.
Having an outdoor cocktail party makes you one with nature, but there's something more. Our wedding cocktail hour ideas have all the answers.
1. Create a seating plan
For an outdoor wedding cocktail, a seating plan is important. You want the guests to feel comfortable for the duration of the cocktail. This will impact their mood for the rest of the reception. Some outdoor wedding seating ideas include creating a private lounge for guests who need a bit of quiet or for private discussions.
Also depending on your wedding style, you and opt for couches, bales, single chairs, etc. There's no need for place cards at this point. Guests can mingle and sit where they find.
2. Consider your decor
Wedding cocktail parties aren't complete without the appropriate decor. An outdoor event gives you nature on a platter. Work with it by infusing outdoor wedding flower ideas along the line of bright, seasonal blooms, succulents, and accents.
Think tulips, sunflowers, dahlias, chrysanthemum, some greenery. Etc. Take advantage of the natural lighting by allowing open air. Incorporate elements from your ceremony and reception following your wedding theme. However, be careful that you don't overwhelm the venue with decor. Complement nature instead.
3. Raise a tent over your bar
Come rain come shine, holding an outdoor cocktail hour requires a shade for your bar. This will help preserve your drinks and mixtures from the elements. Go for a bar style and tent that allows the guests access from all sides. Also, ensure that it isn't too high over the bar. Just like a cozy house-like tent will do.
4. Prioritize guests comfort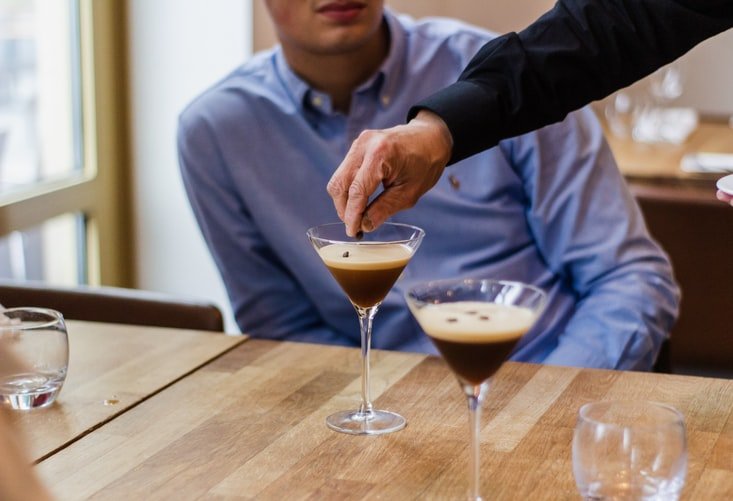 Outdoor cocktails can be fun but challenging for the guests especially when the weather and elements are unfavorable. If you're hosting in the summer, avail guests with sunscreen tubes, keep pests at bay with treatment candles, and paper fans to go around. Place baskets of scented towels and umbrellas at strategic points. Utilize these items in personalizing your event.
5. Encourage interaction
The wedding cocktail sets the tone for the rest of the evening. Why not stoke the embers of fun with some ideas. Put a portrait at the entrance and have the guests sign off on them using markers as they come through. You can also have attendants hand them sunshades on their way into the venue.
Have baskets stocked with personalized drinks so that the guests can search for their names? Allow the guests access to the bar so that they can create their signature cocktails. There are so many cocktail party creative ideas to explore.
6. Create personalized cocktails
Wines and beers are great, but a step out of the box will elevate the drinking experience. Create your recipe cocktail taking inspiration from anywhere. This could be your native land, a culture you're both interested in, somewhere you've been together, where you first met, or a passion you share. Let the guest's taste a bit of what makes you tick.
7. Take lots of pictures
You're on your way to sunset from an outdoor cocktail hour. Take advantage of this beautiful time of the day to take stunning pictures(maybe with the help of a professional photography service). The best part is all the candid photos that you can get. Guests smiling, having a chat, making their drinks, sharing hugs and kisses, etc. Also, take great photos of yourself in the sunset. You'll cherish those pictures for years to come.
Our wedding cocktail hour ideas are perfect for any outdoor wedding. Get inspired and create beautiful memories.
Read Also: