Keeping our children safe is something that we all think about regularly, especially when they are too little to understand the dangers around the home.
Toddlers tend to like exploring and getting up to mischief, so it's even more important to keep them safe from any hazards they can encounter day-to-day.
Here are 6 ways to keep toddlers safe at home
1. Have stair gates fitted
When little ones are finding their feet, it can be easy for them to take a topple down a flight of stairs. They have no understanding of danger, and their reactions are not the same as those of older children. By fitting stair gates, you will vastly decrease the risk of them falling and hurting themselves.
Be sure to fit a gate both top and bottom, so there is no chance of them climbing up the stairs or getting down them. Once they are a bit older and understand safety, you can remove them, but for now, don't take any chances.
In addition to the stair gate, you can add a Smart Baby Camera. This camera can record your baby's movement when you are not there and help you better prepare for different scenarios.
2. Minimize the risk of mosquito bites
According to Nextgen Pest Solutions, mosquito control is vitally important, especially when dealing with young children or the elderly. Some of the diseases they carry, such as Malaria and West Nile Virus, can be extremely dangerous. If you live in an area where mosquitos are prevalent, use mosquito nets and keep windows and doors closed.
If the problem is particularly bad, call in an expert to help eradicate them. Bites are not only uncomfortable for toddlers and small children but can also carry a high risk of infection.
3. Keep medicines locked away
Many children are taken to hospital each year due to having swallowed something they shouldn't have, which is why medicines should be locked away at all times. Keep all tablets and bottles in a sealed container, preferably in a high cupboard, to ensure that they will always remain out of reach to young, explorative children.
If you take tablets during the day, be sure not to leave them lying around. Young children will put whatever they can find in their mouths, so pretty pink tablets or anything resembling candy will be even more appealing. You can never be too careful when it comes to medicines, so be vigilant and keep your children protected at all times.
4. Check your smoke alarms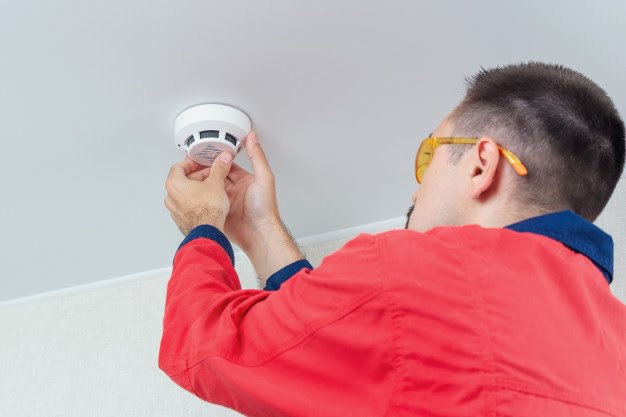 Working smoke alarms are essential to protect your family, so test them at least once a year to make sure they are working correctly. If you have battery-operated alarms, it's a good idea to check them more frequently and replace the batteries once a year regardless. Hard wired alarms are a safer option, as they will work providing you have an electricity supply, so if possible, switch to them instead.
Keeping doors closed will slow the spread of fire, so although you may prefer to keep your children's bedroom doors open at night, it's best to keep them closed. If you are concerned about not being able to hear your kids during the night, a baby monitor will keep your mind at rest.
5. Have child safety locks fitted to kitchen cabinets
Similar to locking away medicines, kitchen cupboards are also best child-proofed. From cleaning products to heavy pots and pans, many things could hurt your child, so keeping them locked away is a good move.
There are many variations of safety locks on the market, so you should have a wide array to choose from. Many simply stick onto the front of the door, while others are screwed in place. If you need to do some makeshift child-proofing in the meantime, a tea towel tied between door handles should prevent your little ones from gaining access.
6. Keep doors and windows locked
Keeping windows and doors closed and locked will ensure that your children can't get out of the house without you knowing about it. This is particularly important when it comes to windows on higher floors. Children enjoy climbing, so leaving a window open could be extremely unsafe if they become inquisitive.
Many windows have safety latches that allow you to open the windows a fraction to allow for room ventilation, so if your home is too warm, by all means, use that method instead. It takes seconds for a toddler to escape through an open door and seconds for an intruder to enter your property, so don't take any security risks and keep them closed and locked at all times.
For more information on home security, read our article 10 Home security tips that could save your life.
Read Also: