The decision to choose and use any airline credit card should be given serious thought. Do not just settle for any kind but the best suited for you. This choice should be based on a number of factors.
For example, the major routes you take should influence your choice. Besides this, the perks and downsides that come with using it should be carefully examined. You can read this article for more details on how to properly make your choice.
In light of this, some of the features and benefits of the Alaska Airlines credit card would be discussed here in this article. Keep reading as this information can either help you make sense of the decision to get it or do otherwise.
Alaska Airlines Credit Card Features and Benefits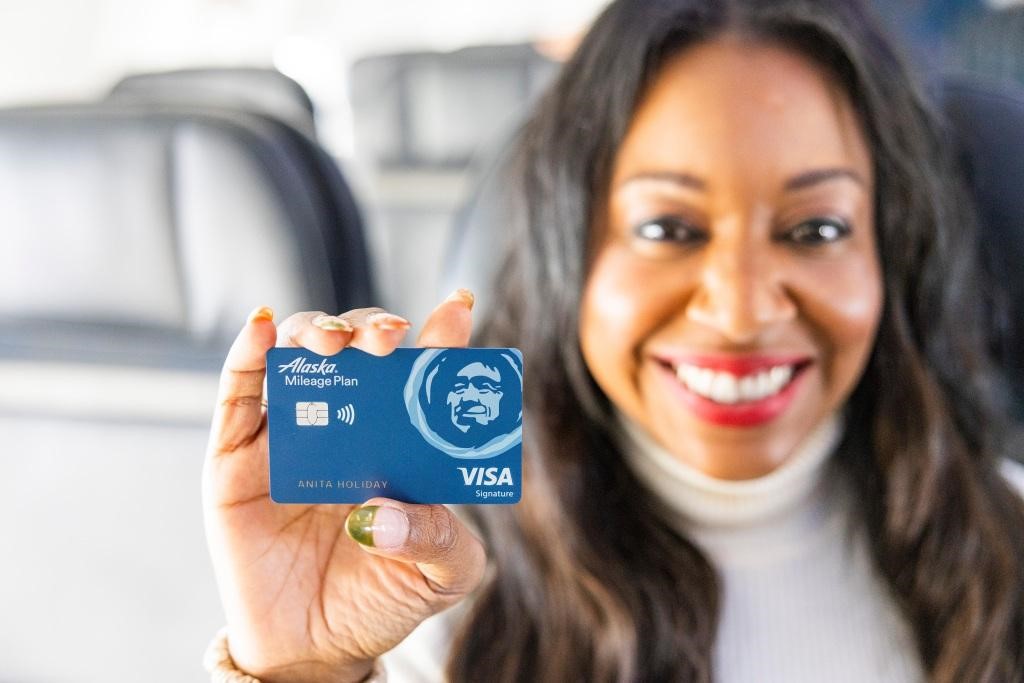 This credit card offers a wide range of features and benefits. Some of them include the following:
1. Mouth-Watering Welcome Bonus
New cardholders stand the chance to benefit from the generous welcome bonus that this affords. The generous welcome bonus is one hundred dollars in statement credit and 50,000 in bonus miles.
However, these bonuses would only be enjoyed if certain requirements are met. The requirement is to spend two thousand dollars at least in the first 3 months (90 days to be more accurate).
New cardholders who get this welcome bonus offer can get northwards of 1000 dollars when it is redeemed in the form of a mileage plan. It is a good offer, especially for those that frequently cover approved routes and use the approved airline services.
2. Reasonable Annual Fee
Some alternatives charge well over five hundred dollars as their annual fee. Some even charge close to seven hundred dollars. The platinum card from American Express is a good example.
This goes to show how the ninety-five dollars annual fee for this card is very well in the range of a reasonable annual fee. This is not to say that options that demand a lot more are bad choices.
There are other factors to consider when making this choice besides this. Regardless, it is worth noting that Alaska Airlines Visa Signature® credit card is one of the most affordable options going by the price of its annual fee.
3. Benefits for Your Companion
A select number of companions can enjoy several perks with cardholders. This is mostly about discounted air travel and free checked-bag services. As a result, frequent travelers who are credit cardholders can save significantly.
For starters, this is one of the generous offers that come for new cardholders. But the better part is that it does not stop there. This perk can continue to be enjoyed every year as it is one of the usual yearly offers from the card's service providers.
However, there are requirements to be met. It is spending six thousand dollars at least in the previous year.
4. Lounge Access
This card is a great option for those who love the idea of feeling as comfortable as possible before their flight. This is given how you can have access to the Alaska Airlines lounge. The more exciting part is how this access comes at a discounted rate, as well as how two of your companions can take advantage of this perk.
The price for each person would be twenty-five dollars, thanks to the discounted rate. Some of the benefits that could be enjoyed by you and your companions as a result include – complimentary beverages & snacks, comfortable seating, and Wi-Fi access.
5. No Charges for Foreign Transactions
This card allows cardholders to make purchases abroad at no extra cost. Foreign transaction fees could be a nightmare but cards like this one save you trouble. As a result, online shopping from foreign sellers and even international travel are as convenient as they can be with this card.
6. Free Checked Bags
You can save costs on travel thanks to the free checked bag benefit of this card. This same benefit could be enjoyed by your companions. However, no more than six of them can enjoy this.
7. Purchase and Travel Protections
Cardholders can enjoy loads of travel protection that other airline customers who are not cardholders may not enjoy.
Some of the several ways you can enjoy travel protection are:
Getting reimbursement for lost luggage
Insurance coverage for travel accident
Financial coverage for a delayed baggage
Insurance coverage for a canceled or interrupted trip
You get extra purchase protection as well. For instance, you can get an extended warranty on products purchased using the card. However, they must fall within the category of eligible purchases.
Conclusion
These are just a few of the features and benefits of this card. There are several others. The possibility of qualifying for elite status levels is another. For more information on its features and benefits, you can visit: https://www.businessinsider.com/.
By the way, you need to be eligible to get this card. The major requirement is having a good credit score. People with bad credit scores would likely see their application request declined.
Read Also: