Exercising at home is an alternative to going to the gym that more and more people opt for. Lack of time and finances are the most common reasons why someone decides to build a home gym and work on their body. Investing in a leg press machines are a good move, as you'll get one machine for a variety of workout programs.
Exercises for lower body part should be a mandatory part of any exercise program, whether you exercise at home or in the gym. Sexy, tight, and shaped muscles are imperative, but we must not forget the health effect of these exercises.
The legs are the primary impellers of the body; they give us mobility, support, and balance. Strong and trained muscles can withstand more significant efforts and are more resistant to injury. While exercises like squats and steps are great for tightening muscles, the leg press machine is a must if you want to shape and accentuate them.
Types of Leg Press:
Because fitness professionals have designed a range of exercises for lower body parts, each targeting a specific area, manufacturers of exercise equipment came up with a variety of leg press machines. Each of them requires you to push or lift your legs so that you strengthen and increase the muscle mass of your thighs and calves.
The primary division is made according to the slope of performing exercises. So we have vertical, horizontal, and 45-degree versions of these machines. All of them target the same muscle groups but in different ways and intensities.
The horizontal machine is recommended for beginners, since it requires the least effort, while the vertical is a good option for professionals. Angled exercise by moving the slide mechanism gives you control over your movements, so you get the maximum effect without the risk of injury. Here you can see some alternative exercise for the lower body part.
Price Range:
Leg workout equipment is likely to be the most expensive item in your home gym budget. That is because these machines cover a variety of exercises, and are made of high-quality, firm materials that can handle heavy loads (up to 1000 pounds).
The price of these machines varies from several hundred to several thousand dollars. What most affects it is the construction, then the quality and weight range of plates sets, how comfortable the support pads are, what additional features machine has, etc.
Before anything else, you should set a budget, to avoid unpleasant surprises or not to waste time looking at too expensive machines. Also, it's good to know what you want to achieve using the leg press, and only then start the search.
Weight Level:
If you want to build muscle and increase lower extremity strength, you should challenge your body. In order to adapt to that stress of the weight, your muscles will breakdown and rebuild while you exercise them. There are also other benefits of weight training.
Without weight, there are no muscles. Most leg press machines come with a set of plates, though in some models, these sets have to be purchased separately. The combination of their weights increases resistance and results in many variations of the same exercise.
By changing the position of legs, you can train the same group of muscles in different ways. The movements you perform on the machine must be natural, consistent, and smooth. It is advisable to try the machine before buying so that the seller can explain the settings.
Multi Gym or Single Leg Press: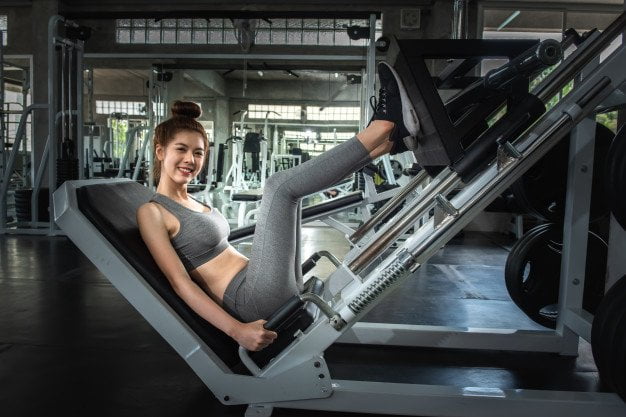 The multi-station is several gym machines in one. You probably think of it as a good investment, but buying it for home use is not necessary. First, it's bulky and costs a lot. Some of its features you'll probably never need unless you're a dedicated professional.
A quality leg press machine is all you need to work on your lower extremities. It will help you reshape your lower parts without the hassle and unnecessary gym accessories. The money you would give for a multi-gym, you can probably spend smarter.
Equipping the home gym can be done gradually, so it does not represent a significant financial burden. And for many professional exercise equipment, there are cheaper, but equally effective alternatives. Investing in the leg press machines are a good move, as you'll get one machine for a variety of workout programs.
Read Also: