As you exchange vows and profess your love, it is essential to exchange wedding rings. Giving your spouse a wedding is a way to symbolize your love. Likewise, wearing your wedding rings serves as a reminder of that love.
Yes, your wedding ring is as important as every other wedding detail. This includes all the wedding must-haves, such as the wedding outfits, decor, cake, etc. That is because your ring is the one thing from the wedding that remains with you.
Many couples treasure their wedding rings because of the emotional attachment they symbolize. This is why most people love to wear their ring all the time, anywhere they go. However, because your ring is a mark of forever with your spouse, you need to get it right.
Choosing the right wedding sets can be tricky, but this article will guide you. Now, pay close attention!
What to Look Out for in a Wedding Band
There are different types of wedding jewelry you can choose from. Wedding rings come in several shapes, sizes and qualities. The prices also differ, depending on the type you choose.
Below are some things to consider when choosing your wedding ring;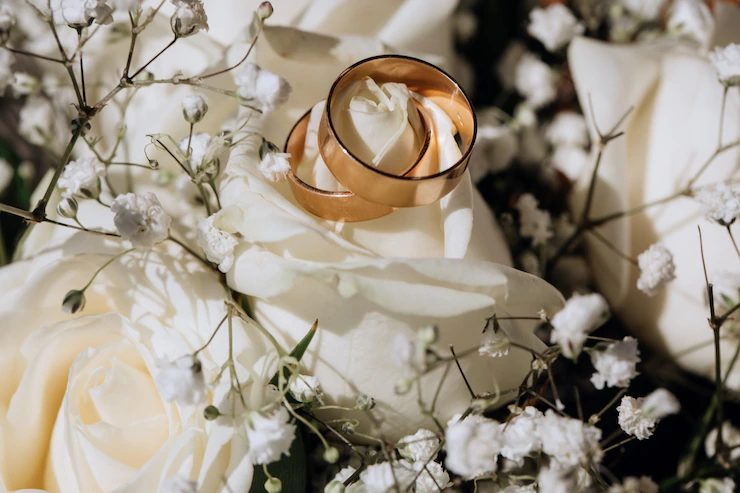 1. Quality of the Wedding Rings
You and your spouse would want something that will withstand the test of time. If possible, you may want to pass your wedding ring down to your children. The quality of your wedding ring is a big deal, and you should pay attention to it.
Out of the countless types of wedding rings available, diamonds are one of the most reliable. This is because they are strong and can withstand sweat over time. They also shine!
Diamond wedding rings are also easy to customize. So if you want a bespoke ring, consider diamonds.
On that note, following the 4 Cs of diamonds gives you the best chance of picking a quality diamond ring. Still, you should know that the quality of the ring dictates its price.
2. Your Budget
While prioritizing quality wedding rings should be the norm, your budget always has something to say.
Many people are tempted to go all out with expenses to have the perfect wedding. This may seem convenient at first but may cause regrets in the future. Instead, you should have a budget for everything concerning your wedding, even the rings.
Budgeting will narrow your options from the thousands of rings in the market. Most wedding rings are less ornate than proposal rings, so they are more affordable. Ensure that you set a budget that you can afford with comfort and make it reasonable.
While natural diamond wedding rings might seem like the rave, a cheaper alternative is to go for lab-grown diamond rings. You get similar quality while paying as much as half the price of natural diamonds.
Furthermore, you should include both wedding rings in your insurance as soon as you buy them. The insurance should cover both theft and loss cases. This is important, especially if your calls cost a fortune, like gold or diamond cuts.
3. Your Lifestyle
Another factor to consider thing when choosing your wedding band is a lifestyle. Your daily activities should determine and influence your wedding ring choice.
Your profession is another factor to consider. For example, the wedding ring you will use as a fashion designer may be different from a chef's.
Remember, your wedding ring will be on your finger almost every day after the wedding. So it would be best if you went for one that doesn't interfere with your work. It would be best if you also went for quality so your lifestyle will stay the same.
If, for instance, you work a lot using their hands. Lab-created diamond rings may not be an excellent choice for you. In addition, keeping the ring clean may become challenging as it traps dirt.
If you or your spouse love to go on adventures, you should go for something simple and sturdy. Men can go for plain wedding rings to complement their masculine side. Women can for a solitaire wedding ring which is more feminine.
Another important consideration when choosing wedding rings is comfort. Go for something that feels natural when you wear it. As mentioned, your wedding ring should be fine with your daily routine.
Remember to stretch and move your fingers at various angles when trying out the ring. This will allow you to know if the width is comfortable enough. You should also check for the fit; it should fit enough not to fall off, but it shouldn't be too tight. Finally, your ring should not cause pain and discomfort. If it constricts, your hand movements don't go for it even if you like it.
4. The Sentimental Value
To a large extent, your wedding jewelry should have some emotional attachment. This will make the rings more valuable to both of you.
Most wedding rings you will find in shops are common. This is because you'll always find more duplicates of every ring in the market.
The only way you can make your rings unique is by customizing them. You don't have to pay for a new ring design, which may be expensive. You can engrave a personal message on any rings you both choose.
So when picking wedding sets, consider what you want your spouse always to remember. There are so many engraving ideas to choose from. You can go for the traditional wedding date inscription or your initials. This means you can go for a thin wedding band. If you want to be poetic and engrave a short letter, you need a wider ring to allow space for more notes.
Some notes you can engrave on your wedding rings are;
A line from your favorite song
A bible verse
A quote you both love, etc.
5. Size and Style
The shape and size of your finger may differ from that of your spouse. Unfortunately, this means you both cannot wear the same ring size. The primary concern for most men is finding a ring that is easy to wear around.
Women prefer more complex rings instead of plain and simple. Also, most wedding rings for women tend to complement their engagement rings. Whichever style you are going for, ensure they fit well.
Any oversized ring is easy to misplace and uncomfortable to wear around. This is why you need to confirm the size before buying it. If it is a family heirloom that doesn't fit, you may consider melting or resizing it. This will allow you to create a new ring that is your size.
6. Pro Tip
When buying your wedding jewelry may not seem important, but it is. Shopping for your wedding rings early gives you enough time to decide. You will also have time to make any adjustments or choose another.
It is advisable to make arrangements for at least 6 months before the wedding. This is very important, especially if you are opting for bespoke rings. If you buy from a shop, you can look for discounts. The discount sale may be months before your wedding, but you can use the opportunity.
Conclusion
Shopping for wedding rings can be a great way to bond with your spouse-to-be. It can be a stress-free experience if you know what you want when choosing wedding bands. First, always think of your wedding rings as the symbol of your love. This will condition your mind to go for the best you can afford.
Additional: