Precast concrete manholes constitute an essential component of the modern sewer system. A well-devised and installed precast maintenance hole is very effective in delivering superior watertight performance. This wouldn't be that impressive in the case of other non-concrete products.
The biggest advantage of precast concrete manholes is you do not have to use harmful substances which are harming the environment and nature. These are a great alternative solution for regular harmful concrete.
Let's see first what the precast concrete manholes are.
What Are Precast Concrete Manholes?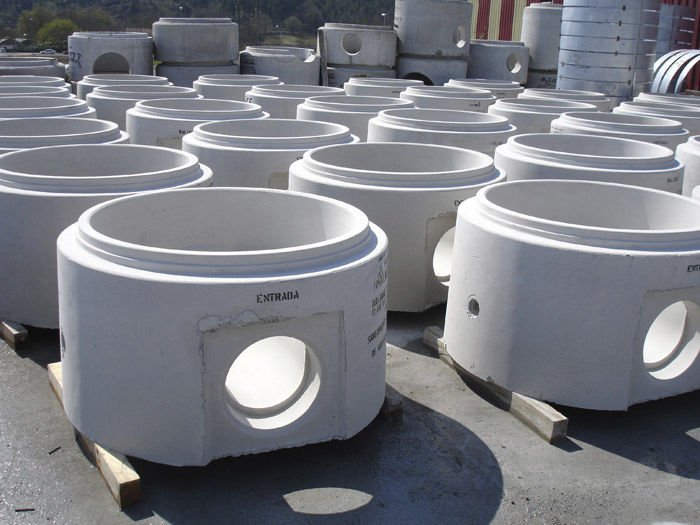 The precast concrete manholes can also be constructed at a depth of 500 feet and even more than that. This is typical because the lateral forces being exerted are equal around its circumference, which provides that area with proper compression- something which is essential and basic to concrete.
These manhole sections are constructed in controlled settings, which impart a rich quality and remarkable uniformity. These manholes find their applications in a wide range of areas such as sanitary sewers, wet wells, pump stations, stormwater management structures, etc.
Expected Growth Of Precast Concrete Products
Apart from these manholes, other precast concrete products are gaining worldwide importance because of the benefits they hold. According to research, the precast concrete manholes market area is expected to witness growth from 130.6 billion in 2020 at a CAGR of 5.9% until 2025 globally. 
Probably wondering what the benefits of precast concrete manholes are? Well, let's dive into five surprising ones:
5 Advantages Of Precast Concrete Manholes
The popularity growth is clearly denoting the facts which are working behind the popularity of the precast concrete manholes. Most people are now in search of permanent and stable solutions, and for this, the precast concrete manholes are the ultimate solution.
Read through the five advantages of precast concrete manholes.
1. High And Durable Quality
Since they are made in controlled settings, we can be certain that their quality would be remarkable. Being constructed in controlled settings, the impact that external factors such as temperature, craftsmanship errors, etc., have been next to absent in a precast plant.                                                                                                                        
Being durable, it bears resistance against unfavorable influences of the environment and can also endure wear and tear over the years and still be as strong as the day it was put in place.
The rainy season is always bringing up the maximum challenges. During this time, everyone needs a good performing manhole that easily removes the excess water from the streets. And after each rainy season, you have to repair the whole sewage system unless you are going to use the precast concrete manholes.
2. Requires Little Maintenance
In comparison to the other non-concrete options, there's not much that you need to do for the upkeep of concrete. Although there's a possibility that some insects and tiny animals can invade the wood, there won't be any other undesirable particles entering the concrete.                                                                                                  
In addition, there's an absence of the requirement of painting, primer, or pre-wrap to shield the concrete from these elements. If these manholes are made following the proper procedures, they can stand effectively in place for over a century.
The well-structured precast concrete manholes can stand for centuries. Most of the old cities are always suffering the issues of the ill-draining systems. And for this, the precast concrete manholes are the easy solution. You are investing for a single time, and you do not have to invest in maintenance for a longer time.
3. Cost-effective
As compared to other kinds of materials, concrete is very cost-effective. Drawing on the famous proverb "Time is Money", you also don't need to invest much of your time from its installation till its maintenance because their precast concrete manholes' construction processes are fast and easy.                                                                                                                                          
On the financial side, it's less expensive for a wide range of reasons. The contractors don't have to invest much in labor since precast installation doesn't take more than a day. So, there's no requirement to pay the laborers for a week's time to supervise the manhole construction.
As mentioned in the previous point, no extra purchases must be made to protect the concrete manholes from unwanted elements. And lastly, you don't need to put in more time and money to replace it after every decade or so.
4. Effective Buoyancy And Fire Resistance
Having a specific gravity of 2.40 and powerful resistance to friction, precast concrete manholes have remarkable resistance towards buoyant forces than any other materials used in the construction of manholes.
Other materials like fiberglass and HDPE (High-Density Polyethylene) have specific gravities of 1.86 and 0.97, respectively, which makes them require equipment like tie-downs. This thus leads to a shoot up in the costs of the project.                                                                                                
These manholes are also incombustible even at temperatures of 200 F, where materials like fiberglass would lose their structure.
5. Eco-Friendliness
Offsite precast concrete manholes casting is beneficial in the decrease of construction wastes and dust that is generally generated on the site. Concrete made from natural elements is environmentally sound. Wastewater generated at the plant can also be recycled for putting it to use in production.                                                                                                                
Since these are manufactured in areas different from delivery, there's a considerable decrease in truck traffic, noise, etc., from shuttering. Their installation is quick, this doesn't require much energy, and there are fewer unwanted noises and emissions from the machinery involved.
Over to you…
Precast concrete products are slowly taking over the market because of these benefits that not only save time and money but also cause lesser pollution. This becomes all the more important because we are living in an era where we are finding eco-friendly alternatives to everything. Are you currently searching for a maintenance hole solution? Select the precast concrete manholes, and invest a single time and enjoy the benefit for centuries.
 Read Also: