It's no secret that construction can be a dangerous industry, especially if you find yourself taking on certain jobs. Whether you're working on high-rise buildings or exposing yourself to chemicals and substances that can harm you, it's important to keep safety in mind when you're running or working on a construction job site.
If you want to make sure you're doing everything you can to maintain a safe construction job site, here are 6 of the most dangerous construction jobs and how you can make them safer.
1. High-Rise Construction
High-rise construction is one of the most dangerous jobs in the industry, and that shouldn't come as a surprise. Working high above the ground means there's a risk of falling, and that risk increases when you're working in difficult spots and dealing with heavy power tools. The higher up you go, the more dangerous the fall becomes.
When it comes to high-rise construction, somebody has to do the job. The important thing to focus on is finding ways to reduce the risk of falls. Fall protection systems can help prevent falls, and harnesses and other equipment are also a big help. It's also important to make sure people working in high-rise construction are educated about safety when working at heights.
2. Flagging
Flagging is one of the most dangerous things you can do on a road construction site. While flaggers typically do a good job of keeping traffic at a slow, steady pace, it doesn't always work that way. If a driver decides not to stop or doesn't see a flagger, it can result in a deadly accident. This is why flaggers wear high-visibility gear and take measures to stand out to oncoming traffic.
One way to make flagging a little safer is to install barriers that separate flaggers from oncoming traffic. Flaggers should also stay as far away from traffic as they can while still controlling the flow of traffic. If a flagger is working during the night, light towers should be set up in the area to make sure they're visible.
You can also install radar speed signs to monitor the speed of oncoming traffic and encourage drivers to slow down. Another option that many sites are turning to, is using automated flaggers so that the danger posed to your employees can be mitigated, and they can focus on more difficult and labor-intensive jobs on the site.
3. Heavy Equipment Operation
Unsurprisingly, operating heavy equipment is also one of the most dangerous jobs on a construction site. Not only is operating heavy equipment dangerous for the person who's in the machine, but you can also cause serious damage to people around you if you make a mistake. Because of this, people who operate heavy machinery have to be careful about getting enough sleep and avoiding medications that can cause focus problems.
Training is incredibly important when operating heavy equipment. Everybody should undergo training before operating any heavy machinery, that way they understand how the machine works and what they need to do if something goes wrong. Not only does this help keep everybody safe, but it also leads to more efficient, high-quality work.
4. Demolition
As fun as the job may seem, demolition is actually one of the most dangerous things to do on a construction site. The biggest problem with demolition is that it's so hard to control and predict what's going to happen when you destroy something. When heavy building materials are falling in unpredictable ways, everyone in the area is in danger. Demolition is especially dangerous if you don't know what you're doing.
The good news about demolition is that you can avoid a lot of the dangers with proper planning. While demolition can be predictable at times, taking things slow and having a plan for how you want to tear a building down is the best way to prevent injuries. Of course, hardhats and other protective gear are also a must during demolition.
5. Working with Power Tools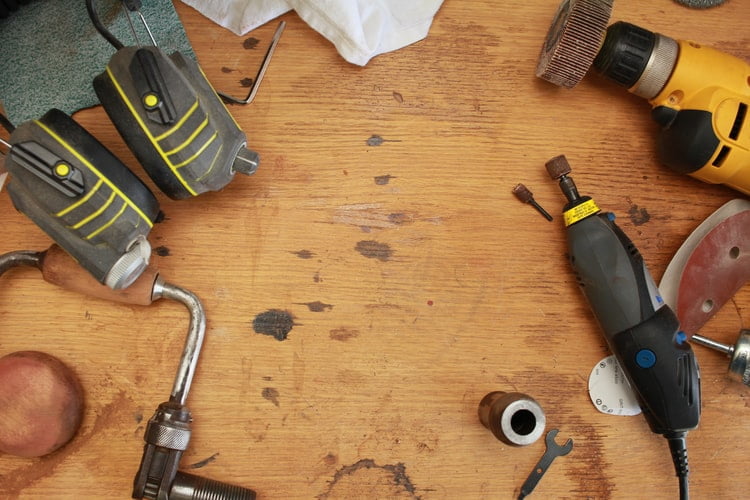 Power tools might not seem all that dangerous based on your personal experiences, but there are a lot of things that can go wrong when you're operating them. From drill slips that cause hand or wrist injuries to cuts with a saw, power tool injuries happen all the time in the construction world. If you're operating power tools, you need to make sure you're focused on what you're doing and being safe.
Understanding how to use power tools safely is important, but avoiding dangerous situations is equally important. If you're holding a power tool above your head or working at an awkward angle, stop and take a moment to figure out a safer way to do it.
6. Working at Night
Visibility is a big part of staying safe on construction sites, which is why people wear reflective and high-visibility clothing. When you're working at night, the risk of an injury due to a lack of visibility becomes even higher. This is an especially big problem when you're working on a road construction site.
The key to working safely at night is to make sure you have plenty of light. High-visibility clothing with reflective strips can only do so much to make you visible at night, so place a few light towers in the area so everybody can see where others are at. It's also important that people can see what they're doing so they're not blindly working with power tools.
Read Also: