curb appeal projects used to be squarely the domain of real estate professionals. In real estate parlance, the term refers to a property's attractiveness when viewed from the sidewalk. As the thinking goes, the more beautiful a place looks right off the bat, the better it will perform on the market – after all, first impressions are essential. 
But curb appeal projects are more than just a way to sell your home for top dollar. Sure, it boosts home value and makes a property more competitive on the market, but it can also be a way for homeowners to express pride in their house. You don't just want a beautiful home. You want the most beautiful home on the block. 
3 Innovative Designs Curb Appeal Projects
Whether or not you plan on selling, consider the top three curb appeal projects. Fall is a fantastic time for renovations; put these on your list of Renos and be the envy of the entire neighborhood. When you are planning to do curb appeal projects, you must remember that a good canvas is the best place to start your architectural designs. So do complete the repair works before starting your projects.
Here are designs for the curb appeal projects.
1. A Stamped Concrete Walkway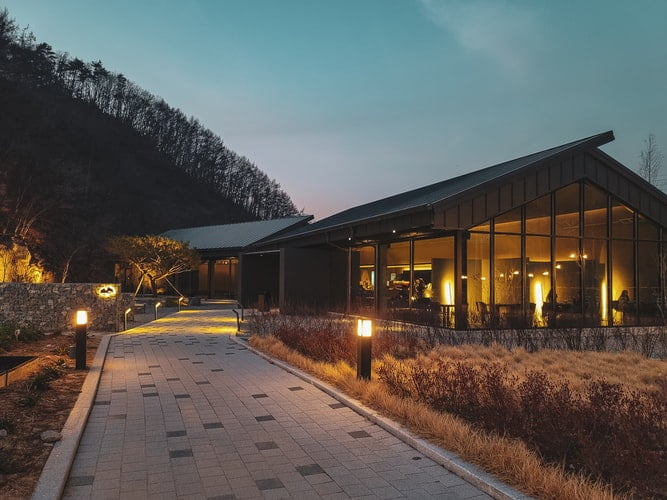 Stamped concrete has a lot going for it. One of the many benefits of stamped concrete–and the one pertinent to this article – is that it's attractive. It mimics the natural look of stone, limestone, or slate without fading over time. As a result, you can imbue your walkway with character, complex designs, and sophisticated finishes that will make your house stand out in the neighborhood. 
Further, stamped concrete is less expensive than its stone and slate counterparts. The crucial parts of curb appeal projects are to balance out the aesthetics with ROI. You want your beautification projects to add value. Stamped concrete is a great way to achieve added value, boosted curb appeal, and a healthy ROI. 
2. A Replacement Entry System
When you think about your house from the curb, what feature comes to mind first. For some, it's their front walkway (see above). But for many, the first thing they see is the front door. 
Doors have a "functional life" of roughly 25 years (depending on the material). After that (and sometimes before), a door starts to look unkempt. It peels, cracks and warps, and its style goes out of fashion. If you sense your door might be nearing the end of its functional life, consider a front entry system replacement. Wood is the most traditional (and long-lasting) option, although aluminum-clad is more cost-effective for curb appeal projects.
3. A Green Thumb
One of the easiest ways to spruce up your house's fronting is to break out the shovel and hoe. Unlike the projects above, you can undertake landscaping without professional help. 
Consult this guide to DIY landscaping to get started. Choose a shabby-chic approach with native plants and wild running plants to accent a rustic farmhouse or heritage architecture home. Go for an asymmetrical, manicured look to elevate a modern house. Or simply "plant your favorite flowers" . Your front garden should be an expression of your personal taste and sensibility. 
There are other, smaller projects you can take on (updating your house numbers, buying a stylish new mailbox, etc.), but these are undoubtedly the top three curb appeal projects. They add value, beauty, and functionality–and they'll make you the envy of your area. 
Conclusion:
The curb appeal projects are looking luxurious. But when you are trying to do the design, you will understand these designs look easy, but in reality, for a fine-looking curb appeal project, you have to spend hours designing. The garden plants and the trees require much more time to flourish. The DIY landscape designs are straightforward to install. Still, for the professional touch, you will always need the help of professional landscapers who specialize in curb appeal projects. So, what types of strategies are you going to follow? Do not forget to share your opinion in the comment sections.
Read Also: