As 2021 begins, different trends will continue to evolve and shape how we achieve what the year has in store. There's a possibility that many weddings this year will take place in outdoor or mixed space venues and will overall be more casual.
However, in addition to the wedding's venue and tone, these shifting wedding trends will affect wedding dresses. A few examples of wedding dress style trends for 2021 include minimalist pieces, shorter skirts, a wider variety of dress colors, breathable gowns, and more versatile dresses.
A few examples of wedding dress style trends for 2021
1. Embracing of Minimalism
Because of the shift in venues and dresses, there may be a possible departure from traditional wedding dresses to more minimalistic styles.
These dresses differ as they may have few to no patterns whatsoever and may lack greater detail like beading, lace, or tulle. Other diverse elements, however, can accentuate minimalistic dresses such as necklines, sleeves, and slits.
A simpler dress doesn't have to be boring, and many unique features will make up for the minimalistic style and lack of heavy details.
2. Shorter Dresses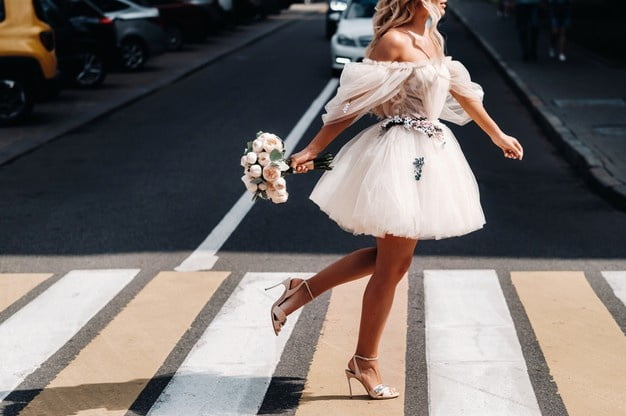 As more weddings take place outdoors, dress length is something to consider as it should match the environment that the event is taking place.
For outdoor weddings, shorter dresses are preferable, particularly if the climate is warmer. Shorter dresses aren't the most common style; however, there's still a lot of room to flatter them with different fabrics and materials.
Another significant element of short dresses is that they can uniquely accentuate the bride's shoes. Even though there are many pros to shorter wedding dresses, it's important to note that if the wedding will take place in a colder climate, it's probably preferable to wear a longer dress for the occasion, especially if it will be outdoors.
3. A Wider Variety of Colors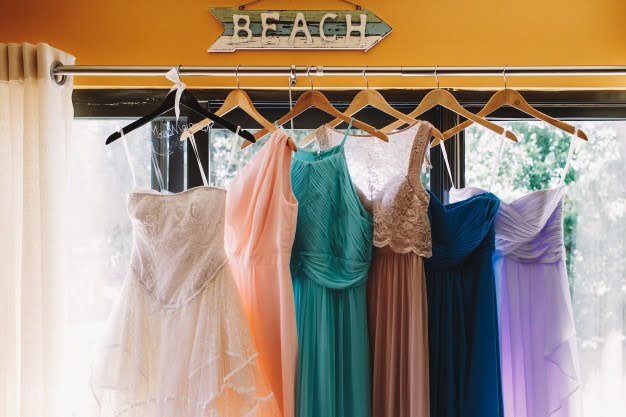 Alongside dress style and length, there will probably be a shift to a wide variety of color dresses, from bold to pastels.
Color schemes will likely vary based on where the wedding is taking place. For example, an outdoor wedding might see a bride wear a traditional white dress or a dress with pastel colors. The dress will heavily contrast the colors present in nature, and these color choices will help the dress stand out.
With colors being a prominent expression of freedom and spontaneity, it's predicted that sky blue and more vibrant colors will be the most trending for weddings in 2021.
4. A Preference For Breathable Gowns
Due to more weddings taking place outdoors, brides will likely prefer a dress that has more breathable material and elements.
Certain breathable materials and elements include lighter fabrics, fewer layers, lower necklines, open backs, leg slits, and puff sleeves. Most of these materials are incorporated into everyday wedding dresses, but they're especially great if a bride needs something less restricting.
Silk, rayon, and cotton are some of the most breathable materials. They allow ample airflow and are soft on the skin. Elements like lower necklines, open backs, and leg slits are also breathable and stylish options that remove layers in different spaces of the body.
5. Alluring, Versatile Dresses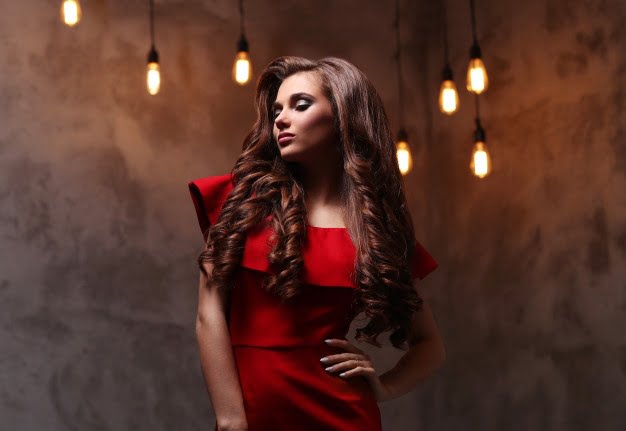 With weddings becoming more minimalist and simplistic, brides will likely prefer a dress that will serve more than one purpose.
Trends for wedding gowns in 2021 and the trends mentioned above will emphasize the dress itself because of the shift from more traditional weddings. A versatile dress can be an economically viable choice while not diminishing the importance of the dress's role in the actual wedding.
Usually, different events occur at a wedding that a versatile dress can serve, like the wedding itself, the end of reception or afterparty, and the cocktail hour party. A versatile dress will allow the bride to save time on changing outfits and is less restrictive.
Bridal Style Is Ever-Changing
With wedding trends continually shifting and evolving, the bridal style will continue to do the same. These 2021 trends will leave weddings looking brighter, simpler, and more relaxed. But remember, the most important thing is to make sure the wedding of your dreams isn't just about trends, but about your happiness.
Read Also: