When you're heading on a family holiday, one of your main priorities is making sure you don't forget any of the essentials.
There are certain things that you can't forget, such as your passports, spare clothes, technological devices. But the packing list doesn't end there. You've also got to consider whether you need to take some snacks with you or sunscreen if you're heading to a hot country.
If you're going on vacation with your children, you might need to take some board games to keep them occupied or a soft plushie for them to cuddle on the journey.
Properly planning out what you're going to pack in your luggage before your family holiday is vital to enjoying your holiday. If you forget something important, it could be detrimental to your holiday fun!
Although everybody's holiday packing list looks different, there are a few basics that are required for every family trip. Here is a list of essential things to pack for the next holiday you take with your partner and kids.
Related Resource: 10 Apps to Make Your Next Family Trip Cost-Effective
1. Family Games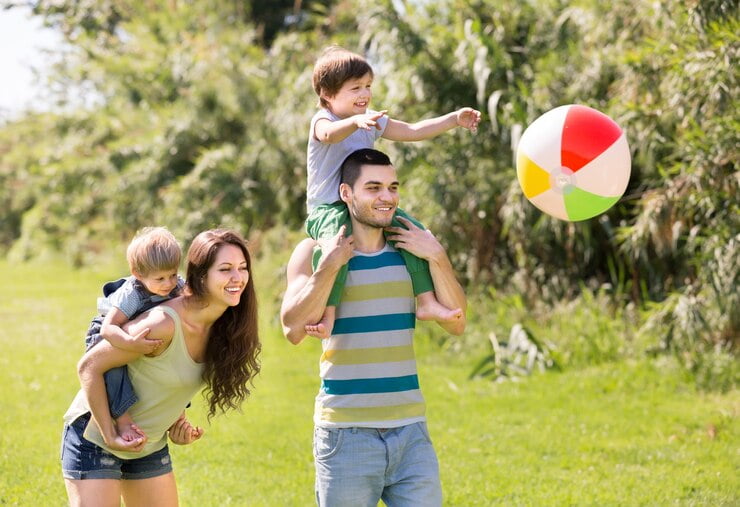 Even if you're going on vacation to an exciting area that is full of tourist attractions, you'll want some downtime in the hotel room. Pack a few family games to play with your partner and kids while you're relaxing in the hotel room.
Children are notorious for getting bored very quickly if they aren't engaged in some form of activity. When your kids are starting to get moody or agitated, you can get out the board games that you've packed to keep them entertained.
You don't have to stick to board games either. Think of some equipment-free games to play too. Maybe you could all answer a list of family feud questions or play charades.
2. Toiletries
Most hotels don't offer free toiletries anymore. You don't want to end up buying brand-new hair and skin products when you arrive at your destination, so make sure to pack enough shampoo, conditioner, body wash, and skin cream in your suitcase to last you the whole trip.
Don't forget to include some sunscreen in your toiletry bag if you are heading to a hot country. Make sure to apply the sunscreen every day before you head outside.
3. Spare Clothes
Packing spare clothes is one of the more obvious things when you're preparing for a holiday but it still deserves a place on this list because it's so important.
Make sure to pack enough outfits for the whole holiday as you can't guarantee that there will be clothes washing facilities where you're staying. This includes spare underwear and socks!
If you've got room in your luggage, pack a second pair of shoes as well just in case your first pair starts to become uncomfortable after a few days.
If you're heading to a resort that has its own pool or is close to the beach, consider packing a few swimsuits and swimming trunks for each person in your family. Even if you don't end up swimming, you might want to sunbathe and catch a tan if the weather is hot.
Read Also: