Until the COVID-19 outbreak, work-from-home (WFH) practices had taken a back seat in many companies, both large and small. The pandemic accelerated the shift to remote work, leaving employers with no other choice during persistent lockdowns.
But for many businesses, WFH is no passing fad. Today, 58% of employed Americans are given the opportunity to work remotely, at least part of the time. Companies like Yelp have even announced permanent WFH policies.
Undoubtedly, remote work setups have many advantages. But that's not to say that they are without challenges. So, do the collective benefits of remote practices outweigh the disadvantages? More importantly, is it right for your business? In this article, we'll help you answer these questions by exploring the pros and cons of WFH.
Disadvantages of Remote Work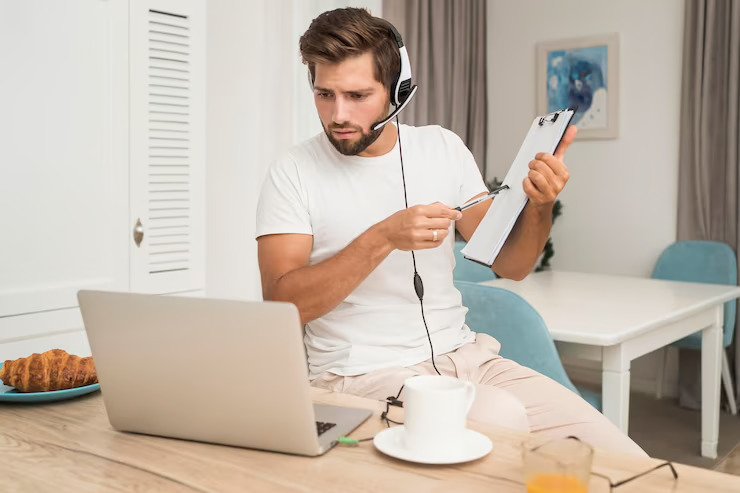 Let's start with the cons. Here are some common drawbacks employers encounter when implementing remote work systems.
1. Reduced external collaborations
With WFH practices, building external relationships can sometimes be daunting. As opportunities for one-on-one interactions dwindle, finding and connecting with sales leads, strengthening partnerships with vendors, and reaching out to prospective business contacts could all require extra effort.
But there are various technological solutions to help address many of these issues. Slack Connect, for instance, offers fast and secure channel-based communication with external organizations. The sales intelligence platform Leadar is another popular tool. Its extensive search capacities help remote workers better understand their prospective business contacts.
2. Reduced internal interactions
Remote work could leave a dent in internal collaboration efforts. It's easier for teams to communicate, update each other, and keep track of project progress when they are working together in a shared office space. But with different remote locations, miscommunication, misunderstandings, and disconnect could easily arise.
So, having clear goals, seamless communication, and transparency are critical to improving collaboration within remote teams. Regular online check-in, meet-ups, team-building exercises, company updates, and occasional physical gatherings are crucial to tackling this challenge. Collaboration tools, such as Trello and Asana, will also help smoothen communication and project management activities for virtual teams.
3. Security threats
According to a report by Alliance Virtual Offices, the sudden surge in remote work led to a 238% increase in cyberattacks following the pandemic outbreak. From webcam hacking to phishing attacks that deploy social engineering, threats have grown in sophistication at an alarming rate.
But many of these are preventable with tailored data security policies and robust technology infrastructure. Setting WFH guidelines and training employees on security best practices, such as password protection, regular software updates, using secure connections, and avoiding unsecured personal devices, are also critical.
4. Management challenges
Maintaining control over the workflows and the output becomes extra difficult when your employees are in different locations. Eventually, you will need to find a way to track whether they are sitting at their desk hard at work or slacking at the bar sipping a beer.
Of course, trust plays a significant role in the implementation of remote work systems. There's no harm in adopting technological solutions like device monitoring software to keep track of work progress. But time tracking and device monitoring are not for everyone. Setting clear KPIs and assessing your team based on output instead of the number of hours worked would be a more effective solution.
Advantages of Remote Work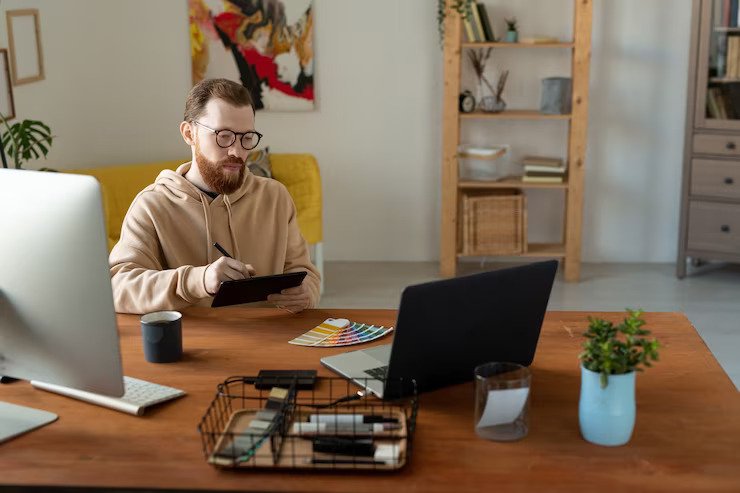 Let's now look at some of the top benefits you can enjoy with a remote working setup.
1. Happier employees
According to Owl Labs, 86% of employees are happier when working from home. Another study by Tracking Happiness shows that WFH practices boosted employee happiness by as much as 20%.
These findings hardly come as a surprise when you consider the perks attached. Employees can spend more time with their families and friends, they get to eat healthier with home-cooked meals, and they are also less stressed working from home. Overall, employees get to enjoy a better work-life balance and improved mental and physical health.
It bodes well for employers too. Happy employees mean greater loyalty and improved retention.
2. Reduced costs
Dave Rietsema, CEO of Matchr.com, estimates that employers could save up to $11,000 per employee with remote work. The reductions in overhead and operational costs are certainly significant when you consider the expenses of maintaining office spaces.
For larger companies offering perks such as free meals, snacks, and fitness facilities, maintaining a remote workforce could translate into massive savings.
3. Increased productivity
WFH has forced many employers into technology adoption, significantly boosting organizational productivity during the process.
But technology is not the only source of improved productivity. For instance, remote work setups have eliminated the need for employees to commute. So they have extra time for productive work. Other work-at-home perks that may lead to more productive hours and better focus include reduced interruptions, quieter work environments, and fewer office politics.
And managers seem to agree too. In fact, according to recent studies, as many as 73% of managers believe that flexible working arrangements increase their team's productivity.
4. Access to global talent
Another advantage for companies that shift to remote setups with digital infrastructure and WFH policies is that they become geared to accommodate a global workforce. This opens the door for them to access a wider talent pool without geographic limitations.
A highly skilled and diverse team could bring greater creativity, innovation, and cultural insights, providing a clear edge over geographically-bound competitors.
Conclusion
The outsized returns of a remote-work approach certainly make it an attractive proposition for employers. So, it's little wonder that many earlier critics of WFH have now softened their stance.
Cost reductions and productivity improvements are essential quantifiable benefits businesses can no longer ignore. Even employee happiness translates into countless long-term financial and non-financial benefits.
It's not to say that a permanent shift to a remote work setup is for everyone. Today, many companies opt for a hybrid approach to enjoy the benefits of both remote and office-based work practices. Undoubtedly, integrating a WFH system wherever possible and adopting strategies to combat its drawbacks could also help you make the best out of it.
Read Also: