Whether you have a chronic condition or got into an accident, buying medical supplies quickly can sometimes be an absolute must.
Instead of waiting in line at a store or browsing the internet to see what site is reputable and trustworthy, we have narrowed down the list of online medical supply distributors to the best in terms of pricing, selection, and delivery times.
After all, in the event of an emergency, you want to put all of your time and energy to good use – not browsing the endless internet for medical supplies.
Best online sites for medical supplies:
When a loved one needs care, the necessary medical supplies you need aren't often found at your local home goods shop or drugstore. In this case, you need a specialized website to provide the supplies, whether it be an ankle brace or glucose test strips. Let's see what online stores have the best selection for people in all circumstances.
Quick Supplies Online: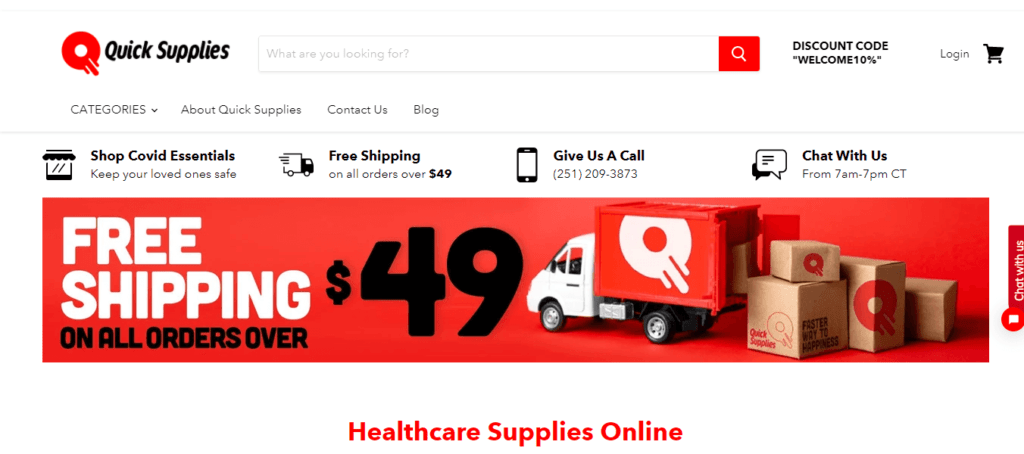 When shopping for medical supplies, Quick Supplies offers free shipping over $49 and an extensive category list, such as cleaning supplies, infection control, personal care, baby care, orthopedic needs, nutritional products, OTC medication, physical therapy, and wound care.
The pros of this website are the free shipping on orders over $49.
The only negative of this website is the slightly confusing online website.
Vitality Medical:
Offering over 100,000 products with a bulk order feature to make your life that much easier, this online site has one of the largest supply ranges and carries reputable companies like Medline, Invacare, Drive, and 3M/
The positives of using Vitality Medical for medical supplies is the wide range of product categories, product buying guide, and over 12 warehouses spread across the United States.
The only negatives of buying medical supplies here are the inability to ship to Hawaii and Alaska and not using Medicare insurance.
Discount Medical Supplies:
In business for nearly 10 years, this medical supply website has over 20,000 medical items, low prices on many products, and offers a price-match guarantee for those who are on a budget.
The positive of using this company for medical supplies is the very low prices that make it affordable for anyone and everyone.
The negative of Discount Medical Supplies is the website does not categorize its inventory of products, making the website difficult to use.
Save Rite Medical:
Save Rite offers an extensive discount plan and competitive prices on their entire selection of medical supplies.
The positives of this company are the free shipping over $100, 5% discounts on reorders, and pricing discounts for those on the email list.
The negatives of buying medical supplies at Save Rite are the 14-day return policy and the inability to bill Medicare.
The Betty Mills Company:
This time-tested company has a wide range of disposable medical supplies.
The pros of using this website are the wide range of supplies, dietary products, and niche category products.
The only negative of using Betty Mills is the 86% review on Google, which is lower than the competitors' rating.
Conclusion:
When shopping for medical supplies online, you need to know the best stores in terms of selection, reliability, shipping fees, and overall affordability. Select between Quick Supplies, Save Rite, Discount Medical Supplies, Vitality Medical, or The Betty Mills Company for a wide range of medical supplies.
Read Also: