Unlike other forms of social media, Snapchat makes it so hard for its users to amend their initially chosen names. As such, there might not be a definite option that will allow you to change your name. Given this factor, it is always important to choose carefully your Snapchat name given the hardship you will have to undergo should you try to change it.
However, even though there might be no known methods through which you will be able to use to change your Snapchat name, there are still ways through which you could achieve this.
Even though changing your name on Snapchat might be technically harder there are still ways through which you could improve your Snapchat username. The first option should you wish to change your Snapchat name will require you to change your display name.
Usually, your name will appear on most of your Snapchat places once you have a Snapchat account.  This will make it mandatory for your friends to visit your profile to see your username. If you are comfortable with this option, then you should keenly consider the steps below on how to change the Snapchat user name.
Changing Your Snapchat Display Name
Changing your Snapchat display name will be a more straight forward process should you consider the following steps keenly.  To change your Snapchat display name you will have to go to your profile and open your snap chat and then move on to click on the bitmoji located at the top left corner.
Click On The Gear Icon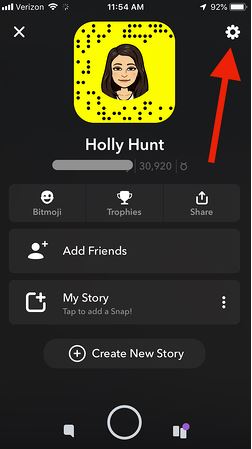 Once you get to your Snapchat profile, you will be able to see your snap code together with your Snapchat score. On this icon, you will also be able to see your Snapchat trophies. While clicking on the gear icon which you will see on the top right corner. Clicking here will take you to the Snapchat settings.
Tap On The Field Name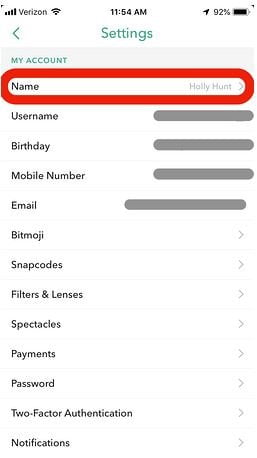 Once you get to the settings area, click on the name field that will first appear. You will be able to see a field area named username just below it. If you wish you can try tapping that option but note that it will not give you any name editing options.
Addition Of A Snapchat Username
You will be able to notice fields for your two names both the first name and then the last name. You can design your display name in a way that will please you it will not be a must for you to include the last name if you will not consider it essential.
Don't bother to do anything to the leave empty leave it as it will be. You will see your name appearing in chats and stories and not the conventional username. Make sure that your username will be something your followers and friends will be able to see.
Save The Changes
To save all these changes, it will be much easier. You will only need to click on the located on the right corner of your Snapchat profile. After doing this, you should be able to see your display name appearing in the bold text just below your Snapchat code.
That is just an indirect way of changing your Snapchat user name. However, there is also another method that involves creating a new Snapchat account. Deleting your whole snap chat account and forming a new one will be a cumbersome job that no one would like to go through.
However, this will only be the other way of getting a new Snapchat name should you feel the need.  Even with creating a new account, you will not be able to transfer your current data to the account you will have just created.
When you delete your snap chat account, you will lose everything from your friends to conversations with your bitmoji. If you wish to keep your friends, you will be forced to record their details manually somewhere, and that feed them to your newly formed snap chat account.
If you wish you could keep your new account around for a little bit longer and use it for referrals, should you feel any need? Keeping your account will also help you to access your friends much more comfortable and move them to the new account.
From the information above we can confirm that this option will be cumbersome and less ideal when it comes to changing your Snapchat name. As such, we only recommend the use of the first method.
Conclusion
Changing your Snapchat username will not be a smooth process. However, if you would like the right steps on how to change Snapchat username you should consider the steps above.
Read Also: