Choosing the right tank manufacturer can be a critical decision for businesses in various industries.
Industrial tanks play a crucial role in storing, transporting, and processing materials such as chemicals, petroleum products, water, and gases. The right tank manufacturer will provide high-quality tanks that meet industry standards and specifications while ensuring efficient operations and cost-effectiveness.
When considering a tank manufacturer, there are several key considerations to keep in mind. This article will discuss the experience of the manufacturer, their expertise in tank design and materials, reputation within the industry, certifications and quality standards they adhere to, as well as customer service and support.
By taking these factors into account when selecting a tank manufacturer for your industrial needs, you can make an informed decision that meets your specific requirements while ensuring optimal performance and safety measures.
Experience of the Manufacturer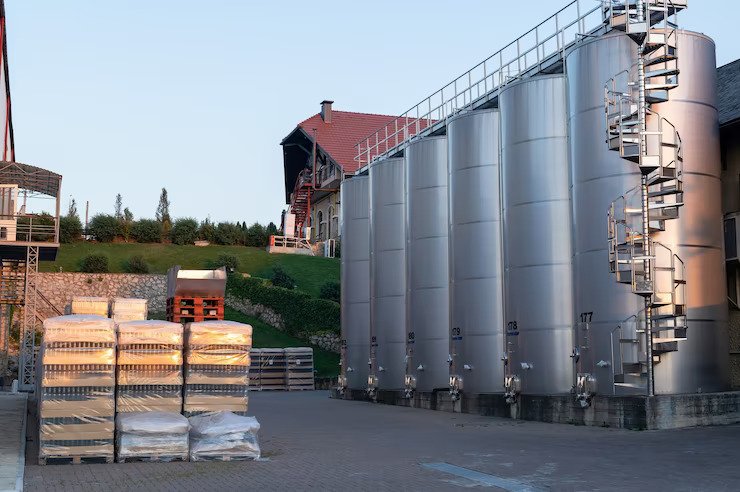 The experience of a tank manufacturer is an important factor to consider when evaluating potential suppliers in the industrial sector, as it directly impacts the quality and reliability of their products.
A manufacturer with years of experience has likely refined their manufacturing process, resulting in higher quality products that meet or exceed industry standards. Additionally, experienced manufacturers possess industry-specific knowledge that allows them to design and produce tanks that are fit for purpose.
When selecting a tank manufacturer, it is essential to choose one with in-depth knowledge of your specific industry. This will ensure they have a thorough understanding of the unique requirements for your application and can design tanks that meet these needs.
Working with an experienced manufacturer with industry knowledge also provides access to valuable resources such as regulatory compliance advice and support throughout the manufacturing process. Ultimately, choosing a tank manufacturer with experience and industry-specific expertise can lead to better quality products and improved performance over time.
Expertise in Tank Design and Materials
Proficiency in designing tanks and selecting appropriate materials is paramount in ensuring the optimal functionality of industrial storage systems. A tank manufacturer with expertise in these areas can provide their clients with customized solutions that meet the specific needs of their operations.
Customization options may include features such as coatings for corrosion resistance, specialized fittings for efficient material handling, and insulation for temperature control. The ability to offer these tailored solutions requires an understanding of how different materials and designs will perform under various conditions.
In addition to customization options, a tank manufacturer's expertise in design and materials can also impact cost-effectiveness. By selecting the most appropriate materials for a particular application, manufacturers can ensure that their tanks have a longer lifespan and require less maintenance over time. This leads to reduced operational costs associated with repairs or replacement of equipment.
Similarly, a well-designed tank will optimize material usage and minimize waste while also improving safety measures through proper ventilation, pressure controls, and other critical features. Ultimately, it is essential to choose a tank manufacturer who has demonstrated proficiency in both design and material selection to ensure optimal functionality and cost-effectiveness of industrial storage systems.
The reputation of the Manufacturer
The assessment of a tank manufacturer's reputation is a crucial factor to consider when aiming for optimal functionality and cost-effectiveness of industrial storage systems. A good reputation can be achieved through consistent quality control measures, adherence to industry standards, and the satisfaction of past clients.
It is imperative that a potential client conducts thorough research on the manufacturer's background, including their history in the industry, certifications and awards obtained, as well as their track record in delivering on-time projects.
One way to gauge a manufacturer's reputation is by checking online reviews from past clients. These testimonials provide insights into the level of customer support provided by the company, as well as its ability to meet project specifications and deadlines.
Moreover, it gives an idea about any challenges or issues faced by previous customers during the manufacturing process and how these were addressed by the company. By doing so, one can determine if they are compatible with the manufacturer's work culture and if they can trust them with their requirements for industrial tank systems. Overall, choosing a reputable tank manufacturer ensures not only quality products but also reliable customer service throughout all stages of procurement.
Certifications and Quality Standards
Assessing a manufacturer's adherence to industry standards and obtaining relevant certifications is an essential aspect of ensuring quality and reliability in industrial storage systems. Compliance requirements differ across various industries, and it is crucial for manufacturers to abide by them to avoid costly penalties or legal actions.
For instance, the American Petroleum Institute (API) sets compliance standards for oil tanks, while the National Sanitation Foundation (NSF) establishes regulations for tanks used in the food and beverage industry. Therefore, before selecting a tank manufacturer, it is imperative to check if they comply with the specific standards applicable to your industry.
Industry standards also serve as guidelines for product development processes that ensure consistency in design, production, installation, and maintenance practices. Adhering to these best practices improves product quality while reducing potential hazards associated with substandard products. Moreover, obtaining relevant certifications can demonstrate a manufacturer's commitment to producing high-quality products that meet regulatory requirements.
For instance, ISO 9001 certification verifies that a manufacturer has implemented quality management systems that conform to international standards. Ultimately, choosing a tank manufacturer who complies with industry-specific regulations and holds relevant certifications can provide assurance of durability and safety in industrial storage systems.
Customer Service and Support
Customer service and support play a crucial role in ensuring the success of industrial storage systems by providing clients with timely assistance, technical expertise, and responsive communication throughout the product lifecycle. When choosing a tank manufacturer, it is important to consider their customer service and support offerings. A good manufacturer should have well-trained staff who can provide technical assistance when needed. This includes installation guidance as well as troubleshooting during operation.
Additionally, a reliable manufacturer should offer warranty policies that protect customers against potential defects or malfunctions. The warranty terms should be clearly stated in writing so that clients can understand what is covered and for how long. In addition to warranties, training programs are also an important aspect of customer support.
These programs should provide customers with the knowledge necessary to operate and maintain their tanks effectively, reducing the risk of accidents or damage caused by improper use. Overall, investing in a manufacturer that provides excellent customer service and support will help ensure smooth operations and minimize downtime due to unforeseen issues.
Frequently Asked Questions
What is the average lead time for tank production and delivery?
The average lead time for tank production and delivery is dependent on several factors, including the size of the tank, the complexity of its design, and the manufacturer's production capacity. Large tanks may take longer to produce and deliver due to their size and weight, while tanks with intricate designs require more time for fabrication.
Delivery logistics also play a critical role in determining the timeline for tank delivery. For instance, transportation constraints such as roadblocks or traffic jams can cause significant delays in shipment. Manufacturers may also face challenges in sourcing raw materials or managing inventory that could extend timelines beyond initial estimates. Therefore, it is essential to consider these factors when planning for tank production and delivery timelines.
Does the manufacturer offer custom tank designs to meet unique industrial requirements?
Custom design options are crucial for industries with specialized tank requirements. A manufacturer's ability to provide custom designs that meet unique industrial needs is a significant factor in choosing the right tank manufacturer.
Customization could include alterations to the shape, size, material, and functionality of tanks to fit the specific requirements of an industry. The availability of customization options allows manufacturers to create tanks tailored to the unique demands of their clients. Hence, it is essential for industries with specialized needs to select a manufacturer who can provide custom design options.
What is the warranty period for tanks manufactured by the company?
When assessing the quality of a tank manufacturer's products, it is crucial to consider the warranty coverage provided by the company. A comprehensive warranty period showcases the confidence that the manufacturer has in its tanks and assures customers that any defects or malfunctions will be rectified without additional costs.
However, it is essential to note that not all warranties are created equal, and some manufacturers may offer limited coverage that only lasts for a short time. Therefore, it is crucial to research the warranty policy of potential manufacturers thoroughly. Additionally, a manufacturer with an excellent reputation in the industry is more likely to provide reliable products and stand behind their warranties, making them a safer choice for industrial needs.
Can the manufacturer provide references or testimonials from previous clients?
The measurement of client satisfaction is an essential component for any manufacturer to gauge its success in the industry. It is important for tank manufacturer to showcase their manufacturing expertise and ability to provide high-quality products that meet the needs of their clients.
One way to achieve this is by providing references or testimonials from previous clients who have experience working with the company. Such feedback can be used as evidence of the manufacturer's commitment to ensuring client satisfaction and delivering top-notch products. Manufacturers who are confident in their abilities will not hesitate to offer such information as it serves as proof of their competence and reliability, which is crucial when choosing a reliable tank manufacturer for industrial needs.
What kind of maintenance or servicing is required for the tanks, and does the manufacturer offer these services?
Maintenance requirements and servicing options are important considerations for any industrial tank owner. Regular maintenance is necessary to ensure the longevity and efficiency of the tank, as well as to comply with safety regulations.
Servicing options such as inspections, cleaning, and repairs should also be available from the manufacturer or a third-party provider. It is important to research and compare different manufacturers' maintenance policies and services offered before making a decision on which one to choose. By prioritizing these factors, industrial tank owners can minimize downtime and costs associated with unexpected maintenance issues.
Conclusion
Choosing the right tank manufacturer for your industrial needs is a crucial decision that should not be taken lightly. Several key considerations must be taken into account before making a final choice. Firstly, the experience of the manufacturer in designing and producing tanks is essential. An experienced manufacturer will not only have a better understanding of your specific requirements but will also be able to offer valuable advice on design and materials.
Secondly, expertise in tank design and materials is vital. A reputable tank manufacturer should have an in-depth understanding of various types of tanks and their applications, as well as knowledge of different materials used for construction. They should also be able to recommend the best type of material suitable for your intended use.
Thirdly, reputation plays a significant role when choosing a reliable tank manufacturer. Check out reviews from past customers or seek recommendations from colleagues or industry experts to ensure you make an informed decision.
Fourthly, certifications and quality standards are critical factors that cannot be overlooked when selecting a tank manufacturer. Ensure that they adhere to industry standards such as ASME, API 650/620/653, UL142/2085/2080, or any other relevant standard.
Lastly, consider customer service and support offered by the potential manufacturers. Choose a company that offers excellent after-sales support with clear communication channels open at all times.
In conclusion, selecting the right tank manufacturer requires careful consideration of several factors such as experience, expertise in design and materials, reputation, certifications & quality standards, and customer service & support provided by them. By taking these factors into account while making your selection process smoother and more informed decisions can be made regarding which company suits your needs best without compromising on quality or safety concerns!
Read Also: