Because everyone wants a clean home, but not many have the time to clean it themselves, many people outsource their cleaning tasks nowadays. That means establishing a reliable cleaning business is a lucrative opportunity for entrepreneurs wishing to start their own company. And as it can be arranged with meager start-up costs, this business opportunity is particularly viable.
Like in any business, in this industry, too, there are some proven techniques that every smart company owner can use to grow. So, if you are interested in starting or already have a cleaning business. here are five secrets to running it successfully.
#1 Use professional cleaning services proposal
There are many reasons why cleaning and janitorial companies need a cleaning service business proposal. For one, it serves as proof that a request has been sent to the potential client from the aspiring contractor. However, the most important reason is that a professional cleaning service proposal makes the request legitimate and legal.
However, writing a cleaning business proposal is not an easy task as it needs to include numerous details. To assist you, you can opt for a free cleaning proposal template to serve as a guide when you're bidding on residential and commercial buildings and institutional properties. These templates are usually customizable, so you can edit the document, images, and layout to meet the needs of your company and clients.
#2 Determine your core services
Many cleaning businesses start by focusing on just one or two key areas. That is an excellent tactic, as concentrating on a few core services will keep your set-up costs to a minimum. It will also put you in a better position to refine the systems and processes you need to have in place to run your company smoothly.
Moreover, determining the niche and core services you offer will also help you make strategic marketing moves and stand out from your competitors. Naturally, as you gain more experience, you can decide to add on additional and complimentary services or specialize in one particular area and become the go-to company for that service.
#3 Create a great marketing strategy
Like for any other business, your cleaning company needs to have a good marketing strategy, so you can easily stand out. A well-designed marketing strategy can help you spread the word about your business, bring you new clients, and ultimately increase your income.
Now, the key to successful marketing efforts is determining your target audience. Knowing your target audience will help you learn what they want, how they want it, and when. For example, you do not need to target a specific age group or gender as a commercial cleaning business. Still, you need to factor in the location. This factor will also shape the content you produce and publish.
Additionally, as people largely depend on the internet for daily decisions, you must build an online presence. You should have a well-functioning and easy-to-navigate website and optimized social media accounts. Moreover, when someone searches for a commercial cleaning business in their area, you want your business to appear in the search results. That means you need to also invest heavily in your SEO.
#4 Invest in excellent customer service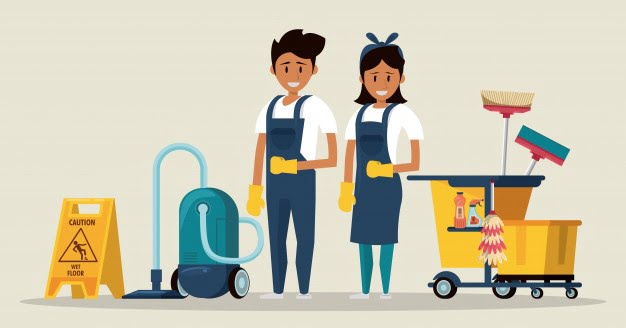 One of the best ways to profit from your cleaning business is by providing excellent customer service. That means on top of your superb cleaning service, when your staff is also fantastic and serving with customers, you are sure to get glowing reviews.
But investing in customer service can get your business even further. Having great customer service will support you gain a loyal customer base and help you attract new customers through referrals and positive online reviews.
#5 Never stop networking
Networking to grow and expand your cleaning business is another perfect way to grow your company. There are undoubtedly many online groups for your business niche, so you just need to find and join them.
Try looking for networking groups for your business, services, and location on Facebook or LinkedIn. Also, show interest in local events for professionals and business owners like you, and start networking and promoting your business offline. Beyond online groups and offline meetups and events, expand your network to clients and professionals closely related to your industry, such as, for example, real estate agents.
The bottom line
Starting and running a successful business in the cleaning industry does not require special training and skill set. However, to grow your business to its full potential, you must be sure to provide a quality service. So, if you want your business to be a success for years to come, make sure you deploy the five tactics we shared with you in this post.
Read also: