The eggplant, considered a vegetable, even though it is debated whether it can be a fruit, is a very versatile food that can be cooked in many ways: in pies, and in gratins, but it is the stuffed ones that gourmets prefer.
Do you want to cook the nutritious eggplants which will go to have all the nutritious items intact in the meal? Then there are plenty of options that will preserve the meal's nutritious balance and also maintain the natural taste of eggplants.
It is a product very rich in olive oil, which has the particularity of becoming very melting when cooked.
With its melt-in-the-mouth flesh and sweet flavors, eggplant is undoubtedly one of the people's favorite vegetables. We love them grilled, roasted, but especially stuffed! Whether vegetarian or meaty, stuffed eggplants are an ideal summer recipe and easy to prepare.
We present below how to cook eggplants at home, and the different varieties of fillings for them, and also you will find information about the benefits of this delicious food.
How To Make Homemade Stuffed Eggplant?
If you were looking for an easy recipe to cook at home, here you have the basic directions you require. Stuffed eggplant is such a simple dish to make that you don't even need to follow a specific recipe.
It is possible to create your own recipe for stuffed eggplant based on the ingredients you have available. For the preparation of stuffed eggplant, whatever they are, you just have to:
Cut the eggplants in half, lengthwise.
Hollow out the flesh of the eggplants with a spoon and drizzle with olive oil.
In a saucepan, simmer the eggplant flesh with chopped onion, garlic, olive oil, basil, and a little ground meat or other ingredients, depending on your taste.
Stuff the eggplants with the mixture you like the most (rice, meat, mashed vegetables), and sprinkle with breadcrumbs or grated cheese.
Place the eggplants in a preheated oven at 200°C for about 20 minutes.
For a more detailed stuffed eggplant recipe, check this site https://minuterice.com/recipes/rice-stuffed-eggplant-parmesan/ to learn how to cook this simple recipe. You will also find information on how to store eggplant, as well as some tips for better and more appetizing preparation.
What Are The Best Fillings For Eggplants? 
With a firm flesh and a taste full of nuances, this vegetable can be prepared in many ways and provides a variety of flavors and textures.
Some of the most delightful fillings are:
Chicken and olives: Chicken meat is healthy, low in calories, and high in B vitamins. It provides a mild taste that, combined with olives and eggplant, acquires fascinating nuances.
Couscous and cheese: This stuffing is an original alternative to the classic meat and vegetable stuffing, as it gives it an oriental touch and an exotic taste. In addition, couscous is rich in carbohydrates, providing a nutritional balance to this dish.
Mushrooms: This mushroom stands out for its nutritional virtues and its low caloric content. Common throughout the year, it brings to this recipe a mild flavor, an exquisite wild aroma, and a light texture.
Spinach: This is a dish brimming with nutritional virtues, as spinach provides 20% of the dietary fiber we need to maintain our health. This vegetable brings creaminess to the filling and a balance of flavors.
Tuna: This stuffing proposal combines marine and country flavors, allowing us to enjoy a dish full of very interesting nuances for the palate.
What Are The Health Benefits Of Eating Eggplants?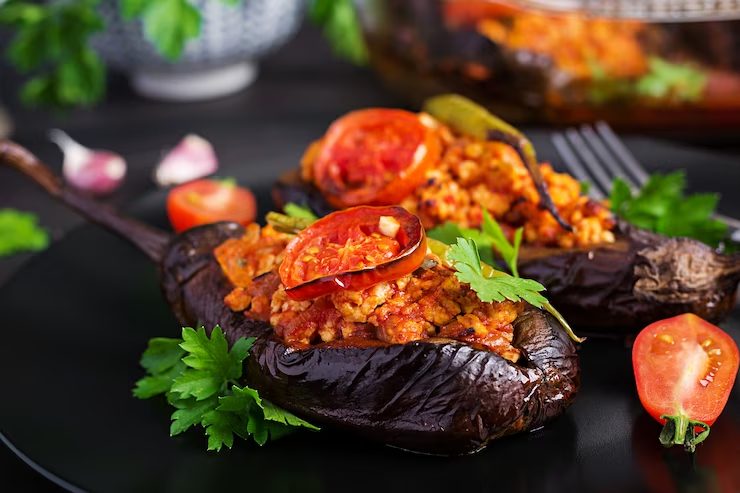 There are several benefits that the consumption of eggplant can bring to our health.
Some of them are:
This fruit has healthy effects on the right functioning of the cardiovascular system.
It has anti-inflammatory properties that improve certain body injuries.
Stimulates the immune system. This is because eggplant is a great source of vitamin C, which also boosts both the immune system and skin health.
Contains antioxidants that fight cancer.
Promotes bone health and fights osteoporosis.
Improves digestion.
It is an excellent source of dietary fiber, which stimulates the proper functioning of the digestive system and controls cholesterol levels.
Helps control blood pressure.
It may help control weight by reducing the secretion of a substance that alerts our brain to hunger.
Supports skin and hair health.
Helps control bad cholesterol levels.
Helps control anxiety, because it contains B vitamins, such as B6, which is involved in the synthesis of brain neurotransmitters such as serotonin, melatonin, and dopamine, known to help regulate anxiety and fear.
However, eggplants, like any other food, should be consumed in reasonable amounts and only as part of a balanced diet.
Bottomline: Eat Healthily And Be Healthy
Eggplants are very sophisticated. The high heat and excess uses of spices can ruin the original texture and nature of this vegetable. If you like to have the taste of these eggplants, then you must try out these recipes. What is your opinion? Do not forget to share your opinion through the comment sections.
Read Also: