Lowering energy expenses is a common concern for homeowners across the country. Fortunately, you can find plenty of new smart home technology that can make it easier for you to cut back on how much energy you use and help lower your monthly energy bill. Whether you're trying to heat or cool your home or put a stop to appliances that consume energy even when they're not in use, you'll find the smart house technology you need.
Smart Plugs and Advanced Power Strips:
Many homes have appliances and electronics that continue to draw power even after they're turned off, which can add nearly 10% to a household's monthly electric bill. To help put a stop to these energy hogs, consider smart plugs and advanced power strips. Smart plugs can make any outlet in your home more energy-efficient. You can control smart plugs using your smartphone or by setting up a schedule. Advanced power strips can also put a stop to unnecessary power drains that happen even when appliances are turned off.
Use Smart House Technology for Heating and Cooling:
One of the largest energy expenses in a home is heating and cooling. Luckily, you can find smart home technology to help lower these costs as well. Motorized window shades can open or close during certain times of the day for better heating and cooling efficiency. You can also get a programmable thermostat that can make temperature management and saving energy even easier. Plus, don't forget about powerful ceiling fans that use just one cent an hour versus 36 cents an hour for the air conditioner.
Save Energy:
Energy expenses are an ongoing concern for most homeowners. If that monthly bill is higher than you'd like, consider installing these systems to help you cut back on your energy use:
Programmable Thermostat
Motorized Window Shades
Smart Plugs and Advanced Power Strips
Powerful Ceiling Fans
A House Monitoring System
For more detailed information, refer to this below infographic to make your concept clear.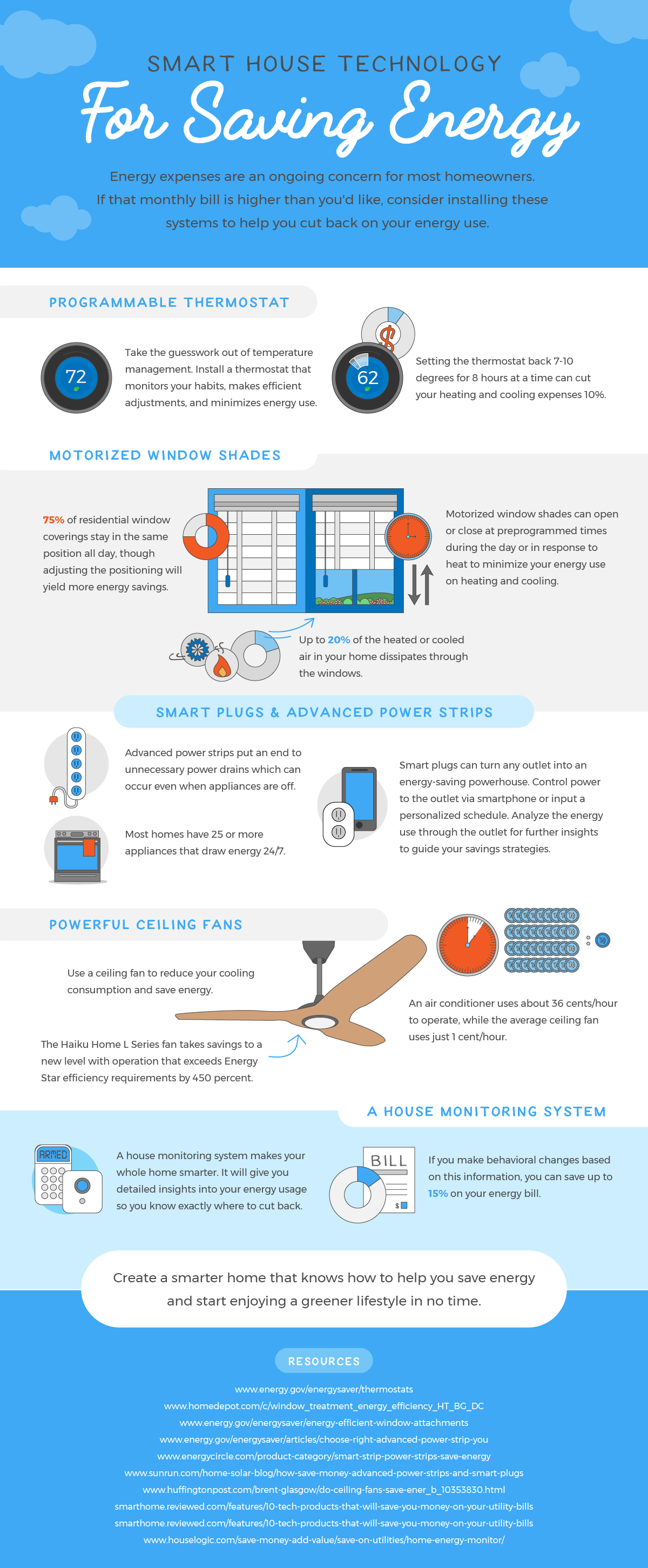 "Create a smarter home that knows how to help you save energy and start enjoying a greener lifestyle in no time".
Read Also: