Smart home technology is where you will discover the latest in technological advances. Among these trends are smart thermostats, which allow homeowners to control the temperature of their home via the internet. Anyone looking to improve the comfort or efficiency in their home will benefit from the installation of a smart thermostat. These devices allow you to schedule, adjust, monitor, and automate your home's thermostat from anywhere in the world.
Smart thermostats are especially advantageous for multiple property owners, realtors, property managers, and anyone else looking to gain better control over their energy usage. With a smart thermostat, a property owner can remotely turn on, monitor, and adjust the HVAC system to their liking. This technology eliminates the need to constantly run the HVAC system, and one of the best features of using a smart thermostat is the option to adjust the temperature of the property before your arrival. Interested? The following apps can control your smart thermostat.
Use Apps to Control Your Smart Thermostat:
Nexia:
Nexia is a smart home automation system that simplifies daily life by combining all your smart home devices into one app. Known for its ease of use, Nexia can be used to unlock a door, turn on a light, or adjust the temperature. This system is integrated with Alexa and Google Home and is designed around an open architecture platform, which means it's fully compatible with products made by other manufacturers.
Google Home:
The Google Home app allows you to install, manage, and control your Chromecast and Google Home devices from one application. Think of the system as a singular remote control that can operate hundreds of different smart devices, including Google Nest cameras and thermostats.
Working in unison with the Google Home app, Google's smart home speaker is also called Google Home. It operates similarly to Alexa and uses an artificially intelligent voice to complete tasks. Control the thermostat and lights, set timers, play trivia games, watch Netflix or YouTube, just by using uncomplicated voice commands. Currently, Google Home works with about 1,000 devices and over 150 brands, including TP-Link, Lifx, August, and more. Bentley's Air Conditioning can assist you with the installation.
Nest: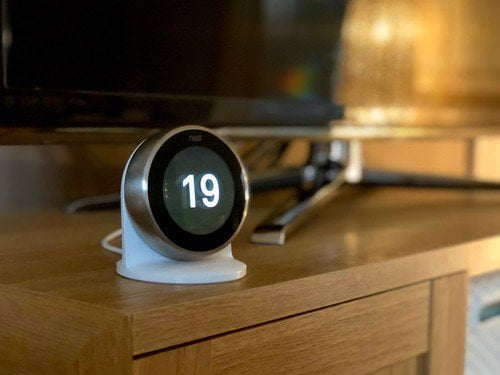 Recently, Nest and Google Home merged to form Google Nest. The Nest app allows a homeowner to control their Nest devices through an Android phone or tablet. The Nest collection of smart products include thermostats, security cameras, smoke and carbon monoxide detectors, alarms, and video doorbells. Google Nest can also use the location of your phone to automatically turn security features or lights on or off.
Ecobee:
The energy-efficient Ecobee app allows homeowners to monitor and control the lights and temperature from anywhere at any time. The peripheral sensors that accompany the thermostat can detect both the temperature and the occupancy of a room, which provides better, automatic comfort levels for everyone.
A home full of smart devices feels about as futuristic as it can get. Before installation of any smart technology, contact a qualified service technician to make sure your current HVAC system is compatible with the specific device you wish to purchase.
Read Also: