We use our vehicles every day to get us to where we and our family members need to be. We travel across the highways and byways of this country and we also use our vehicles for simple trips like the school run or the weekly shop.
We all remember when we got our driving licenses for the very first time and the excitement that we felt, thinking about all of the adventures we could go on and the many new places that we could visit. However, it never really turned out like that and now the fun has gone out of the driving experience.
We still use our cars regularly, but we never seem to get the most out of them. Maybe it's time you got to feel like you did the first time when you passed your driving test and the only way to do that, is to get yourself a 4×4 vehicle.
There are many different types of vehicles to choose from and brands, but many people choose to visit their Land Rover specialists in the local area because of what this name suggests and how reliable their vehicles really are.
Not only will you be able to do normal day-to-day things in this vehicle, but you will be able to go off-road as well. Sometimes you just need to drive on the road less traveled and you need to have the right kind of vehicle in order for that to happen. In order to make sure that you have the best off-road experience, you need to make sure that you pay attention to the following tips.
Take care of your vehicle –
Land Rover's pretty much take care of themselves, but this still needs to be serviced on a regular basis and you need to make sure that you follow the maintenance schedules as laid out in your user manual.
You just don't have to rely on your local garage to do everything for you and you can check simple things like oil levels, brake fluid levels, and tire pressure.
These three things need to be checked every time you go on a trip and especially if you're going off-road. It is your job to ensure your safety, health, and wealth and in order to have the right off-road experience, you need really good tires and so make sure that you check the walls of the tires for splints and that the right pressure is in them.
Always be prepared –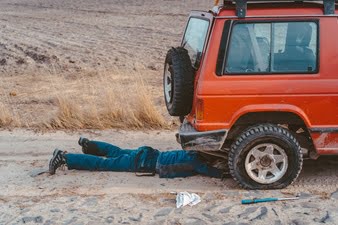 Even though it is very likely that you're not a hands-on person and that your Land Rover will not be giving you any issues to worry about, it is always important to have the right tools in your vehicle and to know exactly what they used for.
One thing that you will definitely have to do yourself is a flat tire, so make sure that the jack works in your car and that you know how to operate properly.
Other items like recovery straps are essential for the times when you get into trouble and you may need to ask another vehicle owner to put you out of the difficult situation. Make sure there is a first aid box in the vehicle at all times and always check that everything is there that you need. To learn more about protecting your off-road vehicle, have a look here.
Before you set off anywhere, make sure that you have enough fuel in the tank to get you to where you want to go and back home again. If you're not sure, then carry some extra fuel in appropriate containers, and always remember to take your smartphone with you for GPS coordinates.
Read Also: