Even though a person can apply for a provisional driving license at the age of 15 years and 9 months and lawfully drive a car at the age of 17, they must be 18 years old to obtain finance.
If you are under the age of 18 and looking for your first car, or if you are 18 but have a low credit history, you may be wondering, "Can I ask my parents to finance my car?" Yes, you can have your parents take out a loan for you. There are, however, some variables to consider before they can finance a car for new drivers.
Certificate of Registration for Vehicles
To obtain financing, your parents do not need to be the registered keeper and owner of the vehicle. There are several options that will allow them to obtain a financing agreement in their name but have a different individual mentioned on the V5 certificate, in this case, your name.
A V5 certificate, also known as a vehicle registration certificate, is a document provided by the DVLA containing information about an individual vehicle's keeper or the person to whom the registration certificate is granted.
Lenders Who Assist Parents in Obtaining Funds for Their Children
A variety of lenders are available and prepared to assist parents in obtaining financing on behalf of their children. You can either search the internet for viable choices or contact us for a faster response.
Avoid 'Fronting' and Other Forms of Fraud.
It's critical, though, that your parents are always forthright about their plans to borrow money for a family member. If they apply for a loan without making it obvious from the start that it is being taken out for someone else who will be the owner and registered driver of the vehicle, this is known as 'fronting,' and they could be charged with fraud.
When a parent applies for a car loan with a lender and is approved, they place their name on the V5 vehicle registration certificate. This is an example of fronting. They then change the name to that of their child.
Related Resource: What To Do if Your Loan Application Is Denied
Assisting as a Surety
Even if you are 18 years old or older and so technically capable of entering into a financing agreement on your own, your parents may still find it difficult to obtain loans due to various factors. For example, you may be studying and hence lack a consistent monthly income, or you may lack a checkable credit history for the lender to see and evaluate due to your age.
It is feasible for your parents to act as a guarantor to assist you in obtaining a car finance agreement. A guarantor is someone who agrees to make payments on behalf of someone else if that person is unable to keep up with their monthly payments at any stage during the length of the car finance agreement.
Acting as a guarantor for you when applying for vehicle financing can be an excellent approach to get around the fact that you have a limited credit history. When a guarantee is listed in the documentation, lenders are more confident in lending money to applicants.
Your parents' credit rating will be reviewed when they provide their approval to the lender to support the application for car financing.
What Options Do Parents Have When Buying a Car for Their Kid?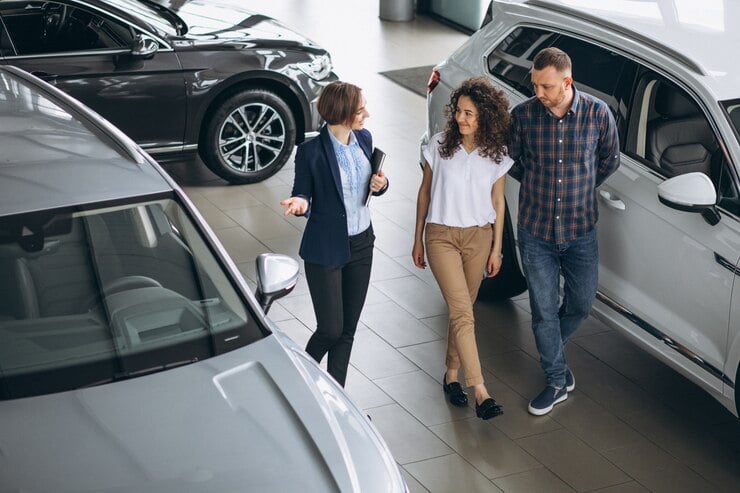 When it comes to financing a car, you have two options. Your parents can buy the car and let you drive it, or they can cosign a loan with you. Choosing a vehicle for a student depends on their goals and who they want to be the named owner.
Nothing changes if they finance a car and give it to you. They would buy this car like any other car. They are the legal proprietors and are responsible for loan payments, registration, and licensing. This is a simple solution for parents who want their kids to have access to a car without the additional responsibilities of ownership. When their kids are old enough to drive, many parents buy a second car for the family.
If they want you to be the car owner, cosigning might be the best alternative. In this instance, you would be the owner of the car and responsible for its payments. You'd also be in charge of vehicle maintenance. In this situation, your parents' good credit would allow you to get a larger loan than you could get on your own. The negative is that if you miss a payment, your parents will be held responsible. Only parents who are willing to contribute to their child's car loan should consider cosigning.
How Does Insurance Work?
If you buy a car for your child, as the owner, you must insure it. Your child will be protected under your insurance and will not need separate coverage. If your child is your primary driver, check with your insurance provider to ensure you have appropriate coverage.
If you cosign a car loan for your child, they must obtain car insurance. This is a great alternative for parents who want to emphasize personal responsibility while empowering their kids.
Conclusion
When it comes to purchasing a car, parents are most likely worried about the vehicle's safety and dependability. Whether they are concerned about their child becoming stranded on the side of the road or just want to ensure that they arrive at work on time, a dependable vehicle is essential.
So take your time looking for a reliable, affordable option that both you and your parents are happy with. And congratulations on your future car!
Read Also: