Planning is probably the most critical stage of your JEE Main preparation process. Creating a JEE Main study plan allows you to increase your productivity, stay focused, keep track of your progress, and help you achieve the desired results. While working hard is important, studying without a plan usually leads to a wastage of precious time and can negatively affect your productivity. In this article, we will talk about the JEE Main study plan and offer tips to help you create an optimum plan for yourself.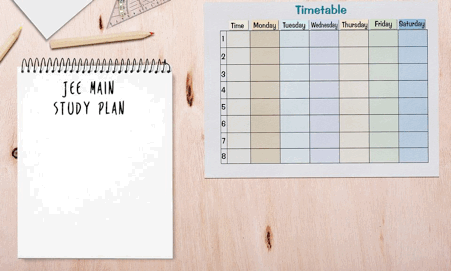 Before you start making a JEE Main study plan, it is important to understand some basics about the examination:
JEE Main is a three-hour exam with objective-type questions
It covers three subjects – Physics, Mathematics, and Chemistry with equal weight to each
Every correct answer gives you 4 marks and a wrong answer deducts one mark from your overall score
Go through the syllabus carefully. While most topics are similar to the class XII syllabus, you need a better understanding of the topics in order to solve the problems asked in the exam
Along with the NCERT textbooks, you will also need some reference books to prepare for the JEE Main
JEE Main Study Plan
While creating a JEE Main Study Plan it is important that you keep realistic goals and keep meeting those goals without fail. Here are some things that you must consider:
Pre-preparation Assessment
Since the JEE Main syllabus is predominantly based on class XII syllabus, most students have some clue about the topics and are not completely new to the subjects. Therefore, before creating a JEE Main study plan, it is important to assess how much you already know and what are your strengths and weaknesses. Therefore, we recommend that you appear for a test series or mock tests and analyse your performance. This will help you understand which topics require more attention than the others. Also, it will help you create a more effective study plan.
Prepare the JEE Main Study Plan
Once you are aware of the syllabus and exam pattern and have assessed your performance in the mock tests, it's time to create a plan that will help you prepare. Depending on the time that you have for preparation, create a schedule that helps you cover the fundamentals as well as practice solving problems. Remember, the study plan will determine how well you are prepared on the day of the exam. Therefore, think well and plan judiciously.
If you think that you need coaching or assistance with some topics, then determine how you want to approach that and then make your study plan. Coaching institutes, usually, have fixed timings. Also, if you are opting for online coaching, then you will need to factor in some time for those classes. You can also solve some previous years' question papers and get a JEE Main Answer Key from a reputed institute to find the best way of solving the problems.
Time management is a skill which you will have to learn soon. From here onwards, success in your life will depend on how well you can manage your time. The best way is to demarcate time for all essential activities and leave a buffer for some unplanned tasks as well. So, dedicate time for studying, sleeping, eating, watching television/TV series, physical exercise, etc. On an average, try to leave one hour every day aside for unplanned tasks and activities. If nothing comes up, then you can use this time for some additional revision. Create a timetable in sync with your study plan. Depending on how you prefer, you can dedicate one day in a week for revision or revise one hour every day before winding up. 
Some additional factors to keep in mind while preparing a JEE Main Study Plan:
Every candidate has a different level of preparation and understanding of the topics. Avoid all urges to compare your knowledge with your friends. Here are some tips:
Organize yourself– Do you lie in bed while studying? Take our recommendation and stop doing that. Sit on a table and chair with your back straight and feet on the ground. This has been proven to be the best way to learn. Also, a cluttered study area is usually associated with a confused mind. Keep your study zone neat and organized. You will see the difference in the output.
Daily schedule– First comes the study plan, then the timetable, and finally, the daily schedule. Right from the time you get up in the morning till you go to sleep – you need a schedule for every minute of the day. Time is precious especially since you are preparing for the JEE Main. Therefore, use it well. Weekends might need a different schedule depending on how your house functions. Ensure that you factor in all the smallest possible aspects before making the schedule.
Prioritize– List down the tasks in your day and create a priority list. Remember, eating, sleeping, and even exercising are not optional.
Goal setting– The syllabus is vast and if you set a goal of finishing the entire syllabus within, let's say 4 months, then chances are that you will lose track somewhere along the way. Set short-term and realistic goals instead. For example, keep goals for completing certain topics and solving 100 questions. Tick off the goal from your list when you succeed. This will help in keeping you motivated as you will feel like you are making progress.
Performance analysis– All through your preparation journey, it is important to constantly keep assessing your improvement by solving sample papers.
Revision– Last but not least, your study plan is not complete if you have not included a revision plan in it. Remember, the more you revise and practice problems, the better your chances of getting a good rank in the exam.
Summing Up
Preparing for JEE Main requires hard as well as smart work. A study plan allows you to approach it smartly and optimize your efforts. You can always talk to your mentor or guide or professors to help you create a study plan too. We hope our article helps you in your preparation. Good Luck!
Read also: Top 10 Myths about JEE Mains that should be busted now