It's not an easy job to run an organization. We must follow several critical business processes to make money. This procedure can't be completed on its own. Your company's success hinges on the quality of the employees you hire. Every employee must keep their attention on their work at all times.
As the last step, you must collect data that reveal your team's strengths and opportunities for improvement. You can manage employee performance and training with the help of an employee development platform. There are various employee development platforms that you need to know about. So, let us get towards them.
Employee Development Software
Employee development platform or software serves as the foundation for enhancing employees' skills, performance, and satisfaction. It is where employees can improve existing abilities and acquire new ones. Both employers and employees can benefit from this kind of platform.
Employee learning courses can be provided, and employers can monitor progress using them. There are lots of different tools for developing employees and now we'll examine a few of them.
The following are the several types of online employee development software: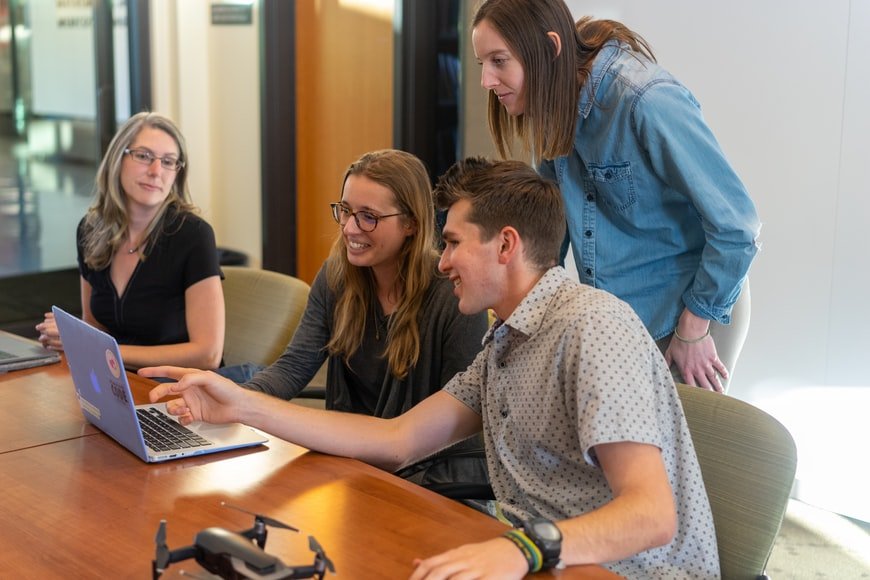 1. Corporate Learning Management Systems (LMS)
Creating a customized training plan for each employee is vital when learning about new goods or interacting with consumers. We may scale training and development across a business with Employee Development Software. We can organize employer LMS courses into customized learning paths for each employee using Employee Training Tools.
2. Internal Knowledge Base Software
Employees can access an online personality knowledge base through an internal knowledge base software, which provides an online self-service center. These platforms operate as wikis within the company for businesses, reducing the number of HR inquiries and support tickets.
3. Digital Adoption Platforms
Orientation and training flows and theoretical concepts can be created directly within software applications using digital adoption platforms (DAP). All the software tools workers need to perform their duties can be taught effectively.
4. Essential facts of Employee Training Softwares
Even though it depends on what kind of employee training tools you're using, you can use a few software elements. Online staff training software often includes the following:
Creating and grading online multimedia courses
In-app help and interactive flows for users.
Learning routes tailored to each student's needs.
Analytics and reporting on training progress Self-support knowledge centers.
5. Best Employee Development Softwares
These are the best Employee development software widely used and recommended by most organizations.
i. Talent LMS
It is focused on staff training, recruitment, and regulation. With a few mouse clicks, organizations may construct dynamic teaching materials. Talent LMS is mobile-friendly and allows employees to learn at their own pace. It also gives easy-to-use content production tools for organizations to brand courses easily.
ii. Whatfix
A self-service user knowledge center for ongoing learning is part of Whatfix's digital adoption platform. Your staff may learn to utilize What fix by following in-app instructions and interactive walkthroughs. Employees can learn without IT or support tickets via self-support knowledge sources.
As well as promoting new product features and check-in courses to verify staff is utilizing the tool correctly.
iii. ProProfs
ProProfs provides enterprises with a range of digital tools for staff training and development. It allows enterprises to generate customer eLearning courses and content. Also, its flexible features provide firms with a help center for employees. Its "Quiz Maker'Maker' application allows the authorities to have a fair check and balance system.
iv. Trainual
It is an employee training and compliance tool for SMBs and growing organizations. Its course writing tools give HR departments hundreds of customizable templates. Trainual also allows organizations to construct searchable internal templates that employees can access from any desktop or mobile device. Trainual also interfaces with hundreds of workplace tools, including Gusto, Slack, Justworks, Zenefits, etc.
Improve Employee development with the Following Tips
Train managers.
Set and track goals.
Invest in the personal growth of employees.
Encourage departmental cooperation.
Create clear learning paths.
Conclusion
Employee learning and development is a crucial task for any organization, but before that, understand your specific training issues and employee needs. A poor implementation plan might cost thousands of dollars. All of the above platforms provide effective growth, and you can use any of the above according to your requirements.
Read Also: