Tanzania is a beautiful part of Africa with a lot to offer for tourists around the world. While in Tanzania, you will be able to visit national parks to view wild animals.
There are also plenty of white sandy beaches on the islands of Zanzibar, Mafia, and Pemba, where you can enjoy lounging under the sun and relax the day off on your vacation.
The following are five things you can do when visiting Tanzania.
1. Visit the Serengeti National Park:
While in Tanzania, you can visit the Serengeti National Park. Serengeti National Park is home to a variety of safari animals including wildebeest, gazelles, waterbuck, impala, zebras, and lions.
The park charges entrance ticket fees for visitors that are aged at least 5 years old to adults. The best time to visit depends on what you would like to see. The period from December to August is the best time for viewing the wildebeest migration.
Birdwatchers can visit between November to April to view migrant birds flying in from Europe and North Africa.
2. Explore the Ngorongoro Crater: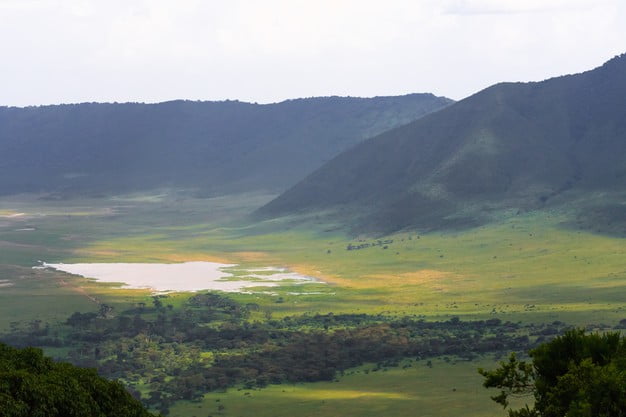 Many tourists also visit Tanzania to explore the breathtaking Ngorongoro Crater, UNESCO World Heritage Site. The crater started to exist 2 – 3 million years ago.
Today, it is home to more than 30,000 animals.  It stretches over an area of 100 square miles and has a depth of 2,000 feet. In the crater, you will find a myriad of natural environments such as grasslands, swamps, acacia forest, and Lake Makat.
You will be able to see black rhinos and elephants roaming the plains. Hippos can often be found wallowing in the Ngoitoktok Springs. The white shore of Lake Makat is often crowded with pink flamingos. Visitors can only visit the crater during the daytime. You can join game viewing vehicles that are available every morning to tour the crater.
3. Climb the Highest Peak at Kilimanjaro Mountain:
If you like adventure, you should go for a hike on the Kilimanjaro mountain. Kilimanjaro is the highest mountain in Africa.
There are 7 routes to choose from and Lemosho and Rongai route are considered to be the most scenic of all. The Machame, Umbwe routes are on the south side of the mountain. The Lemoshoand Northern Circuit starts on the west, and Machame – on the East Another route which is the Rongai route is situated in the north.
Each route takes around 5 – 8 days to hike. You can join a Kilimanjaro hiking trip with a local tour company. They have all the equipment you need but it is up to you to prepare your gear. Please mind that you must be prepared physically to join the hiking.
4. Visit Zanzibar: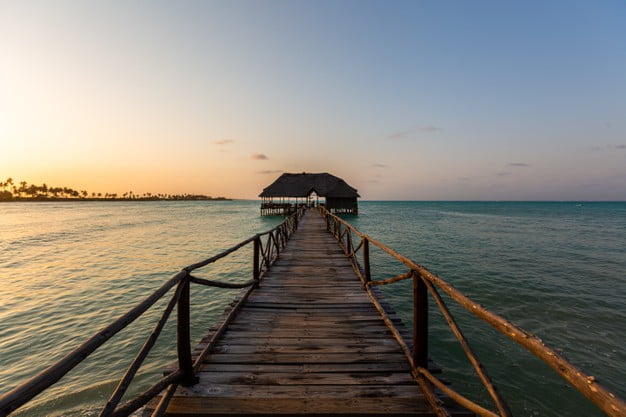 The island of Zanzibar is situated off the mainland of Tanzania is also a must-visit destination.
When you arrive at the island of Zanzibar, make sure you don't forget to visit the white sandy beaches. The most popular beaches in Zanzibar are Nungwi/Kendwa and Paje/Jambiani beaches. You can rent sailboats and go diving in several scuba diving sites. You can explore The Spice Island which used to be an important part of the Spice Trade.
On Spice Island, you will be able to visit farms of various spices like saffron, pepper, and anise. You can join a walking tour while visiting The House of Wonders and The Arab Fort. You should also not miss Stone Town where there is a large open-air market.
5. Get Some Kangas for Souvenirs:
Tourists should visit the market to buy a piece of kanga as a souvenir. Kanga is a rectangular piece of cotton cloth that has bright colorful patterns and a Swahili proverb. The patterns are used to communicate social and political issues.
Kanga is popular among women in East Africa. They are often given as gifts for birthdays and weddings. A one may receive kanga as a gift when you are visiting a friend's house.
Read Also: