If you love to birdwatch, you can forego the binoculars and get a great view from your kitchen or living room window. By choosing the right bird feeder for your window, you can make your hobby an even more pleasurable pursuit.
To ensure you have the best birdwatching experience, you need to find a feeder that meets all the strength, viewing, weather resistance, and care criteria. The following information will give you the details to find just the suitable feeder for your bird watching activities.
So, what features should you seek when selecting your bird feeder for window watching?
Here Are 5 Popular Features of a Window Bird Feeder
1. Easy and Quick to Install
Choose a bird feeder that is simple to place. Your feeder should have at least four strong suction cups – 3 for installation and one mug as a backup. The feeder's installation kit should also feature secondary hooks if you prefer to secure the feeder this way. You should be able to affix the suction cups easily inside a mounting bracket and stabilize them for use.
2. A Removable Feeder Tray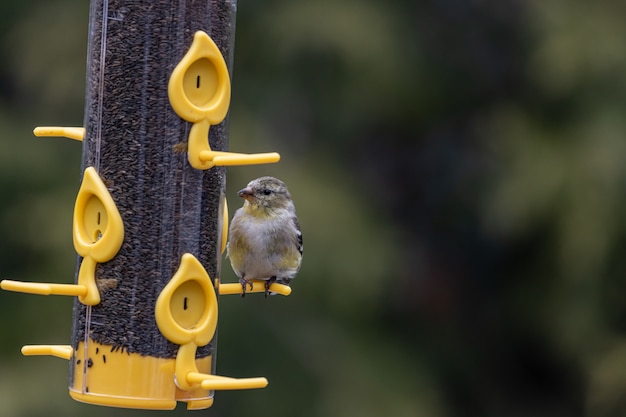 To make things more convenient, your bird feeder should feature a removable tray that allows you to change the seeds with ease. Make sure it has split sections so you can add different sources to attract more species of birds. You should be able to remove the tray, add seeds, and replace the dispenser while keeping the rest of the feeder intact.
3. A Larger and More Accommodating Design
Your feeder should measure about a foot long to see more birds feeding next to your window. This will enable you to see all colors and types of your avian entertainers.
4. A Weather-Resistant and Protective Feeder
Ensure the feeder is partially enclosed and protected to keep snow and rain off the seeds and birds. That way, the birds can enjoy a place to feed year-round. A perch on the feeder makes it easy for birds to weather the elements without too much ruffling of feathers.
5. Acrylic and See-through for Easy Viewing and Added Strength
Find a feeder made of durable yet lightweight acrylic, making it easy to see the birds you're viewing. Ensure the feeder is thick (about 3mm) so it stays put and holds plenty of seeds (about 2 pounds worth).
How to Make a Selection for Seeds
Once you choose your feeder, you can select the types of seeds you want to add to the feeding device. Ask yourself what kind of birds you wish to attract. Most people like to see colorful cardinals at their window – birds like to feed off trays.
Add safflower seeds to your new feeder to attract cardinals or birds, such as chickadees, grosbeaks, and sparrows. Squirrels typically will not interfere with feeding as they don't care much for the seeds.
If your feeder placement is closer to the ground, you might add white Milley – a bird food that doves, cardinals, juncos, and towhees love. You can also scatter the seeds on the ground and add other foods to your feeders, such as striped sunflowers or shelled corn.
See Your Favorite Birds Up Close
Would you like to take birdwatching to a new level? If so, you can feed backyard birds and see them up close. Go online and make a feeder selection today.
Read Also: