Your worst nightmare can be forgetting your phone's password or pattern, especially when you are in a hurry. In addition, your professional or personal life may stop functioning if you cannot get access to your phone. 
This situation is very much known to most of us, right? So if you have forgotten your phone's password and are looking for help right now, then you are at the right place. In this post, we will guide you on how to bypass Android lock screen using camera?
In addition, we would also assess whether this method is applicable in call cases along with its feasibility. Read the following sections carefully to solve your problem instantly. 
How To Bypass Android Lock Screen Using Camera – Is It Really Possible?
Android Operating System facilitates the installation of a wide range of screen unlocking methods. If you fail to carry out one successfully, then you can try the next one, and ultimately you will be able to unlock your phone. 
One such method is avoiding the lock screen with the phone's camera. Does it sound impossible or new to you? Well, in this segment, we will assess its possibility and viability. According to a number of trusted sources, tech experts, and Android users, it is possible. 
You can actually make use of your phone's camera to slip the security lock. But this is not a general or typical case; hence you have to follow certain unique features to do it accurately. I hope all of you have heard about the 'Emergency number' feature on Android, which is used in this case.  
As per some excerpts, this feature is actually a bug that skips the security on a phone After its proper exploitation. So what is the best thing about it? By doing this, you can modify and view the newly clicked images and videos, even if the phone is locked. 
There are several demonstrations on the Internet that prove you can access the home screen following this method. So let us see how to bypass Android lock screen using camera.   
What Are The Steps To Bypass Android Lock Screen Using The Camera?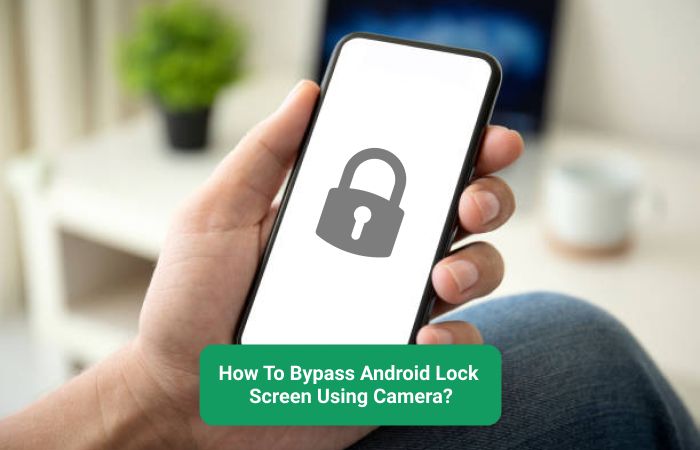 By now, you might have understood that diverting the lock screen of your Android using a camera is a practical idea. Now the next question that arises is how to bypass Android lock screen using camera. So let us check out the steps without wasting any more time:
Firstly, when you open the lock screen on your phone, there is an option called 'Emergency.' Click that.

After this, you have to add a sequence of characters to the emergency call bar. For example, you can add ten asterisk symbols. Then highlight what you have typed by double-tapping on the string.  

Now just click the 'Copy' option. 

Then tap that field for pasting the string that you have copied just now and paste it. In general, you won't be able to repeat a character beyond 11 repeats. So keep pasting until you cannot highlight it anymore. 

Now navigate back to the lock screen again. Ensure that you have swiped left and opened the camera immediately after reaching the lock screen.  

Now scroll the notification slider down and tap the gear button to open the Settings menu. You will now visualize a prompt where you will be asked to put a password.

Long press and hold on to the password bar after seeing it. You will have a pop-up menu appearing in front of your screen. Then, simply hit the Paste button.

You will see that the previously copied characters have been already pasted. 

Keep pasting as long as possible. Keep the cursor at the end of the line while pasting the new characters. 

Continue to do it until your phone's system crashes. You will find that the soft icons have disappeared. 

Now, wait for the camera to crash, and ultimately, the home screen will expose.
Here is an added information for you: Know that this method is not applicable for all android devices. For example, likely, the steps would not work in phones having Android 6 and later visions. 
Frequently Asked Questions
Q1. How Can I Bypass Android Lock Screen Without Google Account?
To do this, you have to seek help from the service center of your phone. A full reset may also help but save all the data and keep backups. It is because a reset would erase all the data from the internal memory of your handset. 
Q2. How To Unlock The Phone If The Camera-Based Options Do Not Work?
There are a plethora of options that you can adopt if the steps mentioned above fail to work. Forgot password, Android Phone unlocker, as well as Android Device Manager are some of such measures.  
Q3. Is There Any Way To Override The Lock Screen On Android?
Go to Phone Settings.' Then choose the option 'Security' and click the 'Screen Lock.' Next, enter the current pattern or password. You Can now select 'None.' 
Q4. Are There Any Other Methods To Divert The Lock Screen With Camera?
If Face Recognition is enabled on your phone, it will automatically scan your face using the front camera, and you will be able to reach the home screen easily. 
The Bottom Line  
So we hope that you have understood the procedure of unlocking your Android set with the phone camera successfully. Then why don't you give it a try right now and get access to your phone again? This method is pretty effective in phones below Android 6 if you can execute all the steps accurately. 
Please share this post to widen awareness about how to bypass Android lock screen using camera. You may also post a remark if you have any relevant opinions to contribute. Finally, keep an eye out on our website in the future for more useful information pieces like these.
Read Also: