It's Sunday night, and you're sitting on the couch with a bowl of ice cream. Just like many other Sunday evenings, you say to yourself, "tomorrow, I'll start an exercise routine." Tomorrow comes and goes.
As you once again settle into the couch for the evening, you realize that you didn't live up to your fitness promise and you start to feel guilty. The comforting thing to remember is that you're not alone.
Not only is mustering up the momentum to exercise a challenge in the best of times, but physical activity is also incredibly daunting for seniors.
You may experience mobility issues that make it difficult to move your body. Or you may have serious health conditions in your lungs or heart that affect your breathing or ability to move at a fast pace. You need gentle exercises that are still energizing enough to get your heart beating and your joints and muscles moving.
Exercising is crucial for seniors because of its incredible health benefits. Maintaining regular physical activity can prevent disease, encourages better mental health, and improves balance.
Read on to find three exercise tips that you can easily incorporate into your daily routine.
1. Chair Yoga: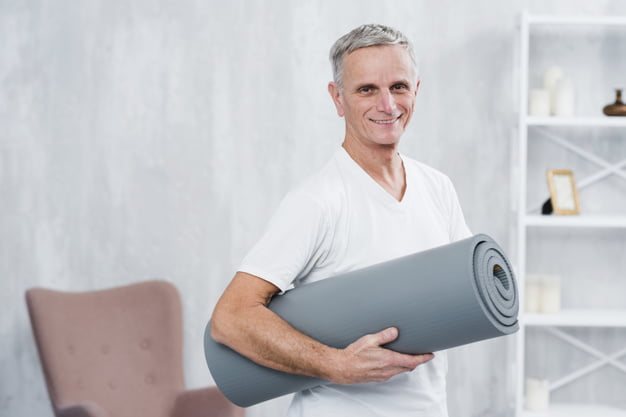 Have you always wanted to try yoga but are intimidated by the twisty, seemingly impossible moves?
You have no idea how anyone could get their legs around their head like that. Fortunately, you can enjoy all of the benefits of yoga without maneuvering your body into pretzel-like positions.
Chair yoga is a low-impact type of exercise that improves mobility, muscle strength, balance, and flexibility, all of which are critical health aspects for older adults. It's more accessible than standing yoga because it provides less stress on your joints, muscles, and bones. You can also practice chair yoga comfortably at home.
It's always best to practice fitness routines with a qualified instructor or support worker. You don't want to injure yourself accidentally. If you don't already have a Personal Support Worker (PSW), consider reaching out to a healthcare agency such as Integracare — they'll set you up with a home caregiver who can safely assist you in your chair yoga exercises at home.
2. Water Aerobics:
If you have access to a pool, consider the benefits of water aerobics. Physical activity in the water is ideal for people with arthritis and other forms of joint pain because the buoyancy of the water places less stress on the joints.
Furthermore, water provides natural resistance, eliminating the need for weights in strength training. It can improve your flexibility, strength, and balance with very little stress on the body.
Seniors need to acknowledge the changes that their bodies have undergone thanks to the effects of age. This means that even though you might think that an exercise is pretty simple, you might end up getting seriously injured. Cases of seniors needing hip replacement or knee surgeries are more common than you might think. This is why no matter what kind of exercise you want to take up, it would be best that you first consult your doctor.
3. Gentle Dumbbell Exercises:
Training with lightweight dumbbells improves strength, flexibility, balance, and joint health. The trick is to find a workout routine that works for you. You can find hundreds of weight-training exercises online — just remember to search for gentle practices for seniors.
While initiating the exercise routine can be a challenge, you'll wonder how you ever existed without regular physical activity once you get into the swing of things. With these three gentle exercise ideas, you'll feel healthier and happier in no time.
Read Also: