You probably own a ton of makeups but you only used it once or twice, don't worry, we get you.
But how can you know the products that are worth keeping and those that deserve to be given away or trashed?
It is important to know your style especially with what you're comfortable with.
Start decluttering, you'll know how much money you've wasted and avoided it from happening over again.
First, you have to look for shades and colors that can suit both your daily and occasion look. With this, you won't have a lot of products on your table.
Second, don't be impulsive in buying new makeup. This is why people end up with tons of makeup that hasn't been used more than once.
Third, make your daily routine simple. This will help you save money and time at the same time.
Korean makeup is known for achieving a simple natural look. Their main focus is to enhance your natural beauty then change it to a different look.
One of the youngest K-beauty brands, 3CE, offers various makeup products that are perfect for your daily or special needs.
Here are some of the best products for your daily use.
1. Mood Recipe Face Blush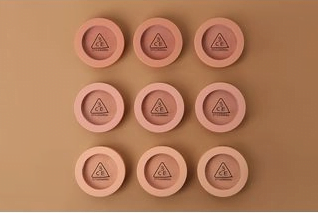 This face blusher is surely going to change your mood with its 3 colors that will provide your cheeks the best natural blush.
It has a sebum controlling powder to provide a long-lasting effect without clumping making you look fresh all day long.
The available colors are Nude Peach, Mono Pink, and Rose Beige.
It is very easy to apply, even beginners will have fun using it.
2. Boosting Sun Primer
A perfect product for lazy bums out there who hates putting on sunscreen before applying makeup.
This makeup base is also a sunscreen SPF50+ PA+++. It contains essential ingredients that provide moisture to the skin that makes it soft and smooth.
It is very lightweight and perfect if you want to achieve a dewy look.
3. Mood Recipe 2 Matte Lip Color
A creamy matte lip color that is available in five autumn shades perfect for your MLLB. (Mirrorlike, Hit Me Up, Brilliant, Mellow Flower, Step and Go)
Even with the matte finish, 3CE's best-selling lipstick is not drying at all. It is also very easy to apply and it stays on for a long time.
You only need one to two swipes and you're good to go!
4. Cover Pot Concealer
Available in 4 colors, this concealer and color corrector provides perfect coverage that conceals uneven tones and pores with one application.
It is infused with CICA (Centella Asiatica Extract) and tea tree leaf extract which provides a soothing effect on the skin.
Its formula is designed to be sweat and water-resistant to provide you a long-lasting effect.
It comes in a small jar though not a lot, it's going to last you for a long time since you don't need that much per application.
These 4 colors have different purposes, check them out to know more.
5. Mood Recipe Multi Eye Color Palette
You will definitely love the earthy shades that come with this multicolor palette.
It contains 9 shades with a matte and shimmery finish that can suit your daily and special looks for any occasion.
This palette is very easy to blend and is really long-lasting; very beginner-friendly.
It comes in 3 types: Overtake, Smoother, and Plot Twist.
Smoother does not come with any shimmery shade while Plot Twist contains neutral brown to achieve that glamorous look. Overtake is more on the rosy side.
6. Plumping Lips
For anyone who isn't a fan of lipsticks, this should definitely be your go-to.
This lip tint comes in 5 colors that are infused with essential organic oils like avocado, calendula, and coconut oil.
These ingredients nourish and hydrate your lips to become healthier and plumper. Expect a really glossy finish but without the sticky feeling.
Its available colors are Clear, Coral, Pink, Red, and Rosy. These shades are definitely daily-use friendly.
Always remember to spend your money wisely. Most people are easily manipulated by others' influence which results in impulsive buying just because of a trend or hype.
If you can resist this and do your own research, you will see if it's worthy or not and if it fits your style or not.
You can check out 3CE's products, they offer quality yet affordable products for your makeup needs.
Let us know if you loved these products!
Read Also: