Working at a desk all day can be mentally draining. If there's nothing around you to perk you up and remind you that you're still alive, it's easy to feel blah and run down.
How you decorate your desk, therefore, is crucial. It has to be organized, efficient, and professional. But it also has to be personalized without being distracting.
Finding the right balance between professional and personal isn't always easy. These tips will help you decorate your desk well enough to make your job a little brighter without too much clutter or distraction.
1. Add Your Favorite People (or Animals):
Filling your workspace up with those you love is the easiest way to personalize the area. Choose a few of your favorite pics to keep close to you.
There's a trick to doing this without adding too much clutter. Instead of using multiple frames, invest in a digital picture frame. You'll enjoy a steady slideshow of all your memories in one small frame.
If you must have the hands-on photographs, use a corkboard that hangs on your wall or an out-of-the-way wire. Don't forget that if you're working virtually, any photos you have displayed may be seen by others on a video conference call.
2. Add Color Where You Can: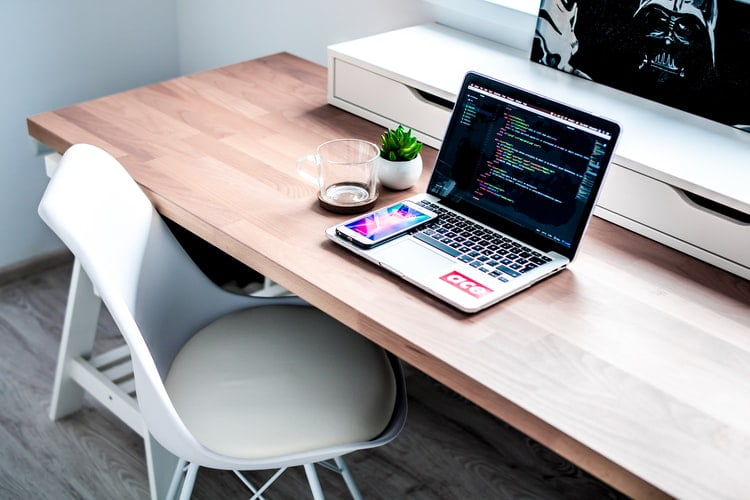 Studies show that the colors in your office can affect productivity. They have the ability to change your mood.  Brighter colors energize your mind and stimulate you, making you more productive.
Occasional pops of neon and pastel hues make everything seem better. Try adding some color to your day in your office stationery and basic tools.
Post-it notes, notebooks, and colored pens and markers bring sparkle to an otherwise dull desk. A colorful office chair and floor mat brighten the area, too. If you have a choice to go basic or bright, bright wins every time.
3. Decorate Your Electronics:
We know it's important to protect our devices, so why not make them enjoyable and keep them safe at the same time?
The mall kiosks are full of attractive phone covers that serve no actual protective purpose. Your laptop may have come in your choice of colors, but none of them actually keep it from being damaged.
Phone and laptop skins are the preferred method of decorating devices now. They can be personalized any way you want them, and they actually protect your electronics from scratches, dents, and water damage. This article tells you how to choose the right skin for your device.
4. Have a Plant or Two: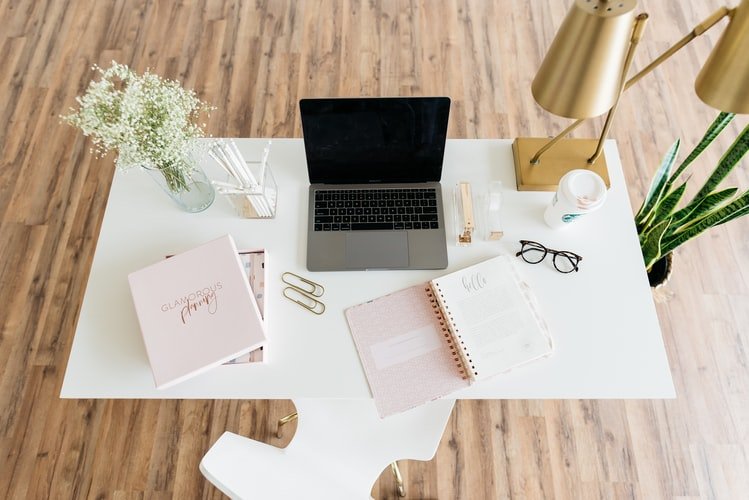 The benefits of indoor greenery are extensive. Research studies have shown that having a plant in your work environment gives you mental and physical advantages.
Plants can make you more productive and put you in a better mood. They purify the air around you, helping you breathe better and reducing allergens.
As a bonus, find a plant or two that you enjoy looking at, and you have a beautiful decoration that improves your health. Before you buy your next plant, decide where you're going to store it.
If it's next to your desk, you can opt for a plant that grows to be 3 – 4 feet tall. But if it's on your desk, stick with a small version that's already in its permanent planter.
Mini bonsai, bamboo, and cactus plants are easy to keep alive, no matter what color plant thumb you have. They stay desk-sized and won't clutter your working surface.
5. Accessorize With Flair:
Look around your work environment. What little things are there that you could spruce up with some style?
For instance, a boring coffee mug can be replaced with one that shows your personality. You can find personalized mugs anywhere. Buy one with a quote that makes you laugh or inspires you.
Swap out your file folders for some that have inspirational quotes or colorful pictures. Change your bookends from the metal stands to a pair that's stylish and something you love.
You're still keeping all the important, professional items you need to do your job. You're just replacing them with decorative versions that remind you to enjoy life!
Conclusion:
Decorating your desk is a personal activity full of choices that only you can decide on. As long as you stick with things that are professionally acceptable and don't distract you from your job, you can enjoy the work environment around you.
These tips will help you as you start the decorating process. As long as you're satisfied with the final results, you have the perfect office desk decor!
Read Also: