Pride month is here, people, and what better way to empower and celebrate the LGBTQ+ community than wear pride outfits that uplift! Our outfit is the most significant part of our personality, giving us the power to speak our minds without opening our mouths. Designing outfits that celebrate them, their sexuality, and their perception of life is the coolest way to connect with them. Colors play an important role in the history of LGBTQ+, and the six colors rainbow symbolizes LGBTQ Pride. Most of the outfits must have a Rainbow as the highlight.
The artist Gilbert Baker created the six-color rainbow flag in 1978, symbolizing red as life, orange as healing, green indicates nature, yellow represents sunshine, purple as spirit, and blue as harmony. There are also two other colors, turquoise symbolizing art or magic, and hot pink representing sex.Pride outfits are, therefore, a combination of vibrant colors symbolizing the celebration of their life, their struggles, the recognition they get, and the acceptance that took so long to materialize. Worrying about what to wear to pride? Here's the answer!
10 Best Pride Outfits To Wear This Month's Events!
Pride month is celebrated in June because it was on 28th June 1969 that the Gay Liberation Movement picked up pace. It acted as a catalyst after police raided a gay bar. The Stonewall Riots started when the patrons of the bar fought back.
The different events such as festivals, marches, parades, picnics, music concerts, symposia, workshops, and pool parties are all ways of building communities for the LGBTQ+. Individuals belonging to the LGBTQ+ communities have faced and are still facing biases, judgment, and discrimination.
The purpose of pride parade outfits is to make the struggle known, support and encourage them, and empower them nationally and internationally. It is time to celebrate the 53rd anniversary of the Pride parade that started after a year of the Stonewall uprising in 1970.
1. Tie Dye Rainbow Halter Crop Top Paired With Faded Denim Shorts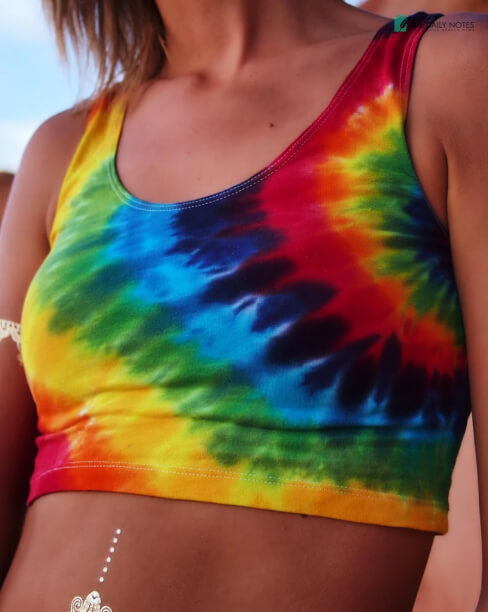 This outfit is perfect for a morning event such as parades or picnics. The tie-dye rainbow halter crop top is paired with faded denim light blue shorts and white sneakers. You can further accessorize it with gold hoop earrings and a pop pink color sling bag to carry your phone and other necessities.
If you are feeling a little bit of a daredevil, wear red, green, blue, and yellow eye-shadow with a little glitter on the lashes. Now your look is complete!

2. Colorful Overall Shorts Paired With White T-Shirt And Yellow Aviators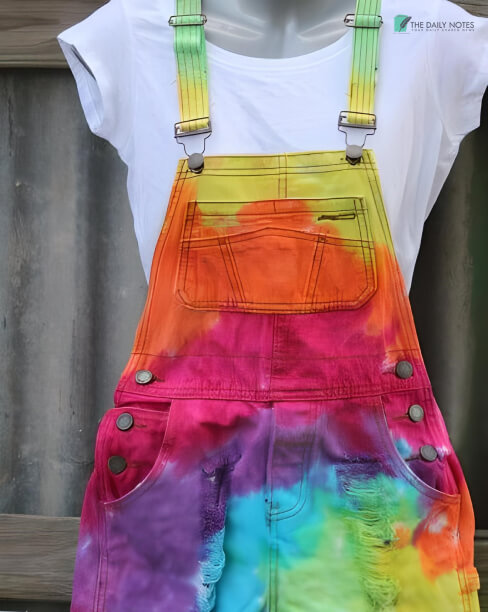 It is one of the cute pride outfits comprising rainbow color overall shorts paired with a white t-shirt. You can rock this pride outfit in workshops and marches organized during Pride month.
Along with the clothing, you must sport a yellow aviator and accessorize the whole look with the Olivia Ponton Pride Tote bag and black flats. The look gives a comfortable vibe and overall will look authentic.

3. Mini Dress In Gold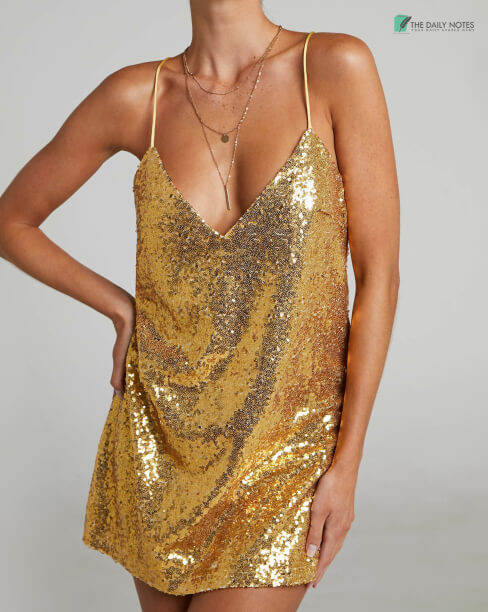 The pride dress! Perfect for an evening party or a clubbing event, you will look like a queen in the L'MOMO Gold Stretch Sequin Mini Dress. You can either wear black sneakers or boots along with this dress. Minimalist accessorize is the key to rocking this dress.
However, you can carry black geometric sunglasses and minimalist gold rings on your fingers. Your look is complete, and you rock!

4. White Shirt Paired With Rainbow Colored Tutu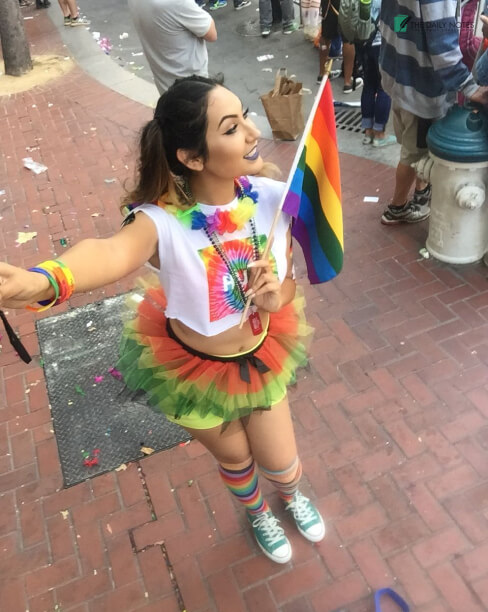 If you are attending pride festivals, marches, and music concerts, it must be hectic, so you want to keep it playful and interesting. Sporting a rainbow tutu is a perfect way to jazz things up with a plain white T-shirt.
Get yourself rainbow color stockings and wear them with canvas sneakers, which will be comfortable if you need to walk or stand for a long time. Color your nails with the rainbow colors accentuating your white t-shirt further.

5. Breezy Tie Dye Button Downs Paired With Dark Blue Pleated Pants
For attending a symposium based on LGBTQ+ issues and pride, wearing a silk shirt with soft pants is a classic representation of grace and identity. Often, people belonging to the LGBTQ+ communities are demeaned based on their outfit choices.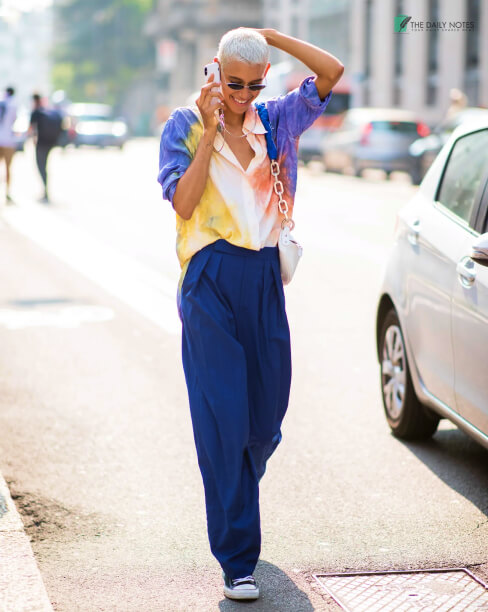 Well, this look will shut those wagging tongues and highlight the gender-binary symbolization of an identity. Wear silky button-downs which have been tie-dyed with rainbow colors and pair them with dark blue pleated pants.
Depending on your preference, you can sport loafers, a wedge, or a stiletto. Do carry shades; it will add oomph to the outfit.

6. Rainbow Dyed Torn Shorts And A Black Oversized Top
If you plan on attending workshops or parades, wear something light and breezy. Staying comfortable is the motto hence, the first item in the pride outfit is rainbow-dyed torn shorts paired with AtheiaLA I Stand with the Queens Tee.
The oversized tee is a statement piece supporting the drag queens and will give a nonchalant look for a workshop. You can wear black flats or white sneakers along with black Tortoiseshell sunglasses.

7. A Black Tank Top With Rainbow Colored Flared Pants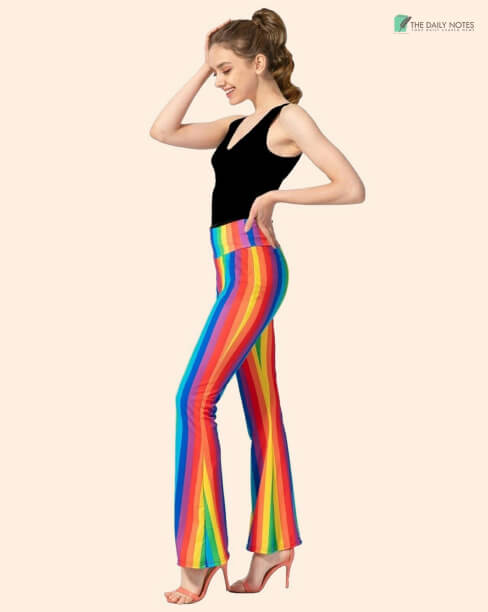 Attending symposium is done in style when you sport rainbow-colored flared pants and a black tank top. Wearing the Martha Calvo Over The Rainbow Earrings will be a great way to accessorize the outfit.
Wearing ballerina flats or wedges is a perfect way to highlight those pants. After all, you represent the diversity, the life, and the beauty of being and supporting LGBQT+ identities and communities.

8. A Sheer Transparent Rainbow Color Shirt On Black Tank Top And Black Hipster Shorts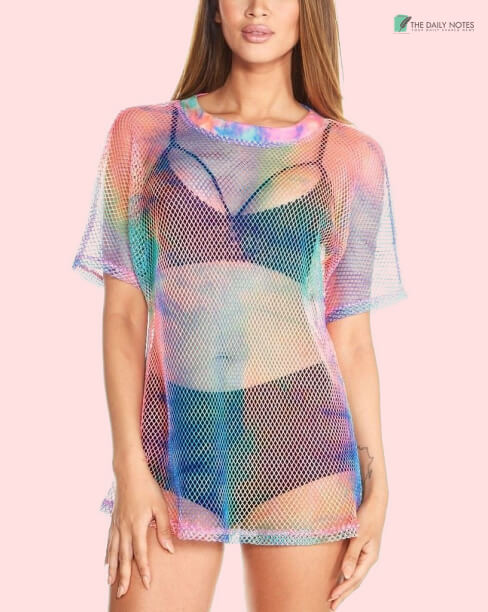 Perfect for a music concert, a sheer transparent top grabs eyeballs and is gorgeous. The black in the background will highlight the top making it glitter further. Use pop pink eye shadow and black shadow on the lashes to highlight your eyes.
The Pride outfit will look beautiful with Vans' Pride Old Skool Shoes. Carry the cross-body belt bags by Nicole Zizi Studio, which will upgrade your look to a classy yet fun vibe.

9. A Pink Halter Neck One Piece Swimsuit Paired With Rainbow Colored Crochet Jacket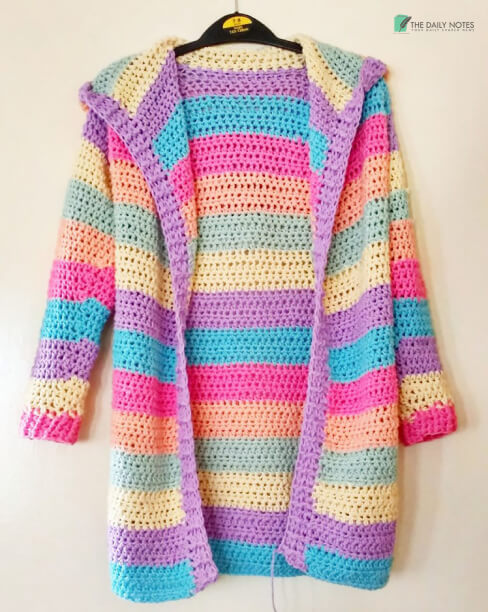 For pool party events, wear that pop pink halter-neck one-piece suit. Grabbing eyeballs is the motto, especially when we are celebrating pride month. Go for its beauties and pair a rainbow-colored crochet jacket, further exciting the look.
A straw hat does accentuate those shoulders. Sport a white bow sandal, and keep your legs and arms covered with sunscreen. Let the party begin!

10. A Jersey And Black Cargo Pants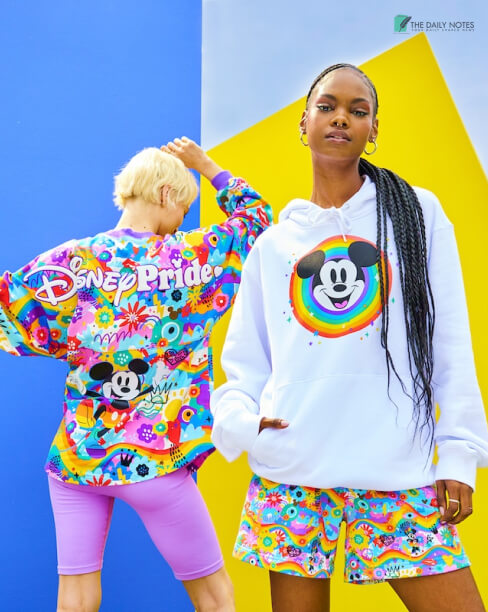 Wear the Disney Pride Mickey Mouse Spirit jersey with black cargo pants to look cute. The jersey has a psychedelic print, perfect for the pride month and part of the pride outfits we are designing for you.
The jersey is long sleeved; hence, it is perfect as a part of pride festival outfits. Carry the Telfar convertible backpack tote, perfect for carrying pride parade beverages and snacks.

Conclusion
Please read this article to catch inspiration for the pride outfits we have exclusively designed for you so that your game for the pride month is set. The events will be rocking, and so will you.Please let us know in the comments which outfit you like the most.
Read Also: