For a professional in a contemporary world, the importance of personal grooming cannot be stressed enough. Check out this presentation on SlideShare that talks about how you can create the right impression with perfect hair, skin, nails, and attire; and make your mark in the boardroom and any other workplace setting. Among the essential elements of your morning routine, you should include effective hair removal options that allow you to show off clean and smooth skin. But, if you're short of time when preparing for that conference or should an impromptu meeting come up, it pays to have a couple of quick and easy tools in your arsenal (read – bag).
Of Course, Permanent Hair Removal is Always the Best Option:
The smartest hair removal option for any woman is always the permanent one. If you can invest in one of the treatments now available, you'll no longer have to worry about juggling epilators and creams in the bathroom just before the presentation when you should be rehearsing notes and organizing slides.
Check with the consultants at the BHRC medical spa laser hair removal center, and you'll learn how it is possible to get rid of the unwanted hair for good. Lasers are hair removal options that use light at specific frequencies to target the follicles under the skin. Once the roots are destroyed, the hair cannot grow back. Users talk about seeing 80% or more of the hair removed permanently. You may need to come in for multiple sessions and dermatologists will work on only a specific section of your skin at a time. But, once the entire treatment is complete, you can be free of extra hair on the face, arms, legs, back, abdomen, or any other area.
If laser procedures are not an option for you just yet, try these alternatives. Some may give you results that last for a couple of days while others may leave you hairless for 3 to 4 weeks. But, you WILL need touch-ups regularly.
1. Depilatory Creams:
If you need to get rid of hair quickly and painlessly, try depilatory creams. Most such formulas are thick like a salve and give you smooth skin that lasts at least a couple of days. Before using this hair removal option, you may want to read the label on the pack carefully and follow the instructions given. It also helps to do a small patch test beforehand to ensure that you're not allergic to the product.
Using the cream is very easy. All you need to do is apply it, leave it on for a few minutes, and then scrape it off with the plastic spatula included in the pack. Wipe with a wet towel or take a quick shower and you're good to go. The cream dissolves the hair just below the skin and is great for users who are trying hair removal products for the first time.
2. Electric Epilators:
Electric epilators are hair removal devices that have rows of tweezers which pluck the hair at high speeds as you move them over the skin. Not only is this hair removal option quick and easy to use, but regular use can help the hair grow back thinner until it is barely there. As for the discomfort, you can expect to feel some amount of stinging as each strand is plucked out. But, many devices come with massage rollers that take away some of the pain. Take a look at the range of gadgets available today as listed by The Telegraph.
The best time to use the epilator is right after a warm shower when the hair follicles are loosened. And, to lower the discomfort, consider applying ice to numb the area. You may also want to start on areas that are less sensitive like, for instance, the legs or claves. Once you understand how the procedure works, use it anywhere for quick and easy results that last for up to 4 weeks since the hair is removed from the roots.
3. Feminine Razors:
Shaving is possibly one of the most common hair removal options. You can shave the skin either when dry or wet. But, if you can soften the hair by soaking it with gel beforehand, you can expect to get longer-lasting results for 2 to 3 days. While shaving, you will only cut the visible hair shaft, so it's just a quick solution to try when you're short of time. Shaving is also a good option when you have short stubble that won't respond to the electric epilator that needs hair to be at least 0.5mm in length.
For women who are particularly sensitive to pain, the razor may be the best solution that removes hair by just gliding over the skin. However, you may need to prepare for minor nicks and cuts in areas where the skin isn't exactly taut like, say, the underarms.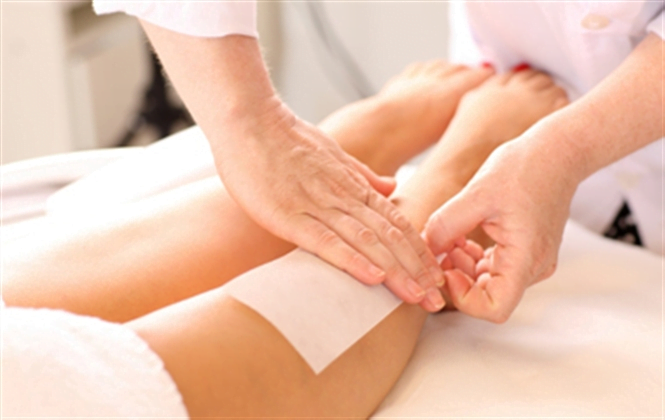 4. Cold Wax Strips:
Cold wax strips are another quick solution that you can use. It is always a smart idea to have one those in your bag for a quick touchup when you need it. All you need to do is remove the adhesive layer, press against your skin and rub until the wax melts a little and grabs the hair shafts. A quick pull in the direction opposite to the hair growth and you're sorted. Both hot and cold waxing serve as great hair removal options. Although they are painful, you can expect to see smooth skin that lasts for at least 4 to 6 weeks.
Further, as you continue to wax regularly, you should note that the hair is thinning and getting scarcer. You can even get by for longer periods without the need for another session. A couple of downsides? You may need to get professional help at a salon for hot waxing because of the risk of scalding. Although you can use cold waxing for a quick fix, you should use a few precautions as outlined by this feature on Livestrong.
While permanent hair removal options are always the way to go, you can make use of some easy-to-use tools when you need clean skin in a jiffy. Slip any one of them into the emergency beauty kit you carry in your bag, and use as and when needed.
Read Also: