People dye their hair for all manner of reasons today, but it wasn't so long ago that hair coloring was still quite rare.
Although there is historical evidence of different cultures using natural products to dye their hair hundreds of years ago, only about 7% of women were dyeing their hair in the 1950s.
Now though, there are numerous different ways to color hair, with some being longer lasting than others. Some coloring treatments can be very temporary and wash out within a week or so, while others can last much longer. Hair coloring can be used for fashions and trends, and to hide gray hair.
The biggest age group for dyeing gray hair is between 40 and 49 years old, and this is a common reason to use hair coloring. But, what if your requirements were somewhat different? What if you want to match your hair to your tanned skin?
If you want to bronze your skin, how do you keep your hair perfect?
After spending serious time in the sun, many people will get that surfer's look of bronzed skin and dirty blonde waves of hair. The sort of look that you might associate with the Gold Coast or California beach life.
But, it's important to take care of your skin and hair if you intend to tan. You can use products such as keratin shampoo and conditioner to maintain healthy hair. Sea water for instance can cause frizz and damage to your hair, so extra care needs to be taken if you are bronzing by the ocean.
What are the best hair colors for bronze skin?
To stay on the healthy side of tanning you can look at some alternatives to sun exposure. The risks of tanning are well documented by the FDA, and using a spray booth or fake tans will reduce the dangers of UV on your skin, and won't affect your hair.
No matter how you achieve your golden tone, you will want your hair to look perfect too, and you may naturally have bronze skin.
Hair colors that work well with darker skin include the following:
Caramels
Honey blonde
Golden brown
Ash-blonde
Chestnut brown
To be honest, almost any hair color will work with tanned skin and this includes pink, white/gray, and raven black. Being tanned used to be seen to be a sign of healthiness, and golden skin looks attractive still with pretty much any color of hair, and hair length.
You could try cute undercut hairstyles for women in platinum blonde or golden brown, and add gold accents to dark wavy locks to go with your tan.
What are the recommendations for matching skin tone to hair?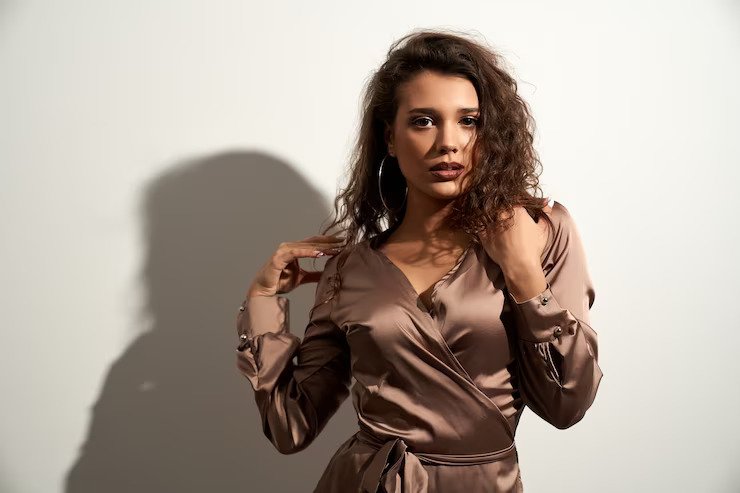 Naturally, your skin and hair tones will match. Obviously, genes have a huge part to play here, but even if you can't see it at first, your hair will be matched to your skin tone.
As you develop a tan though, you may wish to alter your hairstyle. Some experts believe that matching hair to skin tones is a mistake. This is because instead of accentuating your skin, you could end up looking washed out.
Therefore, the browner the skin, the more golden the hair color should be. For reference, you can consult your stylist, and there are charts to match skin tones and hair to bring out warmth, and color.
Of course, not everyone wants to get tanned, and there is a trend for men to get naturally fair skin now too. In this event, it is important to understand that the hair color choice doesn't make light skin look completely drained.
Is it safe to treat your hair if you are going in the sun?
If you are going to try to get the bronzed look from nature, then you should implement extra sun protection, and skin care, and look after your hair.
The sun's rays will lighten hair color, and affect hair dyes too. Any dyed hair will be affected by UV and this will result in faded colors. You should be using sunscreen anyway, but you can also use a UV balm on your hair to give it some extra protection.
Other common hair problems from the sun and heat include dryness and split ends. If you have colored your hair you should use conditioner, skip the shampoo sometimes, dry your hair naturally, and use products with SPF protection. For example, you can buy leave-in conditioners that contain levels of SPF protection.
Summary
If you want to avoid some of the risks involving UV rays then stick to fake tans and spray booths. You can still get the bronze skin you desire but without the dangers.
Then it's up to you how you want to match your hair. Some like to go platinum blonde for a huge contrast, while others go for dark browns such as chestnut or mahogany. Gold highlights in dark hair can offer an alternative also.
Read Also: