If you love being able to choose from new and innovative beauty products, you never get tired of looking for the most effective way to retain your youthful looks. Well, it seems that hyaluronic acid face masks are rapidly becoming the next big thing in the beauty world.
Hyaluronic acid face masks have been on sale for a while now and have become one of the best-selling facial beauty products.
Let's find out why Hyaluronic Acid Face Masks have become one of the best-selling facial beauty products?
We are talking about the first liquid facial mask on the market, unisex, and with a concentration of 1.8% pure hyaluronic acid (the highest there is). Many beauty practitioners like looklovelylondon.co.uk  say that stocks of such masks are already exhausted – they are so popular.
So, should you try it?
Many in the beauty industry confirm that hyaluronic acid face masks have quickly become the most popular face mask of the year! Its unique liquid texture makes it perfect for recovering dry or very dehydrated skin after the summer.
The mask has two ingredients that make it the most hydrating: pure hyaluronic acid that revitalizes the skin, improves its elasticity, enhances the barrier function, and reduces fine wrinkles and expression lines; and 2% glycerol, which reduces transepidermal water loss and provides elasticity.
You can use a hyaluronic face mask once or twice a week, especially if you want to achieve a flash effect, but also to recover the skin after a laser treatment or to calm redness if you have rosacea or sensitive skin.
As an injectable … at home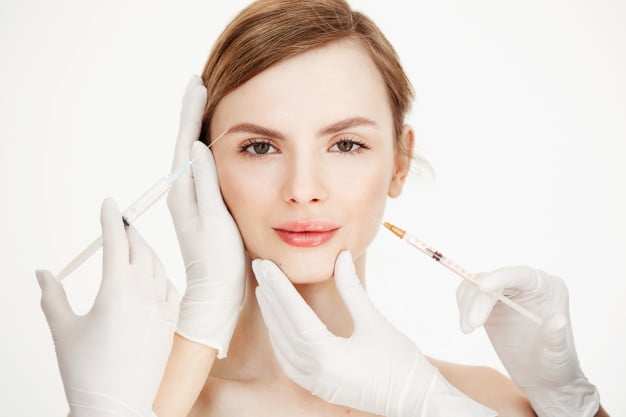 Looking for something more than a face mask? Anti-wrinkle injections and similar treatments have become wildly popular among young people recently. It allows them to not only deal with any signs of aging but also help delay or prevent signs of aging on the skin from appearing.
Pro-level results
You can now buy specially designed pro-level hyaluronic acid beauty products to use at home. The products normally come with several doses in a very special format. And the manufacturers package pure injectable hyaluronic acid for medical use, with a sterile glass container that allows you to keep the formula intact, without preservatives.
This is basically the same as if it were in a hyaluronic syringe that specialists in clinics apply to you in the consultations of dermatologists and aesthetic doctors. And it comes with a bonus – the glass used for the vial in this product is recyclable – so not only is it kind to your face but also to the environment too!
Final thoughts
Nobody likes to see the signs of aging appearing on their face. The good news is that nowadays, it is easier and cheaper than ever to do something about it.
So what are you waiting for?
It is time to find out more about how you can turn back the hands of time for your looks, rejuvenate your skin and experience a healthy, hydrated, and glowing complexion – again – just like when you were younger.
Consult your doctor or regular beauty clinician to discover just how easy it now is to keep all the unwelcome signs of aging at bay.
Read Also: