The woman is not just a side piece; Jazzy Distefano proves that. A celebrity in her own right, Jazzy Distefano has created a name on social media platforms with her fitness videos that use music. A partner to Chris Distefano, the stand-up comedian, and actor, she is also a mother of three.
Initially, people did not know a lot about Jazzy. However, she first came under the limelight when she got pregnant with the first child of the American stand-up comedian Chris Distefano. The man has also just tasted fame once he appeared in the MTV show Guy Code and Girl Code.
Jazzy has been passionate about fitness; she took it and made it a successful professional opportunity. She has also made a name for herself in the market as a spin instructor, Zumba instructor, personal trainer, and fitness instructor.
Who Is Jazzy Distefano? – Bio, Relationship, And Net Worth
Jazzy is a social media fitness influencer, but apart from that, she is also a personal trainer. The way she has designed her workout sessions and regimes, she claims that anyone who wants to lose weight can.
As a partner to celebrity stand-up comedian and actor Chris Distefano, Jazzy has made a name for herself with her fitness videos. Another specialty that Jazzy works in is helping with postpartum depression, which most mothers suffer from after childbirth.
Initially, she was known through her partner's popularity, but Jazzy has become equally successful over time. She lives in Staten Island, New York City, in the US, with her partner Chris Distefano and her three children.
Who Is Jazzy Distefano?
Jazzy Distefano belongs to the ethnicity of Latin Americans and originally belonged to Puerto Rico. The Father of Jazzy Distefano is Edwin Canuelas, while the mother's name is Liz Canuelas. She also has two siblings, one brother, and one sister.
In her profession, Jazzy has made her name with the developed workout method called Bodyweight Training to Music (BTM). She offers fitness classes through her YouTube channel and Instagram page.
As a social media influencer, she has created awareness regarding the significance of fitness. Her developed method motivates people to become fitter and lose weight through music. The technique can be used to control body movement and muscle engagement.
She claims that her developed method has been effective in shedding fat, built and toned muscles, and contributed to increased endurance, stamina, and energy.
Biography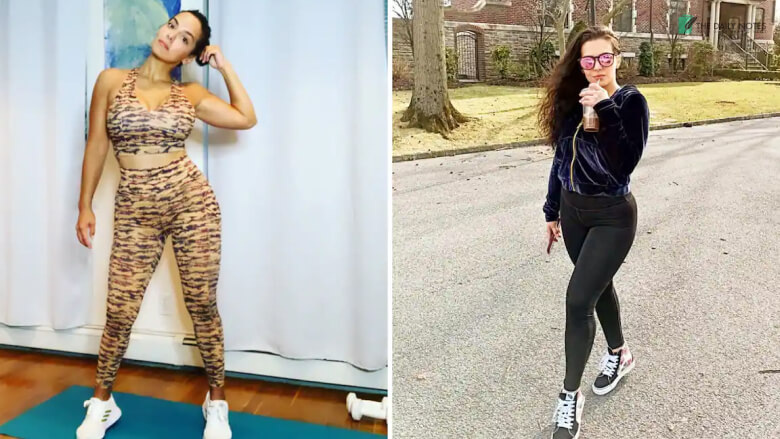 Jazzy was born in the United States of America in Brooklyn, New York, on 17th April 1984. Initially, her name was Jasmine, and belonged to Hispanic heritage. As an American national, she has received opportunities in the USA and used them to their advantage.
Edwin Canuelas, her father, worked at the Lutheran Medical Center. Unfortunately, he died on 26th January 2018. Jazzy has to survive alongside her two siblings by struggling and making her way up.
Jazzy's height is 5'6″ ft, while her weight is 60 kg. Christianity is her religion. She currently lives in New York City, United States.
Relationship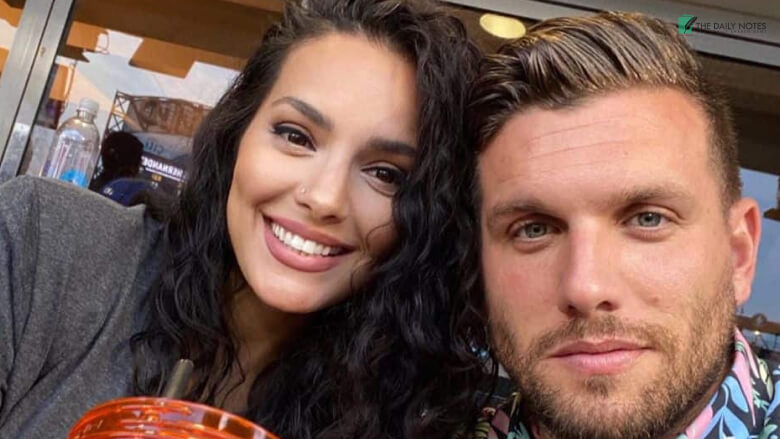 Jazzy has a child from her previous relationship named Tristan. She has two daughters with Chris namely Delilah, and Violette born in 2015 and 2021, respectively. When she met Chris, her partner, she used to work in Sunset Park as a Zumba teacher.
Jazzy has informed on her Instagram page that she didn't work out during her first two pregnancies; however, during her pregnancy with Violette, she regularly exercised. Chris did not have any children from his previous relationships.
As a fitness enthusiast and instructor, she managed her postpartum depression through fitness and wellness sessions. After addressing her issues, she decided to help other women in their motherhood journey through fitness programs.
Chris Distefano
Featured in reality shows such as Guy Code, Girl Code, and Ultimate Beastmaster, and hosts of other shows, Chris Distefano experienced his fair share of fame.
Initially, he was struggling in the entertainment industry. However, he became popular once he appeared in the MTV2 show Guy Code from seasons 2 to 5. The show became one of the highest-rated shows on the channel. Later he also appeared in the show Girl Code.
When he met Jazzy in 2014, he was already popular. Chris was 30 years old and created his place in the entertainment industry once he left his job as a pediatric physical therapist. He met his present girlfriend in Coney Island; initially, she was not interested.
However, later becoming chris distefano girlfriend led to Jazzy moving in with Chris and moving to New York. They used to live together before getting married. Chris belongs to German and Irish, and Italian ancestry.
Net Worth
Jazzy Distefano's net worth, as calculated and updated by March 2023, is $2 million. She started as a personal trainer when she was young, but slowly, she created her own Zumba fitness group along with other fitness and wellness programs.
She developed fitness and wellness program regimes for women undergoing postpartum depression called Jazzymethod. She is helping these women lose weight, gain confidence and focus on their overall health and their children. She gives online fitness courses.
She has created another method called Bodyweight Training to Music (BTM), where individuals can use music to train for physical fitness and health. She also offers courses and lessons funded by Patreon; hence, people can access that.
These are the ventures based on which Jazzy has developed her professional life and success.
Interesting facts about Jazzy Distefano
Jazzy Distefano and Chris Distefano have been living together for 7 years; hence, jazzy is often identified as chris distefano wife. However, that is not the case. They are not married.
She is very popular on Instagram and has almost 21.5k followers. jazzy distefano instagram page allows her to connect to a wider audience that mixes existing and probable clients.
Jazzy is active in the fitness program she has created for pregnant women to help them during the postpartum stages, showing her empathy.
Jazzy was initially not interested in Chris Distefano and made fun of him when they first met in a bar/ pub.
Jazzy, also known as Vinny or Jasmine, does podcasts with her partner, Chris Distefano, and entertains their audience with information, punchlines, sharing of experiences, and encouragement.
Conclusion
Read this article to learn about an independent woman, Jazzy Distefano, who is as successful professionally as personally. She may have come into the limelight because of her partner Chris Distefano, but she stayed because she deserved it.
Let us know in the comment below how much Jazzy inspired you.
Read Also: