Girls start dreaming about their wedding day ever since they understand the notion of wedding gowns and how beautiful a bride looks on her big day.
The infatuation of getting dressed up in a dreamy pure white gown, makeup just about right, the pearl or diamond jewelry, and a shoe that gives a look of perfection, starts growing in every girl's heart.
Finding a wedding gown can be stressful. This is the most expensive piece of garment a woman owns in her life. Therefore, she wants to make sure she gets the best. If you know your dream dress to detail of the last sequin, then well and good.
If you are struggling to find the perfect dress for yourself, here are some tips that you should keep in mind when shopping for a wedding gown.
1. Decide The Silhouette
Whether you want an A-line or a fit-and-flare, decide your silhouette wisely. Before choosing the dress, define it. Do you want a classic, chic and elegant? Or do you want a dreamy, dramedy, and fairytale kind of dress?
Defining your dream dress will make it easier for you to decide. However, keep your body shape and size, and your venue in mind. An A-line gown gives a smart look too thin and short brides.
2. Choose The Fabric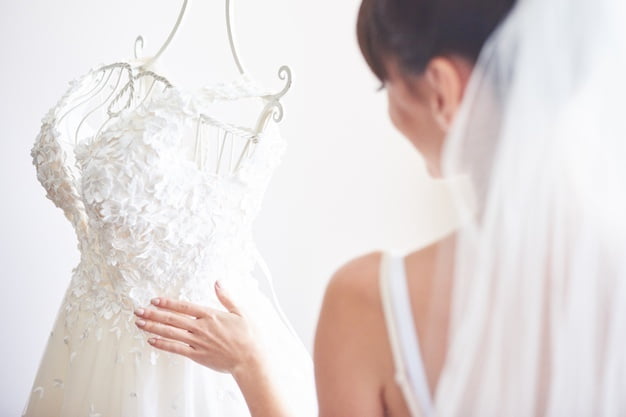 What is more important than a silhouette is the fabric of the gown. Spend time understanding types of fabric. The silk from Silk World will make a heavier and more well-structured dress. Silk gives a beautiful flare. It gives elegance and comfort. Whereas, a georgette may give a look to the dress.
Choose your fabric wisely. Fabric can make or break the entire look of your gown.
3. The Lengths
Length of your gown matters. If you have a formal wedding ceremony,  you should go for a full-length gown. It not only looks classy but also makes an elegant bride. However, if you are planning a non-casual beachy or a garden party kind of wedding party, then you can choose short lengths as well.
Make sure that you take your heels with you when giving measurements. The heels should be the same length you are planning to wear on the wedding day. This will make sure that you get the exact length you want. Heels can add to the height, altering the height of the dress and giving an unpleasant look.
4. Embellish Wisely
A simple silk gown may look elegant, but if you want to add in a few embellishments, choose wisely. Embellishments can be costly, but give a beautiful finish to the overall look. You can go for beaded lace, pearls, and sequins. You can also add in plain or embellished tulles to go with the dress.
Make sure that the embellishments you choose are comfortable.  Any discomfort may ruin your big day for you as you will remain uneasy all the time.
Read Also: