Those summer days and nights where the sun seems to not want to go down, you wait anxiously for a bit of shade or breeze if you're lucky, and sip endlessly on cool cocktails on the patio.
The kids are running wild in the garden with the dog, the hosepipe has been on for hours imitating a waterfall, a sprinkler and to anything else, the children can imagine up, and life is good.
Finally, the sun has retired, you can breathe easily without sweating and the sky is filled with gorgeous colors created by the majestic Mother Nature herself. Hues that bring back memories of your childhood, nights spent playing in the streets till all hours, laughter, and games were the order on the menu.
As you sit with your feet up, kids chilling on the loungers, you can rest easy knowing that your family canine is also keeping cool in the heat. The purchase of the cooling mat was a great investment, and to be fair, a no brainer. We look after and make sure the kids are cool and comfortable, why wouldn't we do the same for our pet?
If this is something you have been meaning to look at but keep getting put off by the fact that there are just too many and it all becomes a bit too much, then read through this rundown of the top 5 dog cooling mats and take that first step to make a final decision.
We care for everyone in the household, and this extends to the pets we have taken in as part of the family photo.
How to choose a cooling mat for your dog?
There are various versions available, and each offers something different for your pet. Some older dogs may welcome the cooling effect when it comes to reducing some inflammation due to arthritis or other age-related ailments. Which is why we sometimes see them lying on the concrete as opposed to their beds.
If you like to take long walks and be outdoors, a foldable travel version is going to be your best option. One that provides cool which is activated at the pressure of your pet, but still rolls up for easy storage and transport.
Size is another factor to take into account, you might have a large dog, so a mat that only covers half their body is not viable, or fair. We wouldn't want to have only half our body being chilled, would we?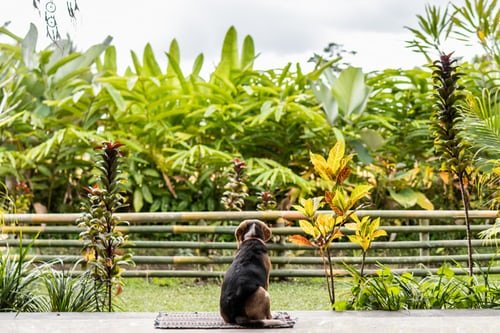 4 Advantages to your pet of a cooling mat.
Once cooling, the effect can keep activated for up to 5 hours, longer for the more advanced versions. If your pet feels like having a lazy day just enjoying the sun, you don't have to worry about him over-heating, simply lying on the mat can keep his body temperature regulated.
Even we can get irritated and agitated when we are hot, placing the mat in a corner or out of the way allows your pet to have some time to himself and cool down without the hustle and bustle of the family hovering around.
There are padded versions, thinner more durable varieties, and other simpler models, each providing a different level of comfortability. While not the same as lounging on the bed or couch, of course, they do offer some relief on bones and joints compared to the kitchen floor.
Same as when we lie on top of the covers the heat given off our bodies is taken into the duvet and away from us so we can cool down, this has the same principle for the cooling mat. The heat radiating off their fur is absorbed and dissipated throughout the pad and keeps them cooler for longer.
If, however, you have forgotten the mat at home or in the car there are other ways you can make your pet feel cool and comfortable, read this blog Keep-a-Dog-Cool-in-Hot-Weather to get some ideas others have tried and tested and got rave reviews from.
While summer is great and we welcome it with open arms, because who can handle months on end of grey skies and torrential rain, the last thing we want is to see our pup panting profusely unable to get cool. They can't speak, they can't take off their fur coat, so we need to be vigilant and aware and have a solution to a problem before one occurs.
The responsibility of being a pet owner doesn't stop at walking and feeding, it requires constant love and attention, health, and well-being and this is why we are rewarded with their infinite adoration.
We all know a cuddle from our pup can turn a bad day right around, so keep that in mind when inviting them into your home and lives.
Read Also: