So, you've decided to bring home your four-legged furry friend. Rest assured, they're going to light up your life better than any materialistic or worldly pleasure. Irrespective of whether you're living alone in an apartment or have a house full of kids, adopting a pet dog is going to brighten your life. It's nothing less than bringing a new family member home.
Nevertheless, if you've adopted a dog for the first time or are contemplating adoption, you must understand that it's a huge responsibility. A young pup is going to need as much attention and care as a newborn baby. Also, as your dog grows up, you need to ensure that you provide them with the right quality of life.
From taking your dog for routine checkups to creating a balanced diet plan – you need to take care of several things. Also, you should be aware of various infections and diseases they're susceptible to. You even need to know the warning signs and symptoms of various chronic disorders.
In this blog, we've outlined a few common mistakes that new dog parents often make. Read on to find out what they are and how you can avoid them.
1. Medicating with the Vet's Approval
Just because aspirin and ibuprofen help relieve your pain, doesn't mean they're going to work on your dog too. Instead of healing or curing their pain, human painkillers can have adverse side effects including stomach ulcers and kidney damage. So, whenever you suspect your dog is in pain or distress, make sure you consult your veterinarian before administering any medicines.
Even if you veterinary medicines at home, don't give them to your dog without a doctor's approval. The last thing you want is to make your dog suffer more when they're already in pain. For instance, while vets prescribe Clavamox tablets for dogs suffering from bacterial infection, they aren't suitable for dogs who're allergic to penicillin. Discuss your dog's health history and symptoms with the doctor and ask them to prescribe the right meds and appropriate dosage.
2. Neglecting Dental Care
In an ideal world, we'd all want our teeth to clean themselves and save us from the hassle of brushing every morning. In reality, not brushing your teeth regularly will lead to bad breath, dental disorders, and even gum diseases. Sadly, your dog isn't an exception to this reality either.
Yes. Dog breath is a real thing and can cause serious tooth and gum damage if left untreated. It indicates the presence of bacteria in your dog's mouth and can even lead to periodontal disease. That's why it is important to frequently brush your dog's teeth as well as take them for routine dental cleanup.
3. Dismissing Training & Socialization
Don't wait for your cute pup to grow into an unruly adolescent before you start training them. It might be too late to make reprogram their habits using positive reprogramming techniques. That's why it is recommended that you start providing your pup with basic training as soon as you bring them home.
Even puppies between six and eight weeks of age can learn to understand and recognize verbal cues such as "stand" and "come". As they grow up, you can start with other procedures such as leash training, general handling, and potty training.
Likewise, it's important to let your pup learn to socialize with humans and other pups while they're still young. You can even use dog treats as a motivation for training.
4. Skipping Routine Checkups & Vaccination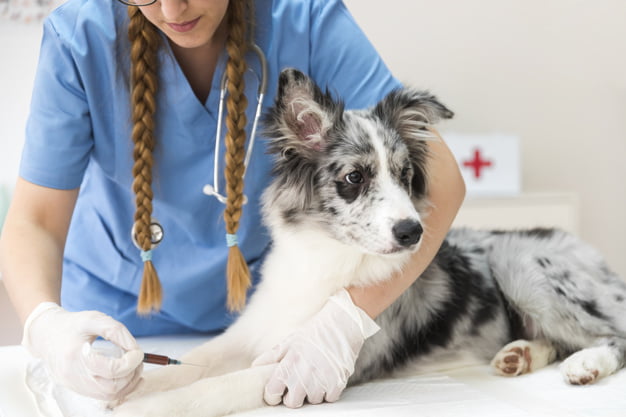 As a new dog parent, you should know that dogs are often good at hiding their pain and discomfort. Also, sometimes, you might miss a few warning signs and they'll eventually end up suffering in silence. That's why you need to regularly take your dog to the pet clinic for a thorough physical exam.
This can go a long way to help detect chronic conditions such as kidney disease, arthritis, etc. It could also reveal underlying bacterial or fungal infections that might be causing pain to your dog. Schedule an appointment with the vet every few months and make sure you follow through each time.
Likewise, make sure you never miss any dose of vaccination. This is particularly important for protecting your dog from serious and potentially fatal diseases such as canine distemper and dirofilariasis (heartworm disease). Ask your vet to outline a vaccination plan and set timely reminders on your phone so that you don't miss any appointments.
Did you make any of these mistakes with your first dog? Share your experience in the comments section below.
Read Also: