It seemed like a good idea at the time, and now your pet is very much part of your family. You love him, he (mostly) reduces your day-to-day stress, but there are times when you wish you didn't have to live with the house-cleaning consequences of having pets around the house. Try these tips from pet-owning households to get your house proud mojo back!
1. Gear up Your Carpet Cleaning Schedule: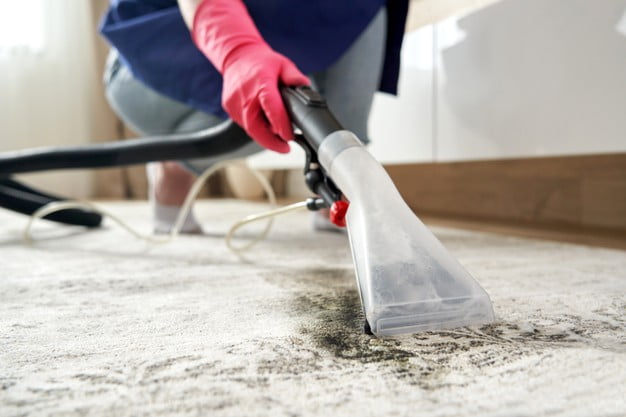 You may have got past housetraining your pet, but they're still pretty hard on carpets. From muddy paws tracking dirt into pet hair and dander, you're painfully aware that your carpets aren't what they used to be. Chances are, you were already making use of professional carpet cleaning services at intervals. Step up your schedule a bit for more frequent deep cleans and shop around for a vacuum cleaner that's recommended for getting pet hair out of carpets – they do exist!
2. Protect or Change Your Lounge Suite:
In the past, it might not have mattered that your furniture wasn't particularly easy to clean, but if you're letting your pooch (cats don't need permission, they just go there) onto the furniture, it may be time to rethink. If getting something that's tougher and easier to clean isn't on the cards, get pretty throws to protect what you have from the passing pet parade. It's easy on, easy off, and easy to clean and if you get a good selection, you can have fun changing the look of your lounge depending on which ones you chose.
3. Choose a Water-Resistant Dog Bed:
Dog beds seem to soak up and exude odors no matter how clean your four-legged friend is. The answer is to get something that can't soak up smells and that you can easily wipe clean. If water-resistant options don't look comfy enough to you, remember that you can always soften things up with a doggy blanket – but remember that frequent washes will be needed to keep odors at bay.
4. Tackle Pet Hair the Easy Way:
Pet hair and pets go together – and the hair doesn't stay on your pets! Normal cleaning methods aren't all that effective when pet hair clings to fabrics, but a few simple tricks will make your task easier. For example, a dampened rubber glove works wonders for collecting pet hair from fabric surfaces, and apart from using it around your home, you may want to keep it handy for de-furring yourself after the all-important pet cuddling session.
5. Develop a Good Pet Potty Routine:
A housetrained dog won't easily have accidents in the house provided you ensure that he gets routine opportunities to do his business outside. Develop a good routine and stick to it. It's not just your dog who will be relieved – cleaning up accidents is never fun.
When it comes to cats, use a litter with silica gel that neutralizes odors, and be sure to clear the litter box routinely. Cats are notoriously fastidious, and if the litter box isn't clean, they're quite capable of choosing a spot elsewhere, and who can blame them? Kitty already had an oops in the wrong place? You may need to visit a specialized pet shop to get the right odor-neutralizing product.
Read Also: