Hoodies are popular wintertime apparel, but let's change it up this winter! Instead of wearing your hoodie in the way you normally would shake it up with new and exciting hoodie ideas! Put together by a Black-owned hoodie company,
Here Are Just Five Of The New Styles You Can Try When You Want To Wear a Hoodie  
Layered
While hoodies by themselves may seem a bit too casual, using them as part of a layered ensemble can class it up. A neutral-colored hoodie can provide the perfect middle layer to your outfit. Place a zip-up hoodie over your button-up shirt or t-shirt. Then put a heavier, warmer jacket over it for an effortless layered effect.
There are endless options for this type of wear, but two of our favorite jackets to layer over hoodies are leather jackets and sheepskin jackets. These are very obviously different ends of the spectrum, so it's important to choose the one that works best with your look. A leather jacket can seem cool and sleek when layered over a hoodie. A sheepskin jacket, on the other hand, maybe warmer or be more in line with a workwear style.
Whichever way you choose to layer your hoodie, it will be a great addition to your wardrobe. You can even choose a pullover hoodie for certain outfits!
Sportswear
Some might think that wear a hoodie and sweatpants isn't a great idea, but the opposite is true! When you pair a well-fitting hoodie with sweatpants of the same color, it can look athletic and casual without being trashy. Make sure to choose a hoodie that fits correctly!
If you don't want to worry about matching the colors yourself, consider purchasing a sweatsuit. Sweatsuits are just like tracksuits, but with sweatpants instead of track pants. These suits are already perfectly matched and work well together when you purchase them at the same time!
Cropped
The cropped hoodie is a new trend that's rocking social media, and you can rock it too! A cropped hoodie is usually thinner than a standard hoodie, and it ends about halfway down your torso. Layer a cropped hoodie with a great t-shirt or even workout clothes! These hoodies are fashionable, stylish, and show off only as much as you want to show off!
If you can rock a cropped hoodie, it's worth a try! Note that a cropped hoodie look won't be as warm as a full-length hoodie, so this style is best used on warmer days or with moderately cold temperatures.
Dress It Up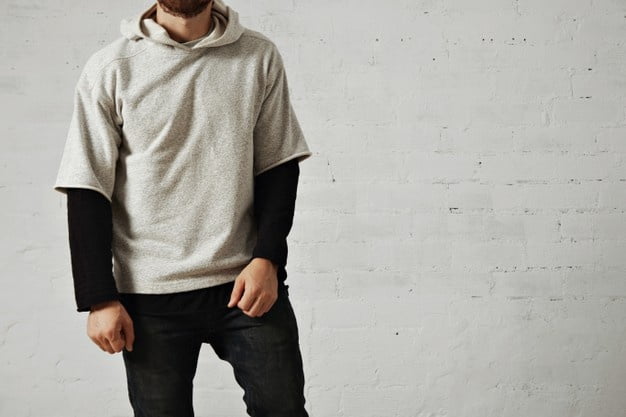 One of the best things about hoodies is that they are neutral. When you purchase a neutral-colored hoodie, you can pair it with just about anything to make it look great. Choose to wear a hoodie under your blazer if it's a little chilly out! Pair it with a peacoat, a fancy hairstyle, or some tailored pants for a comfortable but stylish look.
Hoodies are already considered to be dressed-down, but with a little effort, you can spice it right back up! Tie the hood laces together in cute knots and bows, wear those amazing earrings, and get some heels ready to make that hoodie the centerpiece of some lovely, dressed-up attire. The sky is the limit!
Oversized
As a general rule, pull-over hoodies are larger and bulky-looking, whereas zip-up hoodies are slimmer and more streamlined to your body type. While this is true of most hoodies, let's push the envelope a bit! An oversized hoodie can be a cute fashion accessory – especially when it's a few sizes larger!
Some people think that hoodies look sloppy. But try on an oversized hoodie (up to 3 sizes too large) with tailored pants or leggings for a great effect. Instead of making you look sloppy, using an extremely oversized hoodie can be cute and playful.
Conclusion
There's more than one way to wear your favorite hoodie. With a little bit of work, some accessories, and some imagination, you can turn your hoodie into a viable fashion statement this winter. Whether you choose to layer your hoodie, wear it with your favorite casual sweatpants or crop it up for a trend, you're sure to find the perfect way to wear your hoodie this winter.
Read Also: