It's always fun to create a space for your little one, but it's not less than a challenging task. To Decorate Kids' Room in the most classical fashion, you need to get into your kid's shoes.
If you are unsure about implementing unique and creative ideas for your kid's room decoration, there is nothing to worry about.
We are here to assist you with our 9 inspiring ideas that can help you Decorate Kids' Room while staying within the budget.
1. Unique And Exciting Decorative Objects
In your opinion, what's the best possible way of giving a childish look to a room? No idea? Let us give you some suggestions. When you are up to decorating a kid's room – placing innovative and exciting objects is the key to success.
Objects like teddy bears, baby chairs, kid's storage bag will be more than good enough to make your kid fall in love with the room. You can place an aquarium with led aquarium light as it improves the focus and creativity level of a child. Having an aquarium in your space removes negativity from home and has health benefits too. Moreover, your kid will love staying at his/her place because of a comforting environment. You can start by reading more on how to set up a tank for a betta fish!
2. Jewel Up The Corner With Study Table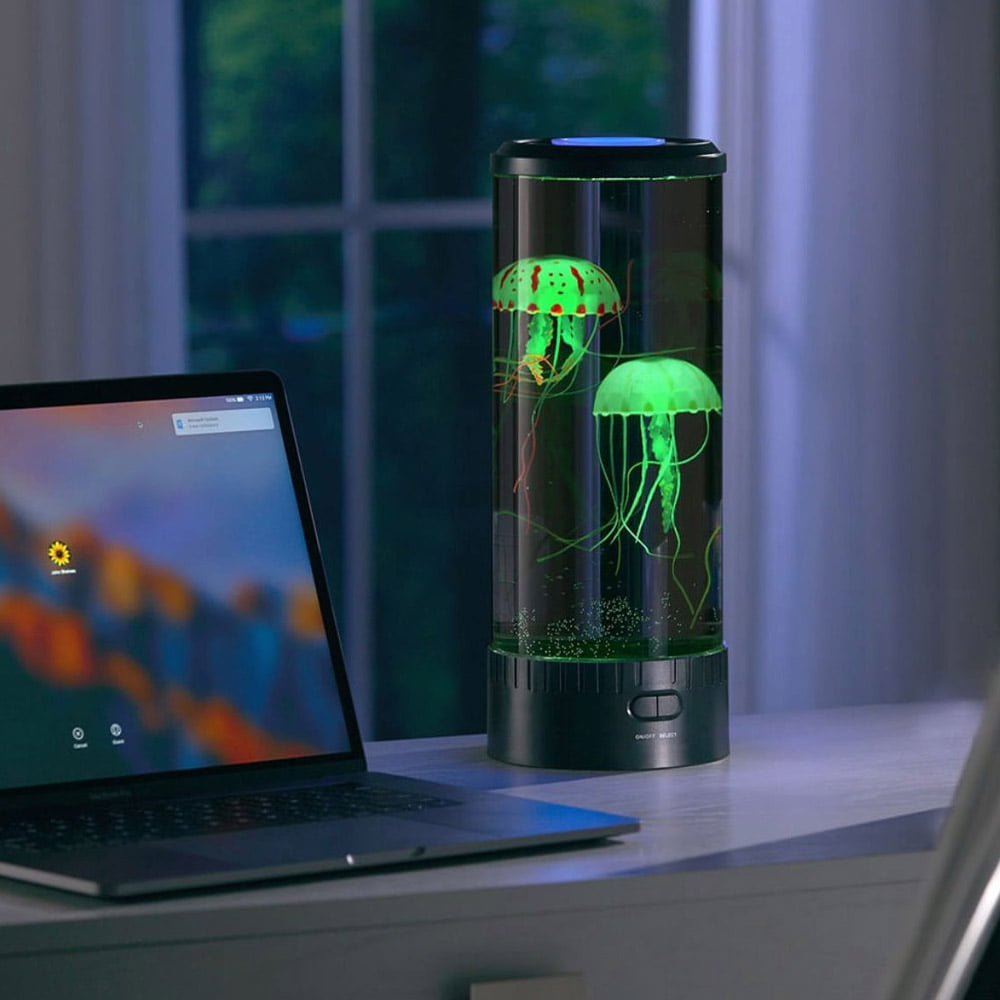 Can you even think of decorating a kid's bedroom without a study table? No chance. The side table or a study table has to be cool enough to attract your child. So, how can we decorate a study table, that's what you are thinking right now?
Well, there is plenty of stuff you can put on the study table, which includes books, a pencil organizer, table lamps, etc. A jellyfish lava lamp for kids' room can be a great pick as a decorative essential for your kid's study table.
Not only will it look classy, but it provides an ambiance to your kid's room at night.
3. Design A Kid-Friendly Space
Designing a kid-friendly space cannot only make a kid's room ridiculously cool but help you place lots of objects there. How about a cozy floor bed along with a pint-sized table and chair set? We bet; the room will look as classy as possible this way.
Moreover, we suggest you keep the space open and have easy-to-access hooks in your little one's room. Kids usually feel uncomfortable staying inside a congested place, so an open space will not be less than a source of pleasure for them.
The bedroom has to be cozy and comfortable by all the possible means, and designing a kid-friendly space is one of the best ways of making it happen.
4. Choose A Simple Wall Paint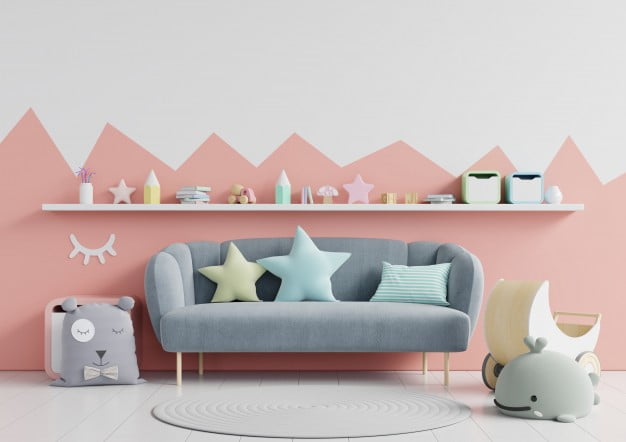 When it comes to decorating the kid's room, less is usually more. There is no way the kid's room decoration can be completed without a simple wall paint. If you are planning to decorate a room for your boy, black or grey could be the colors to make a mark.
And for a girl's room décor, pink or yellow can get the job done. A hand-colored backdrop can also make your child's room look ridiculously cool.
5. Focus On Play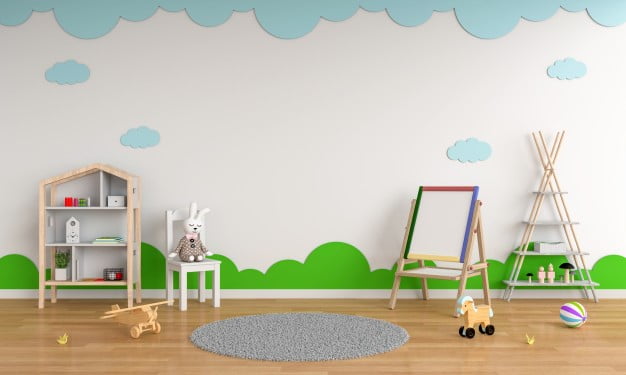 A kid's room décor cannot be justified without focusing on play. Whether you have a baby boy or girl – your little one will only fall in love with the room if there are enough playful activities there.
How about placing an indoor swing or a whimsical house-famed bed? Oh, things like these will definitely give your child's bedroom a stunning look.
Even there is an option of a rock-climbing wall inside the kid's room to make your kid physically active. This way, you can encourage your kids to play inside their room before going to bed.
6. Double Up On Storage
Parents often don't have many ideas about kid's essentials because there are plenty of them. Apart from games and toys, they need storage space for their different outfits. So, storage is a factor you need to keep an eye on when you are decorating your children's bedroom.
Don't you have any practical or innovative storage ideas? No worries, we have got you covered. These days, different types of wardrobes are available. So, make sure you get your kid a wardrobe where he/she can easily place all the goods.
Hooks, wall-hugging books rails, and under-the-table crates are some of the sexiest options not only to provide storage but spruce up the place too.
7. Mix It Up With Colorful And Funky Arts And Crafts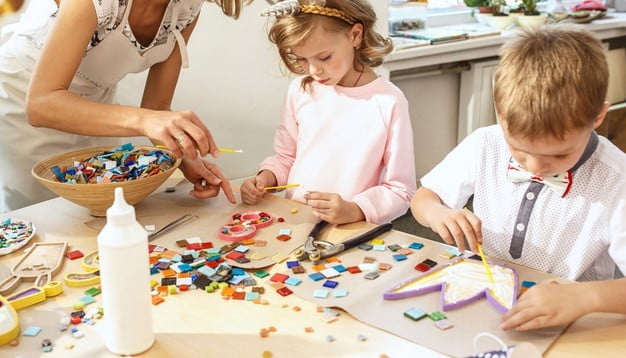 Kids are naturally creative, and there is absolutely no doubt about it. One of the most inspiring ways of decorating a kid's room is to use colorful and funky arts and crafts.
Now comes the question, what sort of arts and crafts to place inside a room, right? Well, there can be a zoo trip inside the room where your kid can play or a barbie doll to make your little princess fall in love with it. For a boy, a toy story can be an ingenious pick.
8. Find Your Kid's Favorite Cartoon Rugs For Floors
We all know how much kids love watching cartoons. What if we recommend you find rungs of your kid's favorite cartoon character? You cannot even imagine how much your little baby will love it.
For kids, cartoon characters are like their superheroes, and looking at their superheroes in front of them will be a source of pleasure for them.
Finding those rugs are not hectic at all; you can easily find them anywhere. How cool will it be to walk over a rug that is full of barbies or supermen? Classy!
9. Hang Your Kid's Photo All Around The Room
Don't you think kid's rooms must have their photos hanging all over the room? Obviously, you want to decorate your baby's room in the best possible fashion, but hanging his/her photos will be the last and final touch to ensure everything is appropriate.
Kids usually have their favorite photos, so make sure you frame all of those favorite ones and hang them everywhere. It's one of the best ways of creating an ambiance your kids will in love with.
Final Words
Decorating a kid's bedroom is not as straightforward as it looks, but the implementation of the right ideas will make you décor it in the best possible fashion. There is no need to do anything extravagant because it's about the little details that put a mark.
We hope you like the aforementioned ideas because we are certain that these ideas will help Decorate Kids' Room in a way you could only dream of.
Read Also: