Mount Kilimanjaro, the world's highest freestanding mountain, is the holy grail for adventure lovers. Every year, about 40,000 people from all over the world climb the iconic peak for its incredible scenery, fascinating flora, and fauna, not to mention the exciting physical challenge. While Follow Alice explains how to prepare to climb Kilimanjaro, in this article, we'll focus on the eight things you need to know before you hit the trail.
8 Things You Have To Know Before Starting Kilimanjaro Climb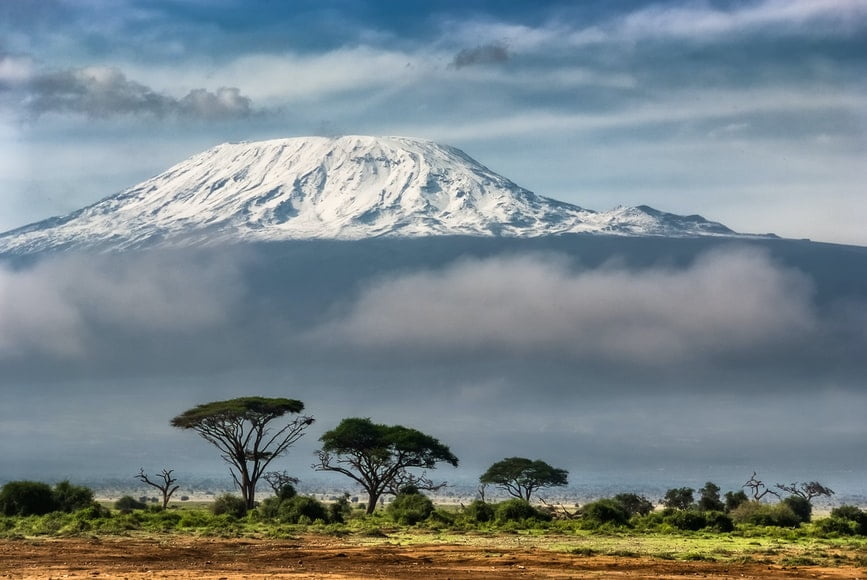 As we have already mentioned, Kilimanjaro is technically easy to scale, and it doesn't require any special skills and experience. However, a lot of adventure lovers have failed to reach their summit.
Here are the eight things which you must know before starting your Mount Kilimanjaro climb.
1. Kilimanjaro Is Not Really A Climb, It's A Hike
What do you imagine when you hear the words 'climbing a mountain'? Climbing to a vertical rockface is adventurous? Hauling ropes, axes, and other mountain-climbing gear on your back? Or being dressed from head to toe in a down suit, hardly taking step after step in deep snow? 
You may breathe a sigh of relief, as all of this is not about Kilimanjaro. This mountain doesn't require any technical skills and is suitable even for beginners. Actually, you just walk up to it. There is no danger of falling off a cliff, and you don't need to be particularly talented in rock climbing. The only challenge Kilimanjaro presents is its great altitude.
2. The Roof Of Africa Can't Be Conquered In One Day
It goes without saying, but a small reminder just in case: the prominence of 4,900 meters needs some dedication to complete. 
Experts from the International Climbing and Mountaineering Federation (UIAA) recommend planning for at least seven days to scale the majestic Kilimanjaro, which is sufficient to meet the requirements of acclimatization.
Consider Reading: Must-have Gadgets for Travelling
3. There Are Seven Routes To Choose From
There are seven individual climbing routes to the summit, each of them featuring its unique challenges, views, and durations. The majority of climbers usually pick one of three main routes: the Machame Route, the Marangu Route, and the Rongai Route. 
The seven-day Machame Route is the most popular one: around 35% of all the people on Kilimanjaro will be on the Machame Route. 
However, if you don't feel like meeting crowds on your way up the mountain, go for the Lemosho Route. By the way, this is the route the team at Follow Alice has chosen for its varied, beautiful scenery, good acclimatization profile, and because it isn't so crowded.
4. Kilimanjaro Is Made Of Both Extinct And Dormant Volcanic Cones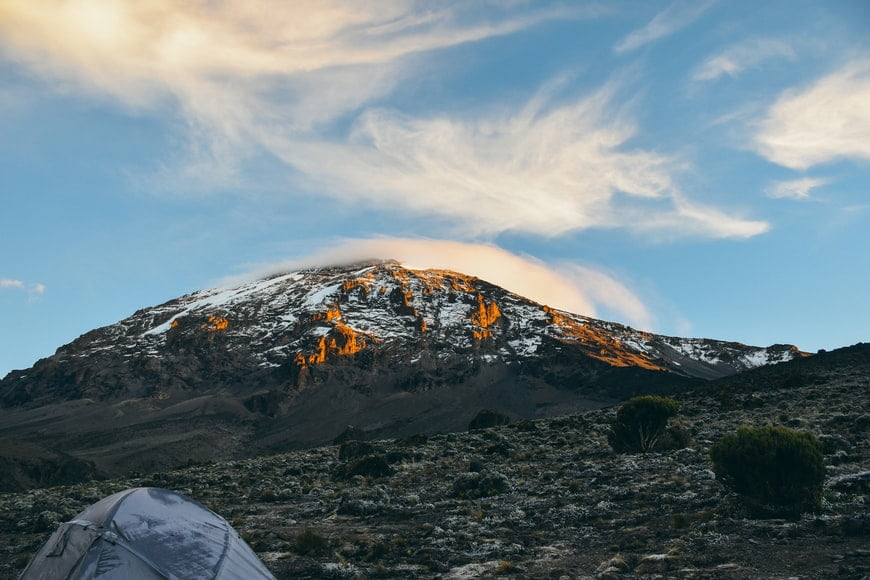 Mount Kilimanjaro is the result of over three million years of volcanic activity. During this enormous period, it was reshaped multiple times. It cracked and exploded, which resulted in a unique mountain with several individual summits. 
Those who climb the Roof of Africa typically aim at the highest peak of the mountain: Uhuru Peak (5,895 meters above sea level), which is the top of the Kibo cone. This is the largest volcanic dome of Mount Kilimanjaro. Kibo is still dormant, which means it can erupt again. The two other cones, Mawenzi and Shira, are extinct. 
They're connected by a huge saddle of Martian landscapes where the climbers camp on the first day on certain routes up Kilimanjaro. 
5. When Is The Best Time To Climb Kilimanjaro?
Basically, Kilimanjaro can be climbed at any time of the year. However, keep in mind that some months are better than others as they offer better weather conditions and a safer experience. 
Kilimanjaro has two different monsoon seasons: One is a long and heavy rainy season from mid-March and extends up to mid of June. And another one is a short period rainy season. The season starts from November and stays up to mid-December. 
It's worth mentioning that not all sides of the mountain experience the same weather: the southeastern slopes typically get more rain than the western and northern slopes. April, May, and November are the hottest months. 
Although the temperature at the foot of the mountain doesn't matter a lot when you're climbing it, still remember that it can be stiflingly hot and humid in the rainforest zone. All in all, the best time to visit the Roof of Africa is between mid-December and mid-March and between mid-June and mid-October.
6. The Higher, The Colder
It's a general truth, but remember that Kilimanjaro is way higher than any average mountain, so you're going to experience sharp temperature drops as soon as you gain elevation. In fact, you climb through five different climate zones! 
During the day, it's warm as long as the sun is up, but at night things dramatically change — temperatures can fall below freezing. 
Of course, the coldest part of the mountain is the summit. In terms of climate, it's an Arctic Zone with snowdrifts, ice, glaciers, and freezing temperatures. With varying temperatures like these, you need to pack accordingly.
Consider Reading: Suitable Rain jackets for Mountaniars
7. High Altitude Is The Major Challenge
Air is thinner at higher altitudes, which is the reason for acute mountain sickness (AMS) — a common health issue experienced by mountain climbers. It happens when your organism is adapting to the lower oxygen levels. 
This process, which is called acclimatization, triggers biological responses to help the body overcome oxygen deficiency. These include creating more red blood cells to increase the flow of oxygen in the blood and speeding up the respiration rate. 
When these processes aren't able to compensate for the reduced oxygen in the environment anymore, the climbers begin to experience AMS symptoms. Symptoms typically start with a mild headache, loss of appetite, nausea, and fatigue. 
They disappear as soon as the organism acclimatizes to the current elevation, and the process takes place again as elevation changes. People who quickly acclimatize, don't feel any symptoms at all.
8. There Is No Wi-Fi And No Electricity
Quite expected, there is no Wi-Fi connection on Kilimanjaro, and yes, cell service is poor. In case you need to use your phone, it's the best idea to ask the guides when and where you could get a signal. Or just watch the local crews to see when they are on their phones.
Likewise, there is no electricity here, so take care of a portable external battery pack for recharging your phone as well as enough camera batteries. But is the absence of the Internet and electricity that bad? Not at all. It's just a perfect chance to have some rest from your busy life and reconnect with the great outdoors. 
Bottom Line
Kilimanjaro climbing is more like hard hiking. It is not hard as the K2 or Everest climbing, but you have to be conscious every time, especially about the mountain sickness and the shortness of breath. This is more like easy for the expert climbers, but for the beginners, one mountaineering expert's help is required.
Read Also: