Losing a loved one is the hardest thing anyone can go through in their lifetime, yet it's inevitable. Comforting someone can be difficult, and sending flowers has been a way of showing love and support to grieving families for generations.
As hard as it is to show that you understand someone's pain, you must know what you're doing when you send a bouquet. We have different cultures and ways of doing things. You don't want to offend the grieving with what you had meant to be a lovely gesture.
Putting together a sympathy arrangement with many flowers can be extremely difficult. What colors can you use? When is the right time to send your arrangement? Don't worry. We've got you covered with this etiquette guide. You should be sorted if ever you need to send a funeral arrangement to a grieving family or friend.
When Is the Right Time to Send Some Sympathy Flowers?
Timing is very important with sympathy flowers, which differ from funeral flowers. Because, with funeral flowers, you want to send them a few hours or a day before the funeral or even bring them with you on the day.
Sympathy flowers can be sent before or even after the funeral. Before the funeral, you want to send them to show you're there for them even as they grieve. After the funeral, you want to show you're still there to support them even though they buried their loved ones.
Sympathy flowers can also be sent to celebrate someone who passed on years ago. The arrangement can signify that you haven't forgotten what they're going through after their loss.
The Dos and Don'ts
While this is a beautiful and kind gesture, you want to avoid anything that could cause further grief to the family. To not further inflict more pain on the family, you should consider a few rules of engagement.
1.  Don't Forget Who the Family Is Grieving
By all means, resist buying an arrangement you'd love but instead, think about the one who has passed on. The grieving family would appreciate you showing them that you remember the one that passed on. If you're unsure of the type of flowers the one who's passed on would like: just go for a bouquet in their favorite color instead.
2.  Don't Forget the Message
Don't leave the card that comes with the flowers blank. The words to put in the card may not come easily, but avoid sending it blank. It can be hard to put together a message, especially if you've never met the one they're grieving. The trick is to keep it simple. Just tell them you're with them during this hard time. Here are a few ideas:
You're in our prayers and thoughts.
I'm deeply sorry for your loss.
Just to let you know that my thoughts are with you during this hard time.
(Name of person) will be deeply missed.
3.  Don't Send the Wrong Message
Avoid sending flowers that are associated with joy, seduction, or happiness. Go for neutral colors representing peace, support, and love.
4.  Do Take Time to Understand What Different Colors Mean
Knowing the colors will help you make more meaningful arrangements. The meaning of flower colors is variable. Here are a few common meanings: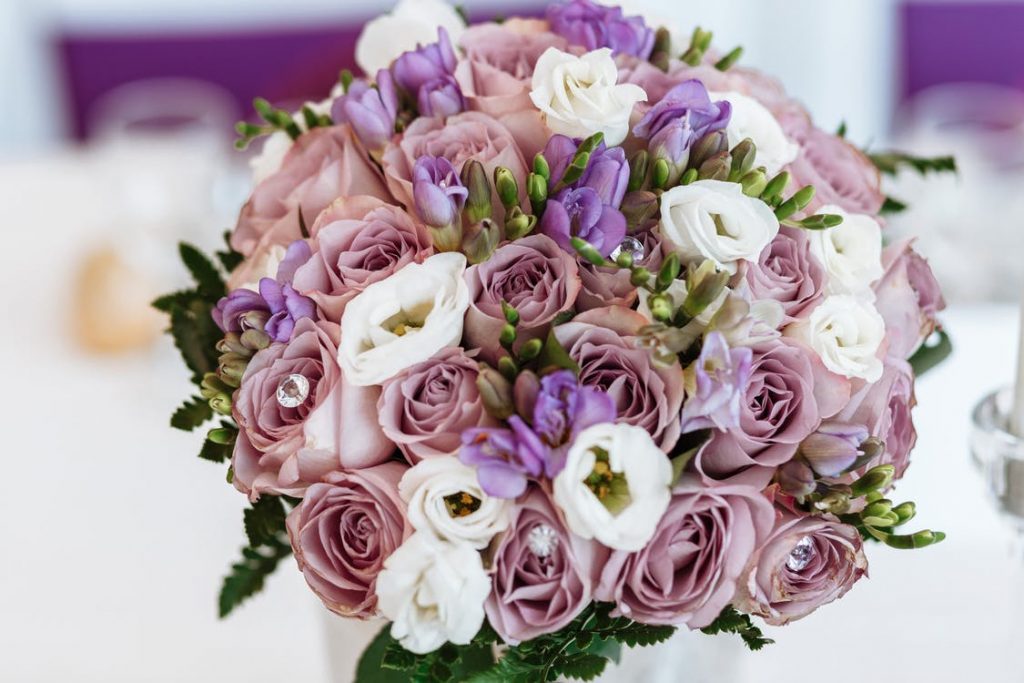 Red is the color that's often associated with romance, love, and passion. They often also represent desire, strength, courage, and respect. Red is common, especially in roses.
If you're sending these as a sympathy gift, then you'd want to send them later on after the funeral. Give these to someone who lost someone of significance in their life, someone they loved. Red flowers will typically show love and support.
https://images.pexels.com/photos/1563650/pexels-photo-1563650.jpeg?auto=compress&cs=tinysrgb&w=1260&h=750&dpr=
Pink: is the color that represents femininity and beauty, and it's commonly a great gift if a family loses a female member. Pink also represents happiness, gentleness, grace, and innocence. Pink also has many shades. The color can be subtle or even bright and bold.
Blue: is the color that represents peace and serenity and is common with flowers like hydrangeas and cornflowers. Blue can be used to promote relaxation and intimacy. You can send blue flowers to send a message of calmness and relaxation.
Yellow: is common color with tulips and daffodils and represents friendship, warmth, joy, and health. Flowers can be used to show support and hope. If someone loses a friend, you might want to present a bouquet of yellow flowers.
White: is the color that symbolizes purity and honesty and can also mean sympathy. These are commonly used in memorials and are a common color in sympathy arrangements. The color promotes remembrance and new beginnings. A white arrangement could show that you remember the one they have lost.
Orange: a bright and vibrant color common with zinnias and marigolds, shows warmth, joy, and enthusiasm. These can be sent as sympathy flowers to cheer someone through a difficult time.
Purple: is the color that has been associated with royalty. In flowers, it means tradition, success, and admiration, and these can be gifted as a sympathy bouquet when they lose someone they respected as a mentor, like a father.
Green: a rare color in flowers, represents new life, renewal, rebirth, youthfulness, and good health. This color is common with flowers such as Fuji mums.
5.  Understand Different Flower Arrangements
Wreaths cross, and hearts: they're usually displayed near the casket at the funeral. These are typically displayed when you lose a family or close friend. These are taken to the grave site and left there.
Funeral baskets and bouquets: these come in different sizes and are one of the best to present as a sympathy arrangement to the bereaved. These can be sent to the family at home before or after the funeral.
Potted plants: these usually come in a pot and live longer. You could use them to show the bereaved family that you'll always be there for them.
Conclusion
We agree with this guide that gifting a bouquet of flowers is easier than buying a gold necklace. When creating a bouquet, make sure it has meaning and represents the feelings and message you wish to send to the bereaved. Let your bouquet be beautiful and yet show the family that you're with them during this time of pain.
Additionals: